Attenzione: evitate la lettura se non volete imbattervi in spoiler sulla 6×03 di Game of Thrones.
Jon Snow è di nuovo tra noi!
Le ultime due puntate di Game of Thrones hanno rappresentato un'impennata incredibile sull'argomento Jon Snow, tanto da aver bisogno di un po' tempo per fare ordine e soprattutto capire il destino che aspetta questo personaggio.   
Innanzitutto sintetizziamo brevemente quello che è successo: come mezzo mondo si aspettava (e questo è un bene o un male?) Jon Snow è tornato in vita, grazie alla magia della sacerdotessa rossa Melisandre. Nelle prime sequenze della terza puntata, capiamo anche che egli ricorda tutto quello che è successo, come se avesse solo dormito per qualche giorno dopo essere stato pugnalato a morte. Ricorda dunque molto bene le facce dei suoi traditori, su cui non esiterà a far cadere la propria vendetta. Tuttavia, esaurita questa vicenda con l'impiccagione dei cospiratori, Jon si toglie l'abito da Lord Comandante, cedendolo al suo amico più fidato, e saluta tutti con un definitivo "La mia Guardia è finita".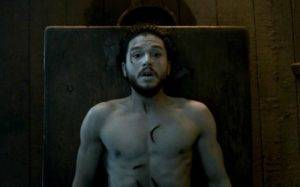 E adesso? Sembra proprio che Jon Snow abbia capito che quello che gli è successo va oltre ogni umana comprensione e decida di sfruttare al massimo la situazione: logicamente, questo non può significare rimanere come Lord Comandante alla Barriera (luogo in cui ha vissuto un tradimento che lo ha costretto ad uccidere un bambino, Olly) ma prendere in mano delle situazioni che forse pensava non lo avrebbero (più) toccato.
Sembra perciò opportuno partire dal breve discorso che Melisandre fa a Snow appena scopre che è tornato in vita: parla di Guerriero della Luce, di fatto sostenendo che non era Stannis che aveva visto nelle fiamme, ma proprio Jon, e il suo ritorno era un segno che Il Signore della Luce le ha voluto dare. Che scenari potrebbe aprire questo filone interpretativo? Forse se Jon decidesse di seguire la sacerdotessa si potrebbe pensare ad un assalto al Trono, anche se onestamente non sembra ci possano essere le basi per una svolta così imponente. Piuttosto la strada intrapresa da Jon Snow potrebbe essere quella verso Grande Inverno, cioè quella verso casa (con o senza Melisandre): lì troverebbe i Bolton, un validissimo motivo per dare inizio alla sua (speriamo lunga) vendetta contro coloro che hanno fatto del male agli Stark (cioè tutti tranne gli Stark). Del resto, dai trailer si evince che i Bolton saranno sottoposti ad una grande battaglia e chissà che non sia proprio contro Jon Snow.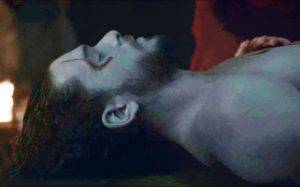 In pratica, la sterzata dettata dalla scelta di Jon di lasciare i Guardiani della Notte è sicuramente una delle mosse più felici di questa stagione fatte dagli sceneggiatori (al netto di alcune ancora incomprensibili), che apre ad una storyline potenzialmente fra le più interessanti: non sono sicuramente pochi quelli che pensavano che un personaggio come Jon Snow fosse sprecato relegato alla Barriera a prendere decisioni politiche e al massimo combattere gli Estranei. Attendiamo con ansia il responso dal piccolo schermo.