La puntata dei grandi ritorni, mancava solo la comparsa di Gendry e potevamo ritenerci completamente soddisfatti. E invece finché la barca va lasciala andare.
Ma torniamo alle cose serie: ormai dovremmo esserci abituati, d'altronde sono passati 6 anni, ma io sinceramente non ci riuscirò mai.
Ad ogni gioia che questa serie ci concede corrispondo una serie di sfighe quintuplicate.
Perché questo è il Trono di Spade, mica quello di Maria.
Cambiando discorso: ma anche a voi scende la lacrima ogni volta che durante la sigla c'è il vessillo dei Bolton a Grande Inverno? A me si.
Ad Approdo del Re:
La situazione è completamente sfuggita dalle mani alla famiglia Lannister che, da quando è morto Tywin, non ne sta facendo una di giusta.
Tommasino che prova a fare la voce grossa un pochino con tutti ci ha dato i brividi dicendo "I'm the king" con la vocina da adolescente in pieno sviluppo come solo il caro Joffrey sapeva fare. Purtroppo non ottiene lo stesso timore reverenziale del fratello e la gente ride davanti al suo fievole miagolio. Si reca, con tanto di scorta, dall'Alto Passero, ma invece di far valere i suoi diritti di Re si becca una bella lezione di catechismo, con tanto di Emmanuel, Alleluiah delle lampadine e un ripasso di tutte le canzoni di chiesa con i gesti.
Intanto anche sua mamma e il suo amato zio/papà ci regalano qualche momento di pura ilarità. Pensano di fare i gradassi e potersi sedere al concilio ristretto ma Regina Kevan George ricorda che Cersei ha già messo tre volte la tuta da ginnastica questa settimana, non possono sedersi con loro.
Ritornano i dispersi Gilly e Sam, che a quanto pare devono essersi spaccati come in Skins la sera prima: lei è fuori come un balcone e si rallegra di tutto, lui vomita.
Tommen bipolare passa da isterico a micino nel giro di due secondi: 3
Cersei e Jaime hanno mangiato troppe barrette iperproteiche: 6 di consolazione
Gilly/Cassie con gli occhioni da "Wooooow": 9
Ai bambini sperduti di Varys nessuno ha insegnato a non accettare le caramelle dagli sconosciuti: 5
Ad Essos:
Io davvero non capisco il personaggio di Dany in questa stagione, perché deve atteggiarsi da supponente e reginetta sul pisello anche quando è in netto torto? Hai fatto una cavolata, mettitela via.
Volevo schiaffeggiarla di brutto quando ha iniziato con la solita manfrina del "Io sono Daenerys Targaryen Madre di bla bla", cioè basta, hai rotto.
L'unica nota positiva è che la profezia di Quaithe si sta avverando: "Per andare a Nord, dovrai viaggiare a sud. Per raggiungere l'ovest, dovrai dirigerti a est. Per andare avanti, dovrai tornare indietro. E per toccare la luce, dovrai passare tra le ombre." E ora sembra che davvero la reginetta sia tornata al punto di partenza.
Arya resta sempre la più cazzuta di tutti (è il mio personaggio preferito, scusate i commenti palesemente di parte) e riottiene i suoi occhi.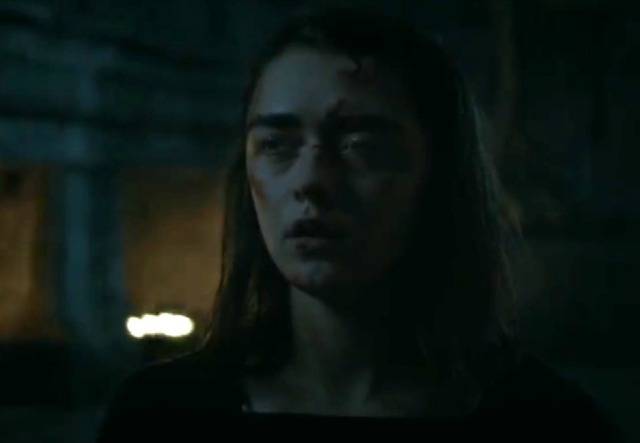 Momento teorie pazze: il fatto che si parli a lungo sia del Mastino che del duello per singolar tenzone di Gregor possono essere solo coincidenze? C'è solo una risposta: CLEGANEBOOOOOOOOWL (non sapete di cosa stiamo parlando? Shame! Andate a leggere qui e impazzite con noi)
Dany è la dimostrazione che scappare dalle proprie responsabilità non è mai un'idea brillante: 4
Tyrion disperato implora Re Robert di tornare dai morti e bere vinoh insieme a lui: 7
Sassy Arya ha aggiunto un nuovo nome alla lista dell'odio: 8, perché è la preferita della prof

Alla Barriera:
Dopo Kit nudo mi sono persa due minuti, devo ammetterlo.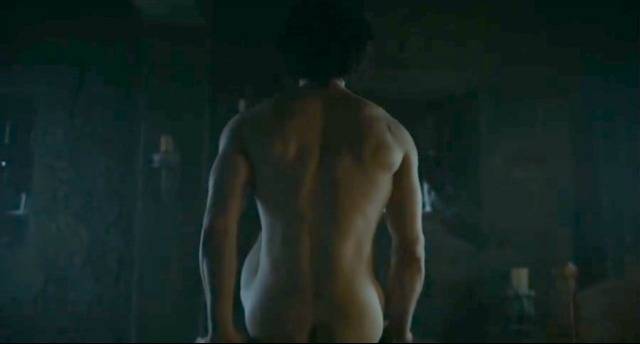 Non abbastanza da non notare che Melisandre può tranquillamente parlare male di Stannis senza beccarsi un manrovescio da Davos. Continuo a ripeterlo da tre settimane: E SHIREEN? Ci illudete con quel meraviglioso rapporto padre/figlia e poi la buttiamo così nel dimenticatoio? Bah #Davosnonricorda
Quando Jon è uscito davanti ai bruti camminando sulle sua gambe ho temuto che spuntasse Rick Grimes e gli sparasse un colpo in testa. E invece.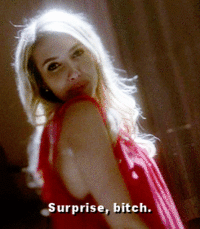 Jon Zombie non sembra minimamente cambiato da come era prima, eccetto la nuova pettinatura da Signora in Giallo, e con la sua solita tranquillità e controllo impicca i traditori.
Olly, ma chiamiamolo pure Bruto figlio di Satana, non resiste e mantiene fino all'ultimo secondo quella faccia che ti strappa gli schiaffi dalle mani. Secondo me ha avuto una morte anche troppo poco dolorosa per quello che ha fatto.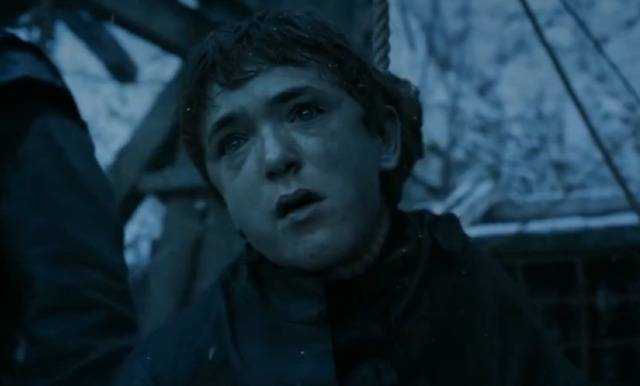 Non contento Giovanni Neve lascia la pelliccia al Thrift Shop per Macklemore e molla tutto.
"My watch is ended". Drop the mic. Thug life.
Se ne va silenzioso nella notte, come Ernst Knam alla fine delle puntate di "Che diavolo di pasticceria". Tutti in piedi ad applaudire.
Edd l'Addolorato tradito da Jon improvvisa un duetto di Lemonade con Beyoncè: 7, era calante
Davos è un personaggio pazzesco, SMETTIAMOLA DI USARLO DA TAPPABUCHI: 5
Tormund e Melisandre sbirciano le misure di Jon e si fanno grosse risate: 10
Jon finalmente sa di non sapere: 9 per la consapevolezza, ci sono volute solo 6 stagioni
Al Nord:
Bran si sta facendo l'ennesimo viaggetto mentale insieme al suo partner in crime Corvo a Tre Occhi.
Fermiamoci per una breve riflessione: se pensavate davvero che ci avrebbero mostrato l'interno della Torre di Gioia alla terza puntata siete degli illusi troppo fiduciosi. Questa è una serie per bastardi sadici.
In fondo al mio cuore io ero convinta che Arthur Dayne non venisse realmente ucciso, speravo in un pazzesco plot twist. E invece.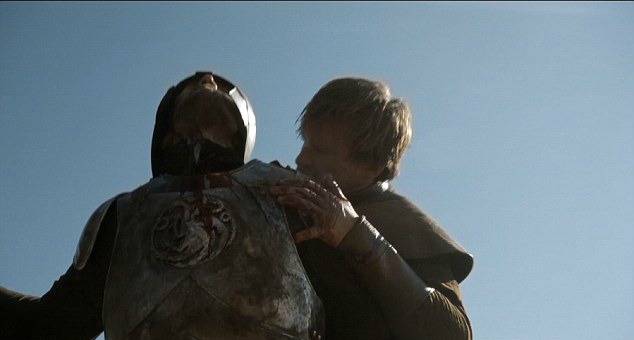 Howland Reed vero eroe della giornata, ma perchè Alba è stata così declassata? Perchè Dayne combatteva con due spade? Uffa dai.
Possiamo dichiarare ufficialmente che l'attore scelto per interpretare Young Ned è la migliora scelta di casting che si potesse fare, sembrava davvero un mini Sean Bean.
In questo frangente Bran ci rappresenta un pochino tutti: fateci sapere cosa sta succedendo in quella maledetta torre! Abbiamo bisogno di risposte!
Il Corvo a Tre Occhi interpreta chiaramente i malvagi sceneggiatori che ridono delle nostre sofferenze. Maledetti.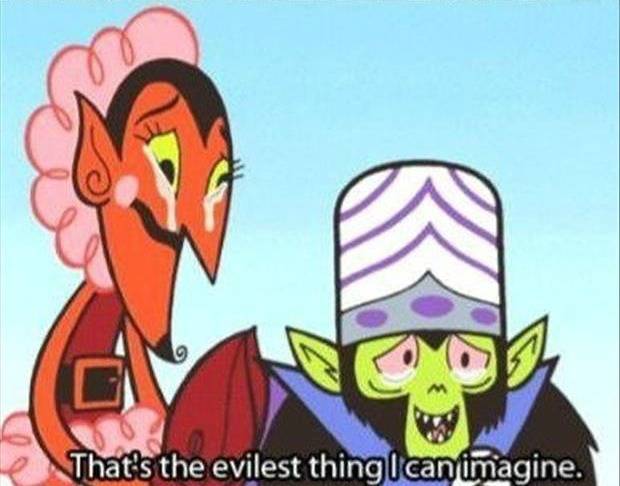 Ma arriviamo al vero dunque della puntata.
Quando hanno tolto il cappuccio ad Osha e ho realizzato che non c'era Cagnaccio avevo già capito tutto. E via litri di lacrime. Eh sì, perché se viene sbranata una donna e il suo bambino appena nato sbadiglio, ma se si tocca un cane/lupo/metalupo scatta la rivolta.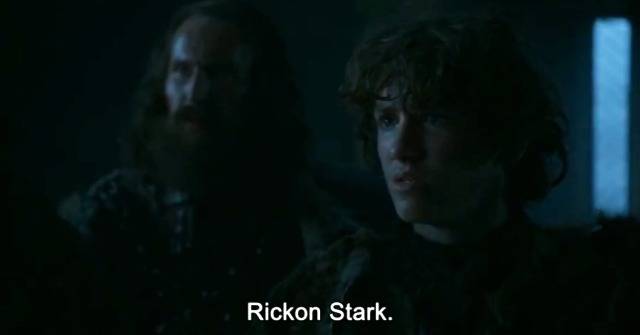 Messe da parte le lacrime però mi sono resa conto di una cosa: quello non può essere veramente Cagnaccio. Ve la ricordate la testa di Ventogrigio su quella di Robb? Era gigantesca. E Cagnaccio è sempre stato descritto come il più grande e aggressivo della cucciolata, calcolando che ora dovrebbe avere più o meno tre anni in più rispetto a quanti ne avesse Ventogrigio nella terza stagione, sembra impossibile che quella testa fosse la sua. E poi Rickon sembrava troppo tranquillo. Il Nord non dimentica, e questa somiglia sempre di più ad una cospirazione.
Piccola digressione sui libri a sostegno di questa teoria: andate avanti se non vi interessa, tanto sono cose che non accadranno mai nella serie.
I Manderly hanno finto di esibire le mani e la testa di Davos per mantenere l'alleanza con i Bolton e fare il doppio gioco riportando Rickon a casa, penso che abbiano voluto accorciare le cose usando la famiglia Umber. Ma probabilmente dedicheremo un intero articolo a questa teoria.
Oppure è la vera testa del metalupo, e Rickon ha le ore contate.
Bran è un #lettorerompicoglioni come me: 10+
Corvo a Tre Occhi infame per te solo lame: 2
Stupido sexy Mini Ned: 7
Rickon che ritorna dal mondo dei personaggi scomparsi è una resurrezione migliore di quella di Jon: 9
Cagnaccio nascosto nelle Cripte di Grande Inverno sogna di sgranocchiare Ramsay: 8
Small Jon Umber ti abbiamo scoperto birichino che non sei altro: 6

Gli OSCAR DEL TRONO
Premio scemo del villaggio: Dany
Premio muori male: Alto Passero
Premio spaccaculi: Howland Reed
Premio non ce la faccio a farcela:Tommen
Premio miglior nuovo personaggio: Mini Ned
Miglior citazione: Thormund "Pensano che tu sia una divinità, l'uomo che è tornato dal regno dei morti, ma che razza di dio avrebbe un uccello così piccolo?"
Ringraziamo i nostri partner di  Game of Thrones – Italy, Game Of Thrones fans page -ITA- , Game of Thrones ITALIA , L'immane disgusto di Varys nei confronti dell'umanità. Team Sansa, Il trono di spade