Attenzione: evitate la lettura se non volete imbattervi in spoiler sulla 6×04 di Game of Thrones.
Una caratteristica dei titoli degli episodi di Game of Thrones è la capacità di unire perfettamente con un'espressione (molto spesso una sola parola) le mille trame e sottotrame della serie.
"Book of the Stranger", quarto episodio della sesta stagione, cambia invece questa impostazione, focalizzandosi sulla figura dell'Alto Passero, dando meno organicità all'episodio. Questo aspetto non intacca la qualità della 6×04, passaggio preparatorio imprescindibile per affrontare le grandi battaglie che ci attendono. In questo (e solo in questo), c'è un filo comune, invisibile e allo stesso tempo intrigante; Game of Thrones ridefinisce gli equilibri (umani solo in un caso, politici e sopratutto militari) e corre dritto verso gli obiettivi finali di stagione: la guerra del Nord, la battaglia di Approdo del Re (una potenziale guerra civile, più che militare) e l'ascesa definitiva di Daenerys.
Gli Stark sono tornati, Ramsay è circondato dai nemici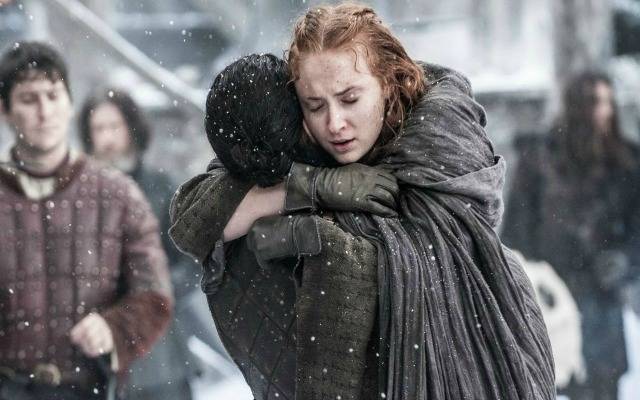 Iniziamo dalla guerra del Nord, al momento il fulcro narrativo più intrigante. Inutile dire che l'incontro tra Sansa e Jon segni un solco tra la prima era degli Stark, quella del dolore e della disfatta, e la seconda, quella della rivincita. Dopo le Nozze Rosse, Grande Inverno non era mai stata tanto vicina agli Stark. I motivi sono diversi, e offrono una conferma di quanto abbiamo detto nelle ultime settimane sul futuro di Ramsay Bolton.
Al momento non hanno un esercito, ma lo avranno molto presto. Sansa si riscopre in un ruolo maturo e determinante, i dolori del passato l'hanno segnata profondamente e l'hanno fatta crescere, ritrovando in lei una radice Stark sempre più in evidenza. È lei, ancora più di Melisandre, ad essere artefice della seconda vita del fratellastro Jon, sempre più un fratello legittimato dagli eventi di un'esistenza imprevedibile. Sansa ferma il suo addio alle armi e richiama la memoria del padre Ned, presente come non mai.
Sansa sarà importante anche per rimpolpare il nuovo esercito Stark grazie al rapporto con Ditocorto. Il protettore di Nido dell'Aquila, comparso per la prima volta nella sesta stagione, metterà a disposizione il proprio esercito per combattere contro Ramsay? Probabilmente sì, e un ruolo di rilievo nel nuovo scacchiere del Nord, oltre alla piena autonomia nei territori un tempo controllati da Lysa Arryn, potrebbe convincerlo.
Poi ci i Bruti (2000 uomini circa, a detta di Tormund) e, sopratutto, il Nord che ricorda. Osha ha tentato di far fuori Ramsay ottenendo in cambio la morte, ma una domanda sorge spontanea: è stata un'iniziativa personale? Oppure è una prima attuazione della possibile congiura degli Umber per cacciare i Bolton da Grande Inverno? Staremo a vedere. Quel che è certo è che Ramsay è isolato, a differenza della nuova accoppiata Sansa-Jon.
L'alleanza più debole 
Ad Approdo del Re, invece, c'è chi ritrova per strada un vecchio alleato e nonostante questo si ritrova sempre più solo. Da quando è morto Tywin, i Lannister hanno cessato di esistere con il vigore di un tempo. Ora è Cersei a dettare la linea della casata, con risultati disastrosi.
L'alleanza con i Tyrell è sempre stata molto debole e appesa ad un filo, ma il vecchio Lannister e Olenna avevano trovato i giusti compromessi per convivere, seppure faticosamente. Ora no, però le due casate si alleano di nuovo. È una questione di interessi personali del momento, non ci sono altri motivi. Olenna vuole liberare gli amati nipoti, Cersei vuole liberare Approdo del Re dalla dominazione religiosa dell'Alto Passero. Riusciranno nell'impresa? È difficile capirlo, sopratutto perché continuiamo a non sapere niente della guida religiosa, se non alcune informazioni sulla sua svolta spirituale. Lo sostiene il popolo? Solo il popolo? Oppure c'è qualcun altro in regia? L'unico dato di fatto è che lo stato di anarchia di Approdo del Re è una conseguenza diretta degli errori di Cersei, più che dell'influenza dell'Alto Passero, e con questo si dovrà fare i conti.
Per fortuna dei Tyrell, nonna Olenna non è l'unica donna scaltra della casata. Margaery ha capito come interfacciarsi con il fondamentalista religioso molto più di Cersei, e i risultati iniziano a vedersi, seppure timidamente. Cerca una mediazione, e grazie a questo riesce a incontrare Loras. Questo potrebbe essere il primo segnale della riscossa, più delle delle deboli svolte del Concilio Ristretto. Margaery è una regina amata, e non è un caso. In considerazione della rilevanza che avranno gli umori del popolo nel prossimo scontro, non è un dato da sottovalutare.
Il fuoco sacro di Daenerys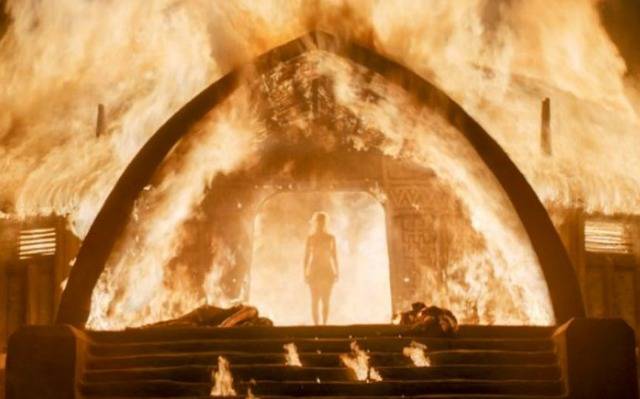 E poi c'è Daenerys. La solita Daenerys. E Tyrion. Il solito Tyrion. Anche in questo caso gli equilibri vanno a ridefinirsi, e in considerazione dei presupposti di partenza è quasi un miracolo. La Khaleesi ripassa dal via, domina la situazione come fece ai tempi della morte di Khal Drogo e, come la prima volta, ottiene in cambio un nuovo bonus nella scalata al trono dei Sette Regni, oltre alla libertà. È questa la grande guerra che la attende.
Il fuoco è un'arma di distruzione e allo stesso tempo di salvezza. Cancella il passato e plasma il futuro. Il fuoco le consegna una schiera di uomini, i Dothraki, fondamentali in prospettiva. Stavolta riuscirà a gestire la situazione? Probabilmente sì, e grazie a Tyrion, un principe machiavellico che fa della politica un'arte e di ogni ostacolo una nuova opportunità. L'aveva dimostrato ad Approdo del Re ai tempi della reggenza del regno, e lo sta confermando anche a Meereen, dove è riuscito a districarsi sapientemente in una situazione complessa e potenzialmente distruttiva. Contrappone la necessità di un compromesso all'integralismo di Daenerys, e i risultati si vedono. Il modo migliore per vincere una guerra è non restare mai soli, d'altronde.
Il fuoco, si diceva. E il ghiaccio, dimenticato nella prima parte di questa stagione e probabilmente tenuto al di là della Barriera per un altro po'. L'Inverno sta arrivando e gli Estranei saranno l'ultimo banco di prova della magnifica follia di Martin, ma non è ancora arrivata la loro ora. C'è un quadro politico da definire con chiarezza, e tre grandi guerre da vivere col fiato sospeso. L'ipotetico Book of the "Strangers", quello più gelido e inquietante che con questo episodio non ha niente a che vedere, ha ancora le pagine bianche.
Antonio Casu 
@antoniocasu_
Ringraziamo i nostri partner di  Game of Thrones – Italy, Game Of Thrones fans page -ITA- , Game of Thrones ITALIA , L'immane disgusto di Varys nei confronti dell'umanità. Team Sansa, Il trono di spade