George R.R. Martin è l'autore di A Song of Ice and Fire, la saga che ha ispirato Game of Thrones. Il sesto libro, dal titolo The Winds of Winter, deve ancora essere pubblicato. I fan non possono più aspettare! La domanda che tutti si pongono è infatti: ma quando lo finirà? Intervistato al Fox Theater, lo scrittore ha recentemente dichiarato:
Ci sto lavorando! Credetemi, quando avrò finito lo saprete.
Per un certo periodo Martin pensava di riuscire a concludere The Winds of Winter prima che la HBO ponesse fine a Game of Thrones. Con l'arrivo dell'ottava e ultima stagione della serie previsto per il 2019, questo pronostico sembra non avere più valore. L'autore, in effetti, non si aspettava che la serie non prendesse in considerazione così tanto materiale dai suoi libri.
Realtivamente ai suoi libri, durante l'intervista George R.R. Martin ha rialsciato qualche curiosità su A Song of Ice and Fire e su Game of Thrones.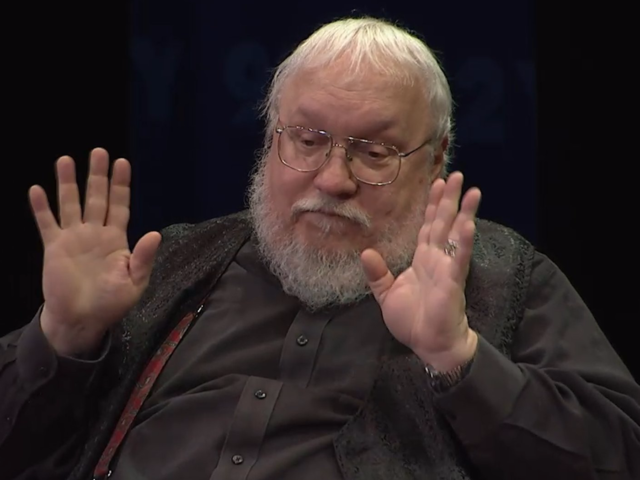 Ci sono alcune domande a cui Martin non risponderà mai, come l'esistenza di un'eventuale sorella Clegane o il possibile ritorno della cometa rossa. Tuttavia le sue recenti dichiarazioni restano interessanti.
I fan si sono chiesti per anni che fine avesse fatto Dark Sister, la spada in acciaio di Valyria impugnata da Visenya Targaryen durante la Conquista di Aegon. Passò poi a Brynden Rivers (Bloodraven). Martin ha rivelato che Bloodraven portò con sè Dark Sister quando andò alla Barriera, dove diventò Lord Comandante dei Guardiani della Notte e poi il Corvo a Tre Occhi. Per quel che sappiamo, è ancora nella sua caverna.
Realtivamente al personaggio di Davos Seaworth, Martin ha dichiarato di averlo creato perché aveva bisogno di raccontare la storia di Stannis. Tuttavia non voleva che Stannis diventasse un personaggio da punto di vista.
L'autore ha poi ribadito che non approva le persone che scrivono fan-fiction utilizzando i suoi personaggi. Ha proprio detto:
Se vuoi farlo, mandami una Tesla piena di denaro.
Infine, Martin ha anche parlato delle differenze tra i suoi libri e Game of Thrones, dicendo che non considera la serie una bozza di cosa aspettarsi nei romanzi. Ha spiegato che alcuni personaggi morti nella serie non moriranno mai nel libro. Ovviamente non ha detto quali personaggi!