L'ottava stagione di Game of Thrones si preannuncia un autentico bagno di sangue. Sophie Turner sembra confermarlo in una nuova intervista al 1883 Magazine. "Questa stagione sarà più sanguinosa che mai", confessa. "Sarà piena di tradimenti, piena di guerra, piena di pericoli, ed è tutto ciò che posso dire". I commenti della Turner arrivano poche settimane dopo che la sorellina di Serie, Maisie Williams, ha celebrato la fine delle riprese con una foto delle sue sneakers bianche, insanguinate (qui puoi leggere l'articolo) e un accenno semi-spoiler sull'essere l'ultima donna ad aver girato. Sophie Turner conclude, poi, ritenendosi la più potente, aggiungendo che il suo personaggio diventerà il "vero leader di Winterfell".
"È stato un momento davvero potente nelle nostre vite e nelle nostre carriere", ha detto Francesca Orsi, Vice Presidente Senior delle Serie drama della HBO. "Nessuno del cast aveva ricevuto le sceneggiature prima e uno per uno hanno iniziato a leggere quello che alla fine ha portato alla loro morte. È stato fantastico. Alla fine, tutti hanno guardato in basso e alzato lo sguardo, nel mentre le lacrime hanno cominciato a sgorgare". Naturalmente, l'inganno scorre nelle vene di Westeros. Sophie Turner potrebbe riferirsi a quasi tutti: Jaime e Cersei, Jon Snow e Daenerys, Dany e i suoi draghi – le possibilità sono infinite.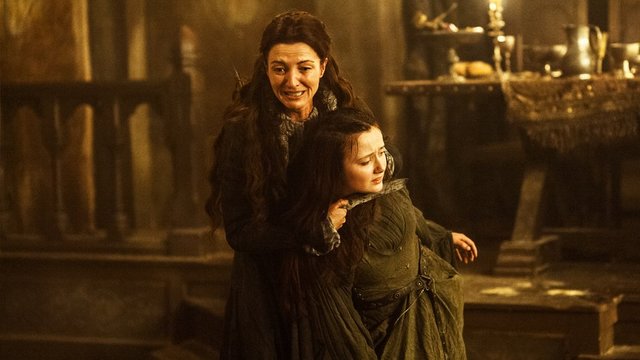 Il presidente della programmazione BO, Casey Bloys, ha parlato con Entertainment Weekly questa settimana, riuscendo ad anticipare alcuni piccoli, seppur importanti, segreti sull'imminente conclusione di Game of Thrones: "Penso che sarà epico. Penso che i fan lo adoreranno. Penso che sia un modo appropriato di chiudere uno dei più grandi spettacoli della storia della televisioneìe che le persone ne saranno molto felici. Ci sarà molta conversazione."
E ci credo! D'altra parte gli episodi saranno lunghi quasi due ore, ci aspettiamo almeno un pò di conversazione e non solo la cruda battaglia.