Il personaggio di Ser Davos, il Lord delle Cipolle interpretato da Liam Cunningham, è comparso per ben 36 episodi su 67 andati in onda di Game of Thrones; un personaggio che ha dispensato consigli e perle ai vari contendenti al Trono.
Una delle domande alle quali sono stati sottoposti tutti i membri della serie tv è: chi siederà sul Trono al termine dell'ottava stagione? Chi sopravviverà?
Ci sono state molte speculazioni riguardo i personaggi rimasti in vita per quest'ultima stagione, soprattutto sui membri della famiglia Stark, in seguito al teaser trailer rilasciato nei giorni scorsi. Cunningham, fortunatamente, è riuscito a rimanere vago durante la sua apparizione al programma The Late Late Show, con Ryan Tubridy.
L'attore ha puntualizzato che tutti gli uomini devono morire e che fino ad adesso, effettivamente, il suo personaggio è rimasto in vita. Più a lungo di tanti altri personaggi che hanno avuto vita breve.
Fino a ora.. Fino a ora. Questo non significa niente. Moriremo tutti. Non dimenticate "Valar Morghulis", che è una delle frasi di Game of Thrones che significa "tutti gli uomini devono morire".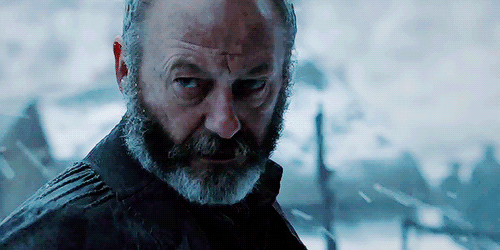 Cunnigham ha confermato che all'inizio dell'ottava e ultima stagione, Ser Davos sarà ancora vivo e vegeto, ma non ha voluto rivelare se rimarrà tale al termine della grande guerra.
Posso anche ripetere quello che ha detto il capo di HBO Richard Plepler: li ha visti, non sono ancora finiti, c'è ancora molto CGI e cose da fare sugli episodi. Ha visto i sei episodi due volte e ha detto che è come guardare sei film. Sarà uno stile diverso.
Il pronostico è che la maggior parte – o tutti – i personaggi alla fine non arrivino al termine della stagione. Utilizzando le parole di Ser Davos:
Se non mettiamo da parte le nostre inimicizie e la banda insieme, moriremo. E poi non importa quale scheletro si trova sul Trono di Spade.