"L'inverno sta arrivando"
Ecco l'essenza di Game of Thrones. Un motto, esperienza stessa della cifra di quest'opera. L'attesa dei fatti inevitabili che accadranno, ma anche rappresentazione dell'ineluttabile arrivo della morte che permea e sovrasta ogni personaggio.
"Al gioco del trono o si vince o si muore"
Non sono da meno le parole di Cersei. Se le precedenti erano l'anima, queste sono la colonna vertebrale, l'ossatura stessa, di Game of Thrones e della prima stagione in particolare. Un gioco che vede le sue prime fondamentali pedine mosse proprio nei primi 10 episodi che compongono questa stagione.
Buttiamoci allora a capofitto nella prima entusiasmante stagione di Game of Thrones!

Oltre la Barriera: Estraneo, Guardiani della Notte morti. Approdo del Re: il primo cavaliere, Lord Arryn, muore. Nel Nord: Lord Eddard Stark giustizia un disertore.
[25 parole, 4 morti. Che inizio!]
Lord Stark trova una meta-lupa morente e ne regala i cuccioli ai figli. Il re arriva a Grande Inverno: vuole Ned come primo cavaliere al posto del defunto Arryn, la cui vedova, Lisa, avverte la sorella Catlyn, moglie di Ned, che i Lannister hanno assassinato il marito. Durante il soggiorno, il giovane Bran, arrampicandosi su una torre, sorprende la regina in un rapporto incestuoso con il di lei gemello Jaime. Quest'ultimo lo getta dalla torre.
Tyrion Lannister, il nano fratello minore degli incestuosi di cui sopra, beve.
L'esiliata figlia del re folle, Daenerys Targaryen, viene costretta dal fratello Viserys a sposare Khal Drogo, capo dei dothraki. Bran sopravvive, seppur in coma, ma tentano di pugnalarlo. Ned e le due figlie sono alla capitale mentre il figlio bastardo, Jon Snow, va alla Barriera tra i Guardiani della Notte. Arya, figlia minore di Ned, impara da un maestro di spada bravoosiano: Syrio Forel.
Bran si sveglia dal coma, paraplegico, e non ricorda nulla. Daenerys, ormai innamorata del marito, resta incinta. Catlyn, di nascosto nella capitale, scopre da Ditocorto che la daga dell'attentato apparteneva a Tyrion. Torna al Nord dove, casualmente, cattura il nano.
Re Robert vuole Daenerys morta. Jaime vuole Ned Stark morto. Lisa Arryn vuole Tyrion morto. Cersei vuole tutti morti.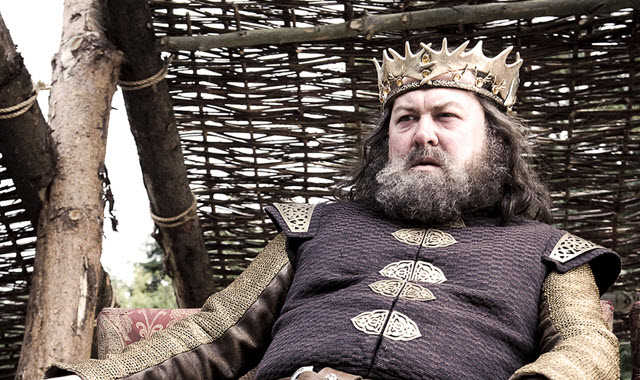 Lord Stark sopravvive a un agguato di Jaime. Sua figlia Sansa, invaghita di Joffrey figlio di re Rob…ehm, ecco, no diciamo figlio di Cersei, fa notare al padre quanto assomigli più allo zio Jaime che non al re. Illuminazione.
Cersei e Ned hanno una dura diatriba. Re Robert, dopo una battuta di caccia, muore. Non prima di aver nominato il primo cavaliere reggente. Ned trascrive il testamento del re sostituendo "erede" a "figlio" come riferimento al successore. Tenta di far arrestare Joffrey, ma, tradito da Bailish, viene imprigionato.
Tyrion, grazie all'aiuto del mercenario Bronn, si salva da Lady Lisa e raggiunge il padre. Robb Stark chiama a raccolta le forze del Nord contro i Lannister. Sua sorella Arya riesce a sfuggire alla cattura, diversamente da Sansa.
Nonostante la confessione di Ned, Joffrey lo fa decapitare. Arya assiste alla morte poi fugge. Robb cattura Jaime.
Robb viene nominato re del Nord.Twin Lannister nomina Tyrion primo cavaliere per tenere a bada Cersei e Joffrey.
Kal Drogo si ritrova in uno stato vegetativo, mentre suo figlio è morto in grembo. Daenerys per pietà  lo soffoca. Fa legare la maegi che ha causato ciò alla pira funeraria. Il dolore, però, è troppo e si getta anch'essa. La mattina successiva Ser Jorah la trova salva tra i resti del rogo con tre cuccioli di drago.
Game of Thrones è così, un vulcano in eruzione. Anche quando tutto sembra fermo, la lava ribolle sotto la crosta pronta a esplodere con un fragore assordante. Questa prima stagione è il biglietto da visita perfetto, contiene tutti gli elementi che ci fanno amare e appassionare a Game of Thrones e vengono gestiti con una sapienza e maestria unica. Anche solo a ripensarci, viene voglia di rivederla!