# #
Game of Thrones: la più grande Serie televisiva fantasy di tutti i tempi, tratta dalla saga letteraria de Le Cronache del Ghiaccio e del Fuoco di George R. R. Martin.
# #
La conclusione televisiva sarà nel 2018 con l'ottava stagione, mentre la scrittura del sesto volume – The Winds of Winter – è tuttora in corso e non è stata ancora svelata una possibile data di pubblicazione; a questo, successivamente, seguirà il settimo e ultimo volume intitolato A Dream of Spring.
Tutti i series addicted degli ultimi anni sono stati, in modo più o meno diretto, toccati da Game of Thrones. Stiamo parlando di una Serie che non può passare facilmente inosservata, una Serie da 6/7 milioni di dollari a puntata, con una media di telespettatori sempre crescente, con il picco di quasi 8 milioni di telespettatori a puntata per la sesta stagione, solo negli Stati Uniti. Una produzione gigantesca per una Serie che sin dalle premesse sembrava poter offrire qualcosa di unico.
# #
Quale può essere allora il punto debole di una macchina da ascolti come Game of Thrones ?
La risposta molti di voi, fan della Serie, se la saranno già data. A volte le risposte più semplici sono le più geniali. Il punto debole del Game of Thrones è in realtà anche il suo più grande punto di forza: George R. R. Martin.
Prima che qualche accanito lettore dell'epopea letteraria mi salti al collo, vorrei specificare ciò che ho appena sostenuto: personalmente nutro una grande stima nei confronti di Martin, è un uomo la cui fantasia non può che ispirare giovani e focose menti non solo a leggere la sua e altre opere simili, ma anche a cimentarsi nella stesura di una propria avventura letteraria. Io stesso ne sono stato influenzato, ho scoperto i piaceri di una lettura fantasy, ho aperto la mia mente e ho affinato la mia mano nel tentativo di concepire un qualcosa di simile.
La Serie televisiva è costruita sui libri di Martin e questo è un punto di partenza formidabile. L'autore ha scritto un'opera pregevole, ricca di dettagli e di ispirazioni storiche perfette però per uno stile, appunto, letterario. Da un certo punto in poi, precisamente da dopo la fine della quarta stagione, la Serie ha preso una strada diversa rispetto ai libri, questo anche perché il buon George ha smesso di collaborare alle sceneggiature degli episodi.
Nonostante la collaborazione di Martin alla scrittura, molti fan della saga letteraria hanno criticato la Serie per la scarsa attinenza di alcune vicende con quelle narrate nei libri, oltre a una caratterizzazione dei personaggi spesso non fedele a quella cartacea.
Ma perché, nonostante l'autore stesso abbia lavorato alla stesura del racconto televisivo, ritroviamo degli errori simili?
La questione è più vecchia del mondo, gira negli ambienti cinematografici da almeno una cinquantina d'anni: la differenza grammaticale tra due sistemi per raccontare una storia è inconciliabile. Se il mezzo di trasmissione cambia (libro, televisione, cinema, teatro), cambia anche il modo in cui la storia viene raccontata. Sembra banale, ma non lo è. La differenza di tempi e di modi che questi mezzi offrono sono frutto di anni ed anni di studio e costruzione strutturale delle singole arti.
Il Trono di Spade ha provato ad assumere i tempi di un'opera letteraria, portandoli sul piccolo schermo, salvo poi rendersi conto di un paio di cose:
Con i tempi di Martin e dovendo raccontare alla perfezione tutte le vicende, soffermandosi su ogni zona del mondo fantasy come fa l'autore, la Serie sarebbe durata, come minimo, 20 stagioni; il che sarebbe stato un suicidio, non solo per la Serie, ma anche per gli spettatori. Senza contare che gli attori sarebbero invecchiati troppo o morti (compreso Martin…), per cui sarebbe stato del tutto infattibile;
A causa del punto numero 1, quasi certamente la Serie sarebbe andata alla deriva, perdendo qualità e probabilmente rischiando la chiusura. Una fine indegna.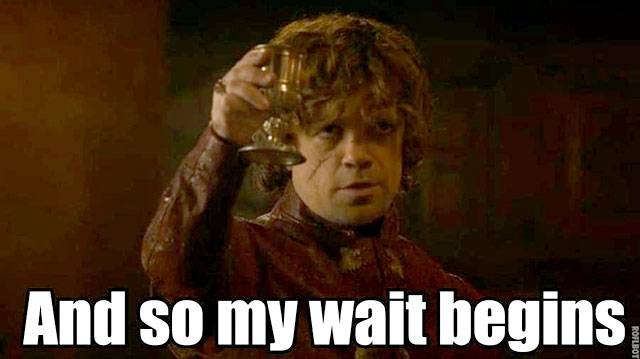 Per cui hanno dovuto trovare un compromesso: concludere la Serie dopo 8 stagioni è un grande passo, seguire una linea tracciata dagli autori e approvata da Martin, ma che probabilmente non coinciderà con il prosieguo delle vicende raccontate dai libri, è un ulteriore atto di coraggio.
Questo però è un punto debole. In ogni caso, quando si scende a compromessi, si è costretti a cedere qualcosa per guadagnare qualcos'altro, per definizione. Ciò a cui i bravissimi autori, David Benioff e D.B. Weiss, hanno dovuto rinunciare è stato il proposito iniziale della Serie: essere, il più possibile, la versione televisiva dei libri.
È stato un errore pensare di poter contenere una storia di queste dimensioni in una Serie composta da stagioni con un numero fisso di episodi. Siate sinceri, lettori della saga e non, quante cose avreste voluto che fossero approfondite di più o gestite meglio? Come un bicchiere che cerca di contenere l'oceano.
E comunque non vedo l'ora che arrivi luglio per godermi finalmente le brezze pungenti dell'inverno…