Nuova puntata, nuove pagelle. Partiamo da un presupposto semplice: io non mi sono ancora ripresa. Cercherò di essere ironica, ma sarà difficile. 
Ci ho dormito sopra, ho mangiato, sono andata in palestra e pianto come una fontana, ma niente. Questa 6×05 non si dimenticherà facilmente. Sapevamo che quell'abbraccio tra Jon e Sansa l'avremmo pagato caro.
A Essos:
Dany che, con grandissimo dispiacere di Jorah e Daario, si è rivestita si trova davanti a una triste scelta: cosa fare con Ser Friendzone? Lo ha rimandato così tante volte che ormai non può né riammetterlo alla sessione d'esame né bocciarlo definitivamente.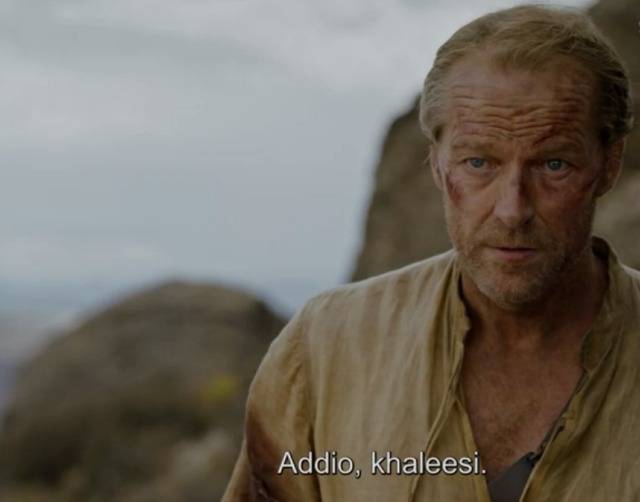 Ma il vecchio orso si autoelimina non presentandosi direttamente all'appello: usa la solita scusa del "eh c'ho un po' di febbre, guarda mi è pure venuto uno strano eritema sul braccio, provo a luglio".
Arya, pur avendo recuperato la vista, continua a prenderle di brutto dalla Tizia scorbutica che a quanto pare è una campionessa di "La battaglia di Magenta" tanto più che le caccia delle mosse da ninja pure senza bastone, senza braccia, senza testa e senza busto. Un'impresa impossibile perfino per Aldo.
http://https://www.youtube.com/watch?v=ERoTRAbEMH0
Non capisco bene a cosa servisse l'acquetta che che ha bevuto nella scorsa puntata dato che Arya è tutto tranne che No One. E questo l'ha ben capito anche "Jaquen" che per metterla alla prova la sottopone ad una tortura di ispirazione decisamente amletica: dovrà uccidere un'attrice che interpreta Cersei in uno spettacolo che ridicolizza la morte di Robert e Ned.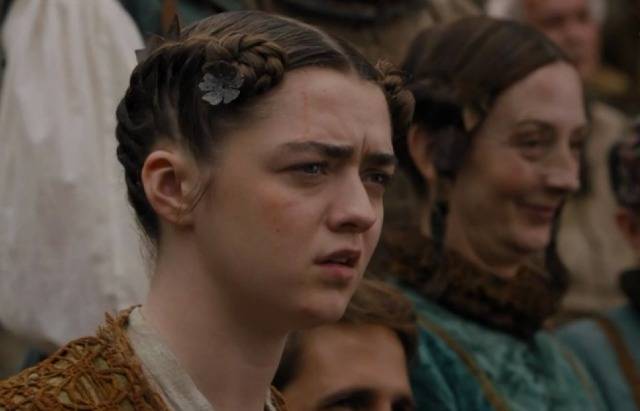 Non solo Arya sarà costretta a rivivere l'orrore della morte del padre, sempre costretta a guardare dalla folla senza poter intervenire, ma vedrà un uomo d'onore interpretato come lo scemo del villaggio, mentre Jof e Cersei dipinti come dei santi. Almeno è riuscita in qualche modo a "depennare" Cersei dalla sua lista, nel mondo della fantasia.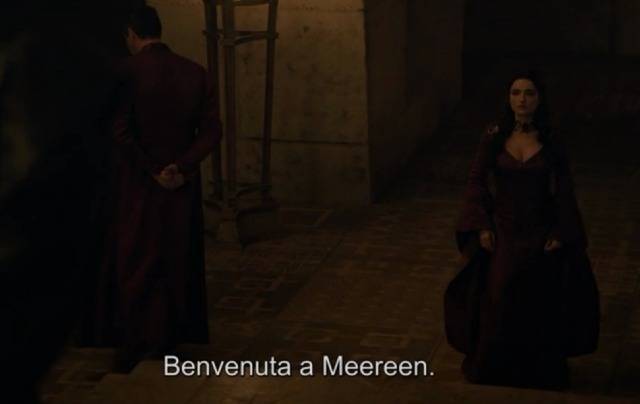 Tyrion e Varys si trovano nella stessa identica situazione di Cersei nella scorsa stagione: è proprio necessario dare troppo potere al fanatismo religioso pur di mantenere la pace? 
Certo, questa nuova Sacerdotessa sembra molto potente, tanto che con le sue sopracciglia perfette riesce a spaventare perfino Varys, ma forse permetterle di mettere al rogo metà Meeren non è un'idea geniale. Tanto vale liberare i draghi. Il fatto che lei ritenga che Dany sia Azor e invece Meli parteggi palesemente per Jon alimenta taaante teorie dei fan.
Dany disperata come il mio vecchio professore di greco: 7
Jorah inconsapevole del fatto che la sessione estiva è la peggiore in assoluto: 4, non sai niente pure tu
Varys ben presto si darà ai tutorial di make-up: 6
Arya ha più ematomi di Sansa ma non si lamenta OGNI SINGOLA PUNTATA: 9
A Pyke:
Finalmente la tanto attesa Acclamazione del Re, devo ammettere che avendo letto i libri ero abbastanza emozionata per questa scena, e invece? Delusione a pacchi, Pyke is the new Dorne ragazzi. Il discorso di Euron è stato IMBARAZZANTE, e il fatto che abbiano completamente snaturato un personaggio affascinante e misterioso come il suo proprio non mi va giù. Insomma, davvero non c'era un solo uomo fedele a Balon che è inorridito alla dichiarazione di omicidio così spudorata? Oltretutto, sbaglio o tra gli Uomini di Ferro uccidere un consanguineo è un atto davvero disonorevole? Hanno ridotto Euron ad un tizio che ha bisogno di fare battute sulla sessualità del nipote per avere consenso. MA CHI VOGLIAMO PRENDERE IN GIRO? E il battesimo? E la fuga dei nipoti che trovano magicamente le navi pronte a salpare. Andiamo avanti che mi vergogno solo a parlarne. Bel montaggio, bella la fotografia, bella la sequenza con le parole in sottofondo, ma un adattamento vergognoso.
Theon sperava in una gioia e invece si trova per l'ennesima volta in fuga: 5 dategli una gioia
Yara adesso va a sposarsi Dany prima di Euron per fare felici le #Clexa: 6
Euron non ti riconosco più, sembra una puntata di Catfish: 3
Alla Barriera:
Sansa Spaccaculi maltratta un pochino Ditocorto rinfacciandoli giusto un pochino il fatto che lui conosceva benissimo i "gusti particolari" di Ramsay. Quando la ragazza gli chiede di indovinare tutto ciò che ha dovuto subire Minidito si trattiene dal risponderle: "tutto ciò che vorrei farti io". Purtroppo temo che presa dall'euforia del momento si sia fatta ingannare nuovamente: davvero il Pesce Nero è riuscito a riconquistare la Terra dei Fiumi? Oppure è l'ennesimo trucchetto di Petyr per ribaltare la situazione a suo favore? Ma soprattutto: come ha fatto a teletrasportarsi dalla Valle a Città della Talpa in un solo episodio? Ha lo stesso superpotenze delle Serpi delle Sabbie?
Brienne che schifa Tormund è stato un colpo al cuore terribile.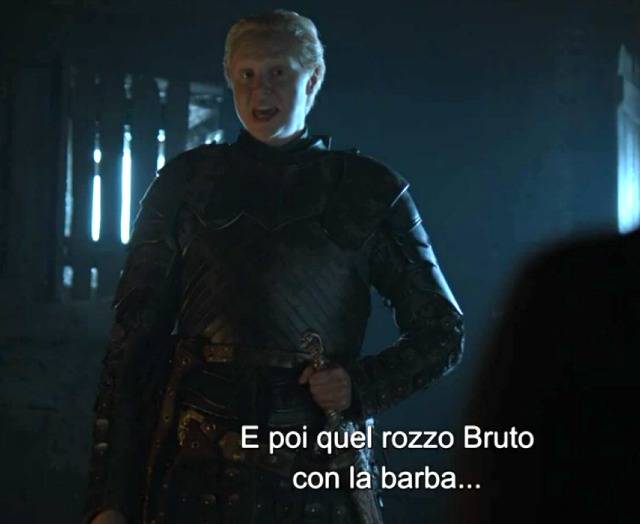 Sansagioia forse ha fatto l'ennesima cretinata: 6
Jon usa Splash, ma non succede nulla: datti una svegliata 1
Tormund guarda Brienne come guardo le lasagne a Natale: 10
Ed è il nuovo Lord Comandante, il migliore di tutti i tempi: 1000000
Al Nord:
Si parlava di colpi al cuore terribili giusto? A tutti quelli che dicevano che la storyline di Bran era lenta e noiosa ecco il benservito. Passiamo alle riflessioni serie, perché essere ironici in questo frangete è davvero impossibile.
Apriamo una petizione: BASTA UCCIDERE I METALUPI A CASO, BASTA VI PREGO.
No davvero, ma che senso ha avuto il sacrificio di Estate? La sua morte è stata liquidata velocemente mentre pathos e lacrime per la figlia della foresta, ma facciamo sul serio?
Il significato dei metalupi nella serie è chiaramente molto diverso da quello dei libri, ma ho sempre ritenuto che rappresentassero comunque "l'essere Stark" dei ragazzi: Lady è stata uccisa proprio quando Sansa ha "tradito" la sua famiglia, Nymeria rappresenta l'attaccamento di Arya al suo passato e il fatto che non potrà mai diventare No One, Spettro aiuta Jon a ricordare ogni giorno che è molto più di un semplice bastardo. Le vite dei giovani Stark e dei loro metalupi sembravano legate da qualcosa di grande e significativo. E invece ne hanno ammazzati due assolutamente a caso, nel giro di due puntate (anche se una piccolissima parte di me ancora spera nel #gomblottoUmber).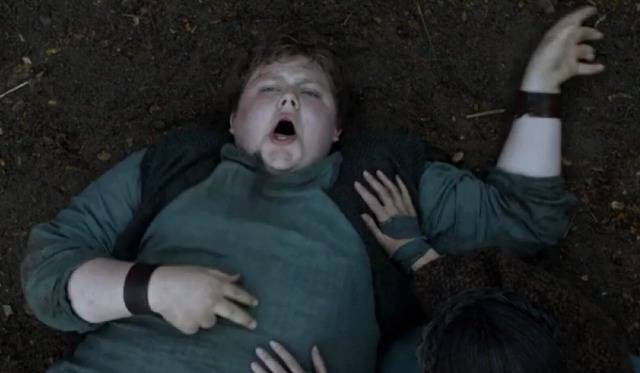 E Wylis.
L'idea dell'origine della sua fissazione era buona ed è stata sviluppata in modo a dir poco ottimale. Il fatto che tutti quanti avessimo il magone in gola, il montaggio, l'ansia, la suspence creata sono già elementi piuttosto esplicativi ma sono due le cose che ci interessano veramente. Innanzitutto il fatto che Wylis sia morto da eroe, non da automa, ci tira già un pochino su: l'inquadratura sui suoi occhi mostra chiaramente che nel momento del sacrificio non era sotto l'influenza di Bran, come se dopo tanti anni il loop nel quale era bloccato si fosse finalmente sciolto, trovandosi a faccia a faccia con il suo destino. Abbiamo inoltre capito che Bran è veramente in grado di modificare il passato, per quanto la scena sia stata volutamente misteriosa io penso che il giovane Wylis sia stato influenzato dalla mente di Bran che allo stesso tempo provava a wargare nella sua versione adulta, creando così un "ponte" tra la voce di Meera e la sua mente.
Questa è la bellezza di Game of Thrones: farci piangere e disperare proprio quando ci sentivamo più al sicuro, anche per personaggi che fino ad un minuto prima ritenevamo totalmente secondari.
Bran combina casini immensi, cose del genere non si vedevano dalla volta che Robb ha genialmente deciso di rompere il patto con i Frey: 7, perdonato perché sei scemo di natura
Meera pensa di poter trascinare il ragazzo senza farsi raggiungere: 2, povera illusa
Non riuscirò mai più a chiudere una porta senza pensare ad Hodor: 10 litri di lacrime
Premio scemo del villaggio: incredibilmente, Tyrion
Premio muori male: il Re della Notte
Miglior nuovo personaggio: La sacerdotessa dalle belle sopracciglia
Premio spaccaculi: Meera
Premio non ce la faccio a farcela (neanche per sbaglio): Theon
Ringraziamo i nostri partner di  Game of Thrones – Italy, Game Of Thrones fans page -ITA- , Game of Thrones ITALIA , L'immane disgusto di Varys nei confronti dell'umanità. Team Sansa, Il trono di spade