L'abbiamo attesa. L'abbiamo sognata. Abbiamo preparato i popcorn per affrontare i morsi della fame da maratona notturna e ci siamo messi davanti alla Tv con quell'emozione che solo la prima puntata di una nuova stagione di Game of Thrones ci sa dare. E fin dalle primissime immagini abbiamo capito che questa sarà la stagione della svolta. Non si gioca più, non si perde più tempo; le cose da fare sono tante, e cominciare la settima stagione con il massacro, la cancellazione dalla faccia della terra della casa Frey, proprio nel luogo in cui, tre stagioni or sono, era avvenuta la macelleria di casa Stark, e sapere che la vendetta compie il suo dovere per mano della piccola lupa Arya, ci ha fatto capire che questa stagione sarà diversa dalle altre.
I sogni dei fan potrebbero avverarsi, ma d'altro canto Game of Thrones non è conosciuta per lasciarsi sedurre dal fanservice; alla goduria per lo sterminio di una delle casate più odiose potrebbe aggiungersi lo scotto di chissà quanti dispetti degli implacabili D&D ai danni dei nostri personaggi preferiti. Quello che la settima stagione di Game of Thrones potrebbe arrivare a fare, pur nel suo modo perverso e fuori dagli schemi, sarebbe dimostrare che i conti verranno pareggiati, prima o poi, che ogni tanto i giusti possono tirare un respiro di sollievo, e che quello che sappiamo, o crediamo di conoscere, non vale niente di fronte alle possibilità che ti mette davanti la vita. E questa cosa la capiamo molto bene nella scena in cui compare Ed Sheeran.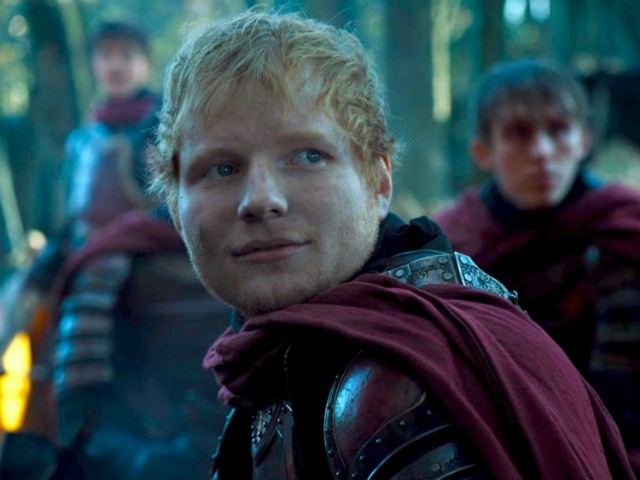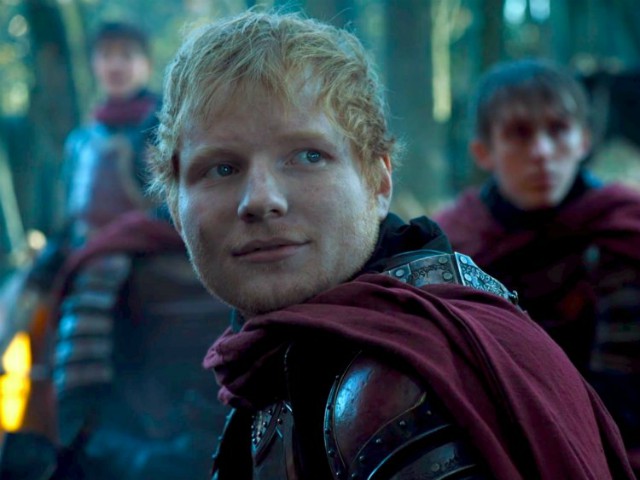 Il cantante, asso nella manica che gli sceneggiatori decidono di giocarsi subito, più che un semplice menestrello e portatore di una sana dose di spensieratezza (ma non tutti i fan la pensano così) in una puntata che inizia con un massacro (seppur orgasmatico) e termina con ben 10 minuti di Daenerys che sa essere pesante anche solo spiccicando mezza parola, ha il compito di introdurci, insieme ai suoi compagni, una delle più grandi lezioni che questo show ci regala dopo sette stagioni. Il nemico ha un volto umano e non importa che tu, il tuo volto, possa cambiarlo a piacimento. Nel volto del nemico troverai sempre riflesso il tuo.
Arya è un personaggio che, nonostante le apparenze possano suggerire una staticità caratteriale, si evolve moltissimo. Il fatto che sia rimasta dentro di sé la stessa ragazzina impertinente e spavalda che gettava il cibo in faccia a Sansa al banchetto a Grande Inverno si spiega con il fatto che lei è estremamente coerente con se stessa. Non si mette mai in discussione, e le sue intenzioni sono rimaste quelle di quando ha stilato per la prima volta la lista delle morti: vuole pareggiare i conti con il passato. In altre parole vuole uccidere Cersei.
All'interno di questa sicurezza, però, si agitano intemperie dovute, oltre che alla sua giovane età, alle esperienze che la vita le mette davanti: arrivata alla Casa del Bianco e del Nero con l'intenzione di diventare un assassino senza volto a tutti gli effetti, ne esce dichiarando: "io sono Arya della casa Stark, e sto tornando a casa".
Arya prende quello che la vita le offre, e lo seleziona in base ai suoi scopi. Ma la vita non si basa sui piani che ti fai per viverla. Arya si imbatte in un gruppo di soldati Lannister, che si trova sulla sua strada per causa sua: dopo lo sterminio di casa Frey, devono mantenere la pace. I presupposti per una scena di violenza ci sono tutti, o almeno è quello che abbiamo pensato facendo l'equazione ragazza sola + soldati in gruppo accampati in mezzo ad un bosco. Ci eravamo preparati a un ennesimo colpo della ragazzina senza faccia, e invece Game of Thrones ci frega.
Con la sua imprevedibilità e la sua indecifrabilità, allestisce un quadro degno di un film di guerra, quelli in cui si raccontano le storie dei soldati che la guerra non la volevano fare, e a cui non frega niente se il pezzo di coniglio che mangiano viene dalle mani del cosiddetto nemico. Arya si fa convincere dalla fame a fermarsi, e forse anche dalla musica: quelli che fanno musica, pensa forse la minima parte di ragazzina innocente rimasta dentro di lei, non possono essere così cattivi. Loro sono il nemico, sono pagati dai mostri che hanno ucciso la sua famiglia e pagherebbero ancora per assicurarsi la sua morte: questo pensa, sedendosi al loro fianco e tenendo d'occhio le loro spade accatastate.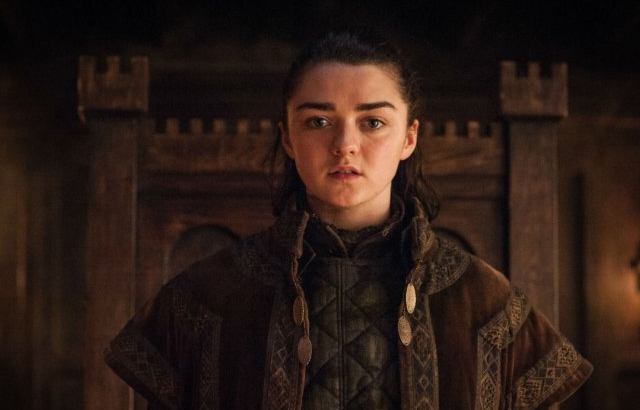 Loro sono solo dei ragazzi, che si fanno coraggio cantando una canzone che parla di donne e delle loro mani calde, che valgono più dell'oro, e che condividono con lei aneddoti semplici e casalinghi, come si farebbe nella civiltà, in un mondo senza guerre. Loro sono il nemico perché i loro mantelli sono porpora, ma i loro cuori sono come quelli di qualsiasi ragazzo che è rimasto incastrato in un'avventura senza capo né coda e che vuole solo tornare a casa.
E quando tocca ad Arya parlare, lei getta la bomba. È diretta a Sud, ad Approdo del Re, per uccidere la regina. Dopo un iniziale silenzio e una tensione palpabile, tutto si esaurisce in una risata. Una ragazzina non ucciderà mai la regina, quella Cersei che ha fatto saltare in aria mezza città. La guerra non finirà mai, e quei ragazzi non rivedranno le loro famiglie. Perché una ragazzina non può uccidere una regina.
Ma se sapessero chi hanno davvero davanti, quei ragazzi, sarebbero i primi ad aiutarla, a mettere fine alla guerra. Alla loro guerra, almeno. Perché una ragazzina non può uccidere una regina. Ma il Dio dai Mille Volti sì.