ATTENZIONE: questo articolo contiene spoiler sulla sesta e settima stagione di Game of Thrones!
Game of Thrones ha numerosi personaggi e ognuno di essi divide il pubblico: c'è chi li ama e chi li detesta. Questa situazione affligge anche il personaggio interpretato da Natalie Dormer, Margaery Tyrell. Molti fan sono rimasti turbati dalla sua morte, avvenuta alla fine della sesta stagione.
Durante una recente intervista Natalie Dormer ha dichiarato di non aver apprezzato lo svolgimento della settima stagione di Game of Thrones!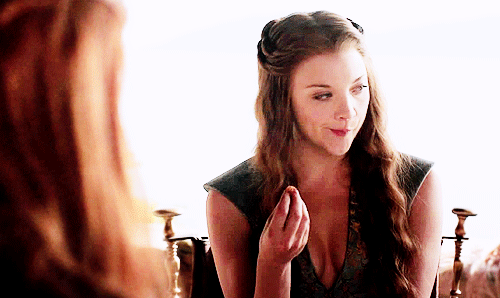 Qualora ve lo foste dimenticati, Margaery, il fratello Loras e il padre Tyrell sono morti alla fine della sesta stagione, per mano di Cersei Lannister. L'unica sopravvissuta era la tanto amata Lady Olenna, la nonna di Margaery. Tuttavia, questo personaggio ha incontrato la morte nel corso della settima stagione. Ed è proprio questo che non va giù a Natalie Dormer. L'attrice ha recentemente raccontato la sua reazione a quella scena, durante un'intervista con Mashable.
Parlando dell'episodio "Queen's Justice", che si è appunto concluso con la morte di Lady Olenna, l'attrice ha dichiarato:
Non mi è proprio piaciuto! Ammirando la bellezza di Alto Giardino e vedendo i soldati morti a terra, mi sono sentita molto protettiva. É stato davvero stupido. É stato quel briciolo di Margaery che ancora risiede nella mia testa! Gli uomini che indossavano il mio sigillo stavano a terra in una pozza di sangue. Mi sono chiesta, "Chi ha fatto questo alla mia casata?!".
In riferimento alla scena della morte di Lady Olenna, Natalie Dormer ha detto:
É stata una scena davvero commovente. Si percepisce che la Serie si sta per concludere. E ci saranno molti danni alla fine dell'ottava stagione. Puoi percepirne l'arrivo.
Secondo l'attrice Margaery avrebbe potuto salvare il destino dei Tyrell: niente di quanto accaduto sarebbe successo se Margaery fosse stata ancora in vita.