Game of Thrones, Game of Thrones, si parla sempre di Games of Thrones. La Serie Tv tratta dalla saga fantasy di George R.R. Martin è stata capace di stregare il mondo intero. Quando una Serie Tv ha tutto questo successo ed è un prodotto di tale fattura, gli argomenti di conversazione non si esauriscono mai: dal becero gossip sugli attori, alle teorie più strampalate. Può capitare anche, il fatto che si tratti di un racconto di fantasia non fa che acuire la curiosità, che ci si ponga delle domande di origine più "scientifica". Oggi parliamo della Barriera.
Se qualcuno si è mai domandato se tale struttura potrebbe esistere nella realtà, sappia che l'hanno fatto anche l'ingegnere Mary Albert e il glaciologo Martin Truffer e hanno una risposta.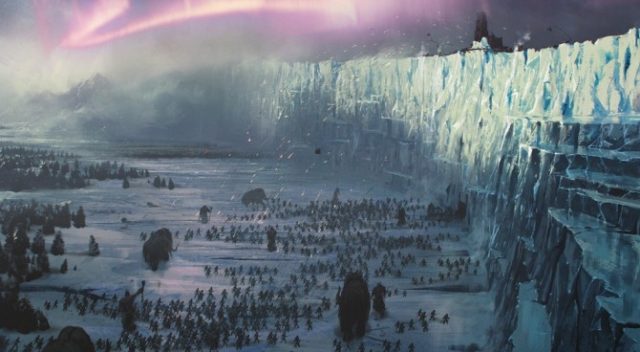 QUALCHE DATO SULLA BARRIERA- Si tratta di una muraglia di ghiaccio, neve e pietra che separa le Terre dell'Eterno Inverno dai Sette Regni e tiene lontano da essi gli Estranei. Antica di circa 8000 anni, la barriera venne edificata dai Figli della Foresta e dai giganti, parrebbe anche con l'ausilio della magia. La struttura è a dir poco immensa: essa si estende dalla Baia delle foche fino al fiume Gola, per un totale di 480 km. La sua altezza è di circa 210 metri, ma arriva a picchi di 270. La parte superiore ha una larghezza di circa 10 metri, infatti decine di cavalieri cavalcano gli uni accanto agli altri. La base, invece, deve essere ancora più larga se consideriamo che le aperture sono veri e propri tunnel. Nell'ideazione, George R.R. Martin si è ispirato al Vallo di Adriano.
FICTION vs REALTÀ? – Ma una struttura simile potrebbe esistere nella realtà o collasserebbe su se stessa? A quanto pare solo la magia può sostenere una muraglia di simile portata. Martin Truffer, glaciologo presso l'Università dell'Alaska, ha calcolato che la pressione esercitata alla base si aggirerebbe intorno ai 1,8 megapascal. Per capirci,  bastano 0,1 megapascal perchè il ghiaccio di un ghiacciaio scorra verso il basso. Con una pressione simile la Barriera collasserebbe inevitabilmente. L'unico modo per evitare il collasso con queste dimensioni, sostiene l'esperto, sarebbe costruire un muro il cui spessore sia almeno 40 volte quello dell'altezza.  Ma non è finita qui. La temperatura nella zona della Barriera dovrebbe aggirarsi intorno ai 14°C, altrimenti non si spiegherebbe la presenza di foreste. Tuttavia con una temperatura simile, il mantenimento della struttura non potrebbe superare qualche mese che subito si deformerebbe. Affinché si mantenga, occorrerebbe un clima simile a quello antartico, circa -40°C, ma questo muterebbe l'ecosistema circostante (foreste addio) e comunque non basterebbe per una conservazione di 8000 anni, ma a malapena per mille.
L'ingegnere dell'Ice Drilling Program Office presso il Dartmouth College, Mary Albert, sostiene:  
Anche a temperature molto basse le grandi masse di ghiaccio si deformano sotto il proprio peso. Inoltre, su scale temporali lunghe, il ghiaccio tende a scorrere, quindi sarebbe impossibile che il muro mantenesse la sua forma originale per migliaia e migliaia di anni.
Insomma, solo la Magia può permettere alla Barriera di esistere, ma meno male che qualcuno se l'è immaginata, questa Magia!
Fonti: Wired.com;  Focus.it