In questo pezzo ci sono degli spoiler sull'ottava stagione di Game of Thrones.
La fine di Game of Thrones ha lasciato un grande vuoto dentro di noi. È nell'olimpo delle serie tv poiché ha cambiato il modo stesso di farle e ha sconvolto il mondo seriale. Del resto, è questo quello che fanno i capolavori. Ci sono personaggi delineati in maniera profonda e accurata, tematiche importanti e delicate, trame intricate e complesse, colpi di scena incredibili e scioccanti. Ned Stark ne è solo un esempio. In poche parole, Game of Thrones è una storia che merita di essere raccontata. O almeno in parte.
Purtroppo non si salva tutto nello show targato HBO. E non sto parlando solo dell'ottava stagione. Ci sono storyline che ogni fan desidera rimuovere dai suoi ricordi. Magari i presupposti erano ottimi, ma è l'esecuzione che non funziona proprio.
Andiamo dunque a vedere le 5 linee narrative che vorremmo cancellare da Game of Thrones.
1) Dorne e le Serpi della Sabbia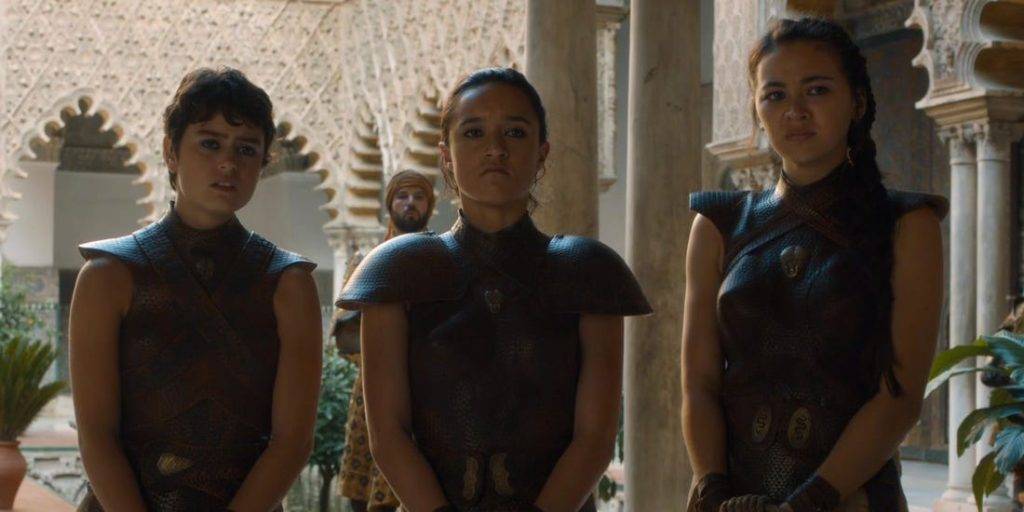 Non è mai facile fare i conti con la vastità del mondo creato da George R. R. Martin, né tradurre i suoi molteplici personaggi sullo schermo. L'arco di Dorne è tra i tentativi meno riusciti di Game of Thrones. Tutta la complessità politica presente nei romanzi è stata tagliata. Lì Doran ha una figlia, Arianne. Lei vuole che Myrcella rivendichi il Trono di Spade, principalmente per iniziare una guerra con i Lannister, e il diritto delle donne come uguali eredi per la corona, come succede a Dorne.
Nello show televisivo Arianne non c'è e tutto ciò che riguarda Dorne si riduce alla vendetta che Ellaria e le Sand Snakes attuano contro i Lannister per vendicarsi della morte di Oberyn. Non ci sono spazio né sfumature nelle azioni di quelle donne, che sono tra i personaggi più bidimensionali dello show. È come se, guardandole, stessimo rivedendo la stessa scena in loop. Non hanno uno sviluppo e le scene che le coinvolgono sono da dimenticare.