Attenzione: evitate la lettura se non volete imbattervi in spoiler sulla settima stagione di Game of Thrones 
Conoscere le proprie origini può essere il più grande dei doni, oppure il peggiore tra i fardelli. Un po' come esserne all'oscuro. Ce lo insegna la storia travagliata del bastardo Jon, ancora oggi inconsapevole di essere il figlio di Rhaegar Targaryen e Lyanna Stark, legittimo erede del Trono di Spade. Quando si parla di Game of Thrones, d'altronde, il passato, il presente e il futuro raccontano un'unica storia, fatta di segreti presentati come tali e altri ancor più celati, annebbiati dai tratti oscuri di una falsa verità. Se poi ci sono di mezzo delle connessioni biologiche pericolose, le conseguenze possono essere devastanti.
A tal proposito, non può non venire in mente la grande menzogna che ha portato sul Trono più ambito due ragazzini figli di un incesto clandestino. Una bugia capace di eliminare due nobili Primi Cavalieri e permettere ai Lannister di interpretare il ruolo che non avrebbero avuto il diritto di avere. E non finisce qui. O meglio, forse ci sarebbe stato lo spazio per non finirla così. Avrebbero potuto raccontare altre due storie, differenti nella contestualizzazione ma simili nel presupposto di base: un figlio segreto può mettere in scacco un numero svariato di persone. Non ci credete? Allora provate a immaginare cosa succederebbe se Robin Arryn fosse il figlio di Ditocorto e Cersei la madre di Gendry.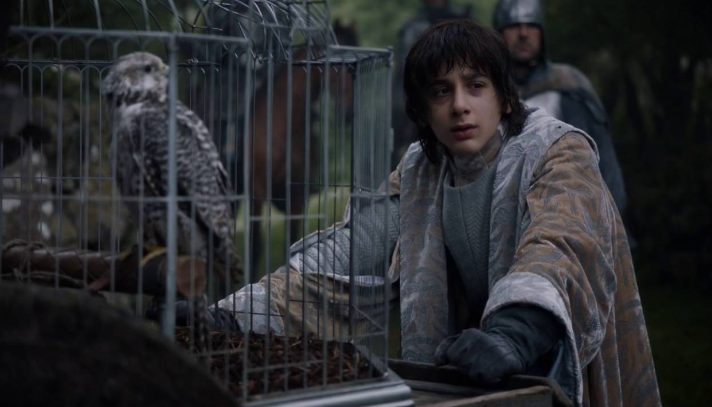 Usiamo il rassicurante condizionale per un motivo: è piuttosto improbabile che le teorie protagoniste di questo articolo si realizzeranno mai, almeno nella serie tv. Perché presentano dei coni d'ombra (specie la seconda), e soprattutto per una questione di tempistiche e possibili chiavi di sviluppo narrativo nell'ottava e ultima stagione. D'altro canto, però, si è ragionato per tanti anni in modo non troppo dissimile su diverse teorie assurde poi divenute realtà, quindi tutto è possibile, seppure improbabile. L'ipotesi che assegnerebbe la paternità del giovane Robin Arryn a Ditocorto, in particolar modo, è messa in discussione dalla morte del secondo, elemento chiave per comprendere che senso avrebbe mettere in gioco l'intrigo in una fase così avanzata. Detto questo, parliamone.
Secondo quanto teorizzato da diversi appassionati, l'attuale Lord di Nido dell'Aquila sarebbe il frutto della relazione tra Lysa Tully, terza moglie di Jon Arryn, e l'uomo che è stato l'ossessione della sua vita, fino a condurla alla morte. La palese fissazione della prima per il secondo, unita alla "debolezza del seme" di un marito mai amato (non ha generato un solo erede nei due matrimoni precedenti, e Lysa lo rimarca a più riprese), settantenne all'epoca della nascita di Robin, fanno sorgere i primi dubbi. Se a questo si aggiungono le caratteristiche fisiche del ragazzino (descritte nei libri di Martin), più vicine a quelle di Petyr Baelish che a quelle di Jon Arryn, i cinque figli di Lysa morti dopo il parto nel periodo dell'unione col marito e l'aborto al quale è stata costretta poco prima delle nozze (un altro figlio di Ditocorto?), il cerchio si stringe e l'ipotesi diventa più concreta.
Poco prima del matrimonio con l'ex Maestro del Conio, inoltre, Lysa pronunciò una frase (riportata nella serie tv) che sembra essere decisiva: "Voglio fare un altro bambino con te". Jon, morto per mano della moglie grazie al "suggerimento" del suo amante (omicidio che impedì il trasferimento del figlio a Castel Granito con Tywin o a Roccia del Drago con Stannis), trascorse gli ultimi giorni della sua vita alla ricerca della verità sulle origini dei figli legittimi di Robert Baratheon, ma potrebbe aver visto una pagliuzza negli occhi degli altri senza rendersi conto della trave presente nel proprio. Oppure conosceva la verità e fece finta di niente per portare avanti la storia della sua casata. Quel che è certo è che la scoperta del segreto delegittimerebbe Robin e rimetterebbe in discussione la successione sul trono di Nido dell'Aquila, ma ora sembra esser troppo tardi.
Altrettanto non si può dire del legame che unirebbe Cersei Lannister ad uno dei sedici bastardi di Robert Baratheon, il redivivo Gendry. L'ipotesi prende spunto da una rivelazione fatta nella prima stagione di Game of Thrones: la Regina, infatti, svelò a Catelyn (disperata per la possibile perdita di Bran) di aver avuto un quarto figlio, morto poco dopo il parto. "Un bambino dai capelli neri fortemente assomigliante al padre Robert", come si è rimarcato più volte a proposito di Gendry. E se quel pargolo fosse ancora in vita? Si teorizza che Cersei, ostile nei confronti di un marito incapace di amarla, non volesse dargli un erede "reale" e ingelosire allo stesso tempo Jaime, ma non trovò comunque il coraggio di uccidere l'infante. Avrebbe quindi finto la sua morte grazie alla sostituzione del bambino col corpo di un altro neonato, allontanandolo così dalla corte.  A supportare l'ipotesi ci sarebbe l'unica informazione di Gendry riguardo sua madre, i cui capelli "erano biondi" come quelli di Cersei.
Gli interrogativi, però, sono tanti: perché, dopo la morte di Ned, il bastardo, destinato all'ingresso nei Guardiani della Notte, fu perseguitato dalla Regina come tutti gli altri figli illegittimi di Robert? E soprattutto, che fine farebbe la famigerata profezia di Maggy la Rana? Rispondere non è semplice (a meno che non si voli con la fantasia e si valuti l'idea che il concetto di "figlio" non includa una definizione strettamente biologica) e con ogni probabilità questa ipotesi non diventerà mai realtà, ma è affascinante pensare che conseguenze avrebbe. Gendry, infatti, diventerebbe un legittimo pretendente al Trono di Spade, e qualcuno a conoscenza dei fatti, come per esempio Varys, potrebbe farne un'alternativa credibile su cui puntare qualora naufragasse la fiducia in Daenerys. Una grande opportunità che potrebbe trasformarsi in un incubo, come succede troppo spesso a chi non sa e dovrebbe continuare a non sapere. Perché le false verità, talvolta, rappresentano la via più sicura da percorrere. E un genitore, in certi casi, non è il più grande dei doni.
Antonio Casu