Non ci stancheremo mai di ripeterlo: le serie tv sono una fonte di intrattenimento ma anche un modo per educare, indirettamente. Se pensiamo solo al fatto che in Italia è grazie alla televisione e alla radio che si è diffusa la lingua italiana non deve sembrarci strano che un programma tv possa avere tanto da insegnare. Il cosiddetto problema della rappresentazione oggi è fortunatamente superato. Parliamo della rappresentazione nelle serie di personaggi di colore, omosessuali, trans e con qualsiasi caratteristica che potrebbe posizionarli fuori dalla norma. A non essere presenti sui nostri schermi, però, in passato erano anche personaggi affetti da disabilità. Oggi abbiamo serie tv come Breaking Bad, Glee, Glee, Game of Thrones che non solo portano in scena personaggi disabili ma che hanno scelto, per interpretarli, attori affetti dallo stesso problema.
Gli attori disabili hanno la stessa dignità degli attori normodotati e così anche i personaggi che interpretano.
Dobbiamo essere orgogliosi di serie che non traspongono i personaggi disabili in modo paternalistico, che non li sminuiscono e non li riducono alla loro disabilità. Questi personaggi possono essere amati dal pubblico (pensate a Tyrion di Game of Thrones) ma anche odiati (Walter Jr. vi dice qualcosa!?). E questo, per quanto sembri strano, è fantastico. Perché significa disprezzare un personaggio perché antipatico, rompiscatole, o semplicemente con un carattere diverso dal nostro. E qui c'è il bello, perché se l'attore portasse in scena un personaggio piatto, ridotto alla sua disabilità, come lo si potrebbe amare od odiare? Sarebbe solamente un inserimento fatto tanto per essere politicamente corretto.
Questi sono 9 dei tanti personaggi disabili delle serie tv, i migliori, interpretati da grandissimi attori affetti dalla stessa disabilità. 
1) Micah Fowler – Speechless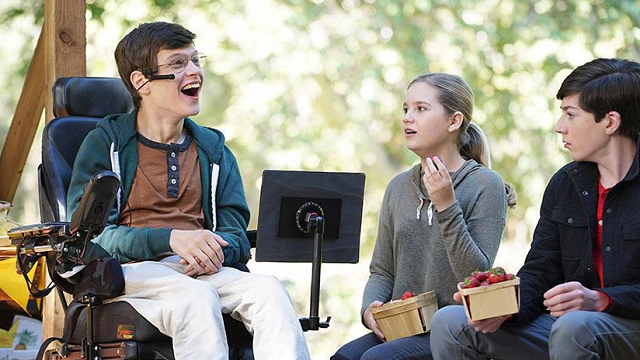 Speechless è una sitcom statunitense in onda dal settembre 2016 sull'emittente televisiva ABC che segue le vicende dei membri della famiglia DiMeo. Al centro dell'azione c'è JJ, primo di tre fratelli, figlio di Maya e Jimmy. Il ragazzo è un liceale affetto da paralisi cerebrale infantile, ma estremamente sveglio e con uno spiccato senso dell'umorismo.
JJ non è in grado di comunicare autonomamente e usa uno strumento posizionato sul capo, con un puntatore laser per indicare varie parole, lettere e numeri, su una tastiera fissata alla sua sedia a rotelle. Speechless ruota attorno a un personaggio con disabilità ma tratta l'argomento con grande ironia e intelligenza. La cosa interessante, ovviamente, è che l'attore che interpreta JJ, Micah Fowles, è anche lui affetto da paralisi cerebrale.