Sono gli autori di Game of Thrones David Benioff e D.B. Weiss che lo dichiarano: la Battaglia dei Bastardi o la battaglia sul ghiaccio della settima stagione non saranno niente a confronto di quello che vedremo nell'ultima stagione!
Ovviamente le cose che stiamo facendo per l'ultima stagione vanno ben oltre quella scena o la Battaglia dei Bastardi.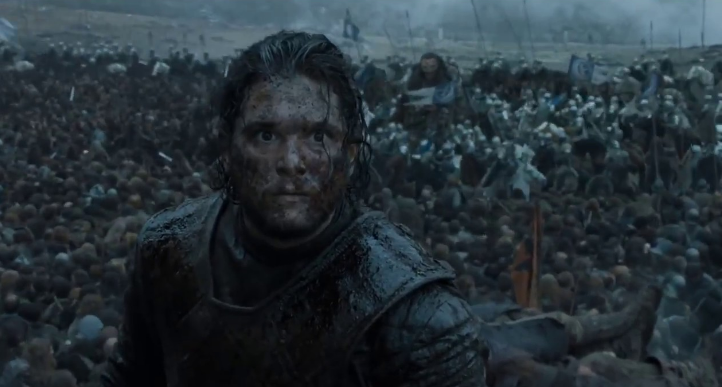 Le indiscrezioni riguardanti il set dell'ottava stagione di Game of Thrones hanno parlato di una battaglia che ha richiesto ben 55 giorni di lavoro sul campo, sarà la più lunga di tutta la serie ed anche la più impegnativa.
Nonostante la fanbase dello show abbia criticato la settima stagione e sia un po' tesa per l'uscita del finale, gli autori non temono di innalzare troppo le aspettative.
Peter Dinklage l'anno scorso aveva paragonato una delle scene di guerra più belle viste fino ad ora (la Battaglia dei Bastardi) ad una passeggiata al lunapark rispetto a questo nuovo scontro.
Benioff e Weiss hanno dichiarato:
Per quanto riguarda la portata delle puntate, c'è molto in questa stagione che supera la sequenza della Battaglia dei Bastardi che è stata girata con grande esperienza da Miguel Sapochnick. Possiamo dirlo senza sentirci in colpa, visto che la maggior parte dell'ottava stagione è stata anche in questo caso diretta con esperienza da Miguel Sapochnik.
Gli autori di Game of Thrones hanno voluto affidarsi a mani sicure, con la direzione di Sapochnik!
Sembra che queste scene vedranno unire le forze di tutta Westeros per combattere contro l'arrivo dei non morti guidati dal Night King, proprio come Jon stava cercando di fare nello scorso ciclo di episodi.
Ovviamente dovremo aspettare la messa in onda del terzo episodio per riuscire a capirci qualcosa di più su questa famosa battaglia. Le teorie del web, le foto dal set e tutte le news che circolano intorno a Game of Thrones infatti si focalizzano di più su quali personaggi saranno ancora presenti e quali no e chi arriverà vivo alla fine dei 6 episodi o chi non sarà così fortunato.
L'asticella delle aspettative si alza, chissà se gli autori di Game of Thrones sapranno veramente soddisfarci? Lo scoprire tra qualche mese!