#DeliridiSpade è la rubrica del martedì sera di Hall of Series che vi racconta ironicamente l'episodio di Game of Thrones andato in onda il giorno prima. Siamo tornati, carichi di birra e VINOH
Finiamo oggi? Davvero? E la prossima stagione andrà in onda tra un anno e mezzo? La palestra di Sherlock ci salverà la vita: quelli, in un periodo del genere, hanno il tempo per girare due o tre scene. Però siamo tristi lo stesso. Il settimo season finale di Game of Thrones, analizzato ieri dal sottoscritto con apparente serietà, ci ha lasciato in dote un grande interrogativo: Jon è riuscito a vendere il non-morto a Cersei? Perché è vero che non c'era niente per ridere in quel frangente, ma fa morire da ridere proprio per questo.
Abbiamo capito che lo Snow… Stark… Sand… Targaryen è un eccezionale venditore porta a porta, e la dimostrazione mirava alla cessione di un non-morto a prezzo di saldo con la solita filosofia del primo volume a 2,90 euro (chissà se riuscirà a piazzarli tutti), un set di coltelli da cucina in vetro di drago e un… Folletto. Uno di quelli che normalmente si rifilano alle vecchiette attempate ma, diciamolo, lui non era molto d'accordo: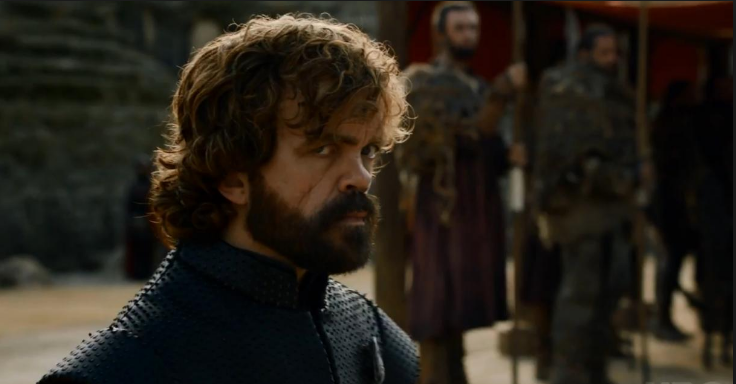 Preferisce aspirare… il vino.
In attesa di sviluppi in questo senso (Qyburn sembrava molto interessato. E te pareva), iniziamo. Senza fretta: questo articolo si può chiudere anche tra un anno e gli Estranei si spostano in campo con lo stesso dinamismo di Thiago Motta.
Un paio di considerazioni a caso (non richieste) sulla 7×07 di Game of Thrones
Una cosa è certa: "Pensavo fossi morto" è il saluto più in voga in quel di Westeros.
Avremmo voluto dire che il Mastino ricorda sempre più da vicino il nonno di Heidi, ma l'ha già scritta qualcun altro. Però è stato bello vedere il suo sguardo quando Brienne ha parlato della nipotina.
Jorah, intanto, fa dei progressi notevoli. Dopo esser stato friendzonato per sette anni da Daenerys…
… ora si farà friendzonare da Missandei, più interessata ad un eunuco che a lui. Le uniche tette di tutta la stagione hanno fatto più vittime della furia degli Estranei.
Daenerys si presenta in ritardo alla riunione di condominio e si giustifica con la solita scusa del traffico e del parcheggio da trovare.
Cersei non riesce proprio ad entrare in sintonia con i plebei.
Se gli Estranei conquisteranno Approdo del Re, Qyburn sarà ancora il Primo Cavaliere.
L'attore che interpreta la Montagna recita meglio di Kit Harington.
Euron è convinto d'aver partecipato ad un festino di Jesse Pinkman in Breaking Bad.
E getta l'amo con Daenerys mettendo in mezzo l'estinzione dell'umanità. Un genio totale.
"Sanno nuotare?". "No".
… l'onore…
… non ce la possono fare.
Normalmente gli alcolizzati vanno d'accordo tra loro.
Se Tyrion e le sue capacità diplomatiche esistessero realmente, Trump e Kim Jong-un farebbero una gara di rutti.
Cersei chiederà gli alimenti a Jaime e la Montagna si darà al recupero crediti.
La strenua resistenza di Theon, inspiegabilmente vivo dopo sette stagioni di iatture, conferma una tendenza: quando si parla di Game of Thrones, gli eunuchi non muoiono mai. E Ramsay, di beneficenza, se ne intende…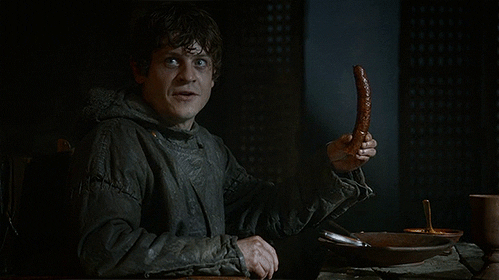 … l'ha salvato.
In Brasile, intanto, sono in lutto per la morte di Ditocorto.
Quello per la dipartita di Ramsay era finito tre giorni fa.
Da oggi i muri di Grande Inverno saranno un po' più sporchi.
Bran diventerà il biografo di Ditocorto.
E fa il terzo incomodo nel momento in cui Daenerys e Jon fanno sesso. Ormai è un classico.
Grazie, Reddit. E grazie, amore puro: hai ammazzato milioni di persone.
Sam è riuscito a spoilerare qualcosa al Corvo con Tre Occhi. Premiatelo in qualche modo per questo…
… e per questa faccia. La stessa che fa tua nonna quando cerca di capire cosa fai nella vita:
"Faccio il blogger". "Non so cosa voglia dire, ma sono orgogliosa di te". 
"Sono il Corvo con Tre Occhi". "Non so che voglia dire, ma sono orgogliosa di te. E comunque tu ti fai le pere". 
L'alternativa è solo una:
"Sono il Corvo con Tre Occhi".
La fiamma ossidrica utilizzata dagli Estranei ha fatto emozionare un intero popolo di saldatori.
Un saluto dal cast di Game of Thrones, prima e dopo!
P.S. Un ringraziamento speciale a tutti i lettori che hanno seguito questa rubrica folle anche in questa stagione. Siete stati tantissimi e molto affettuosi. Grazie, grazie, grazie! 
Antonio Casu