#DeliridiSpade è la rubrica del martedì sera di Hall of Series che vi racconta ironicamente l'episodio di Game of Thrones andato in onda il giorno prima. Siamo tornati, carichi di birra e VINOH
Si informano i gentili lettori che l'edizione odierna dei #DeliridiSpade andrà in onda in forma ridotta per ricordare al meglio la povera Olenna Tyrell (<3), l'unico personaggio nella storia di Game of Thrones capace di trollare anche la morte. Era una donna gentile, raffinata e salutava sempre per strada. Era generosa, e non faceva mai mancare un bicchiere di VINOH ai propri amic…
Capita.
E una fetta di tort…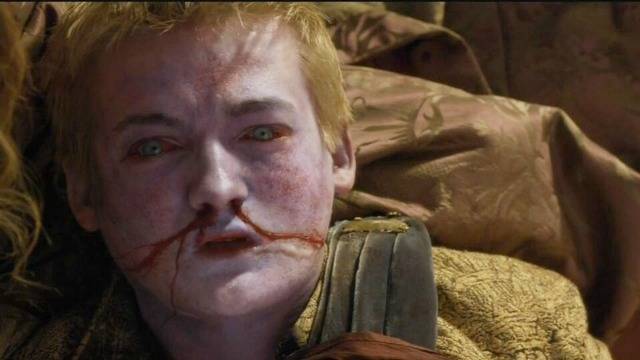 Era diabetico?
Insomma, non abbiamo voglia di ridere e saremo seri, ancora più di ieri. Game of Thrones non avrà più senso d'esistere finché non smetteranno di invocare la morte di Varys, Bran non andrà a disintossicarsi da quelle brutte robe che prende e Frittella non conquisterà il cuore di Arya e il Trono di Spade. Vabbè, iniziamo: è uno sporco lavoro, ma qualcuno deve farlo.
Un paio di considerazioni a caso (non richieste) sulla 7×03 di Game of Thrones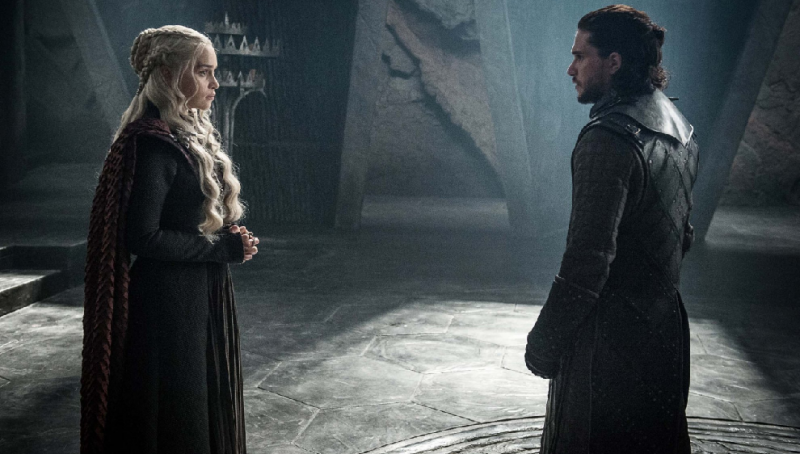 "Lei è Daenerys Targaryen, Nata dalla Moviola, Figlia della Noia, Madre del Minutaggio Sprecato… (45 minuti dopo) …  e Regina delle Finte Bionde". "Lui è Jon, e basta. Snow, se proprio ci tieni".
"Io non sono uno Stark". E poi gli danno dell'ignorante.
Ok, l'Inverno è arrivato, ma a Dragonstone ci sono 25 gradi e la pelliccia di montone è un po' eccessiva.
 Ognuno di noi è perseguitato da una nonnina pettegola che ci spia dal balcone, senza farsi chiamare Corvo dai Tre Occhi. Jon si ritrova Melisandre e Varys.
Ognuno di noi è accolto in una nuova casa da un cane che abbaia o da un gatto diffidente. Jon si è ritrovato con tre draghi.
Game of Thrones è una storia fatta di leggende, miti, eroi, sovrani sanguinari e un nano che piscia dalla Barriera.
Davos deve aver visto la scena di nudo di Missandei.
Tyrion, pur essendo sempre ubriaco, è il personaggio più lucido. Per distacco.
E le rivincite nei confronti del padre sono sempre una questione di servizi igienici. Ah, il karma.
Jon non vuole giocarsi prematuramente la carta della resurrezione: potrebbe valere una notte di… fuoco.
Escalation delle metanfetamine in quel di Westeros:
Bran era palesemente in hangover. E riaccogliere una sorella perduta per sette anni con il ricordo dello stupro di Ramsay non è stata una trovata geniale.
Anche la dolcezza non è il suo forte: "Bran, fratellino mio! Come stai? Finalmente posso abbracciarti <3!". "Ciao. Quasi quasi si stava meglio in mezzo agli Estranei".
Ditocorto si gioca anche la storiaccia del mental coach di quart'ordine: Sansa è piacevolmente colpita e potrebbe concedergli un bacio sulla fronte. Dopo averlo ucciso.
Quella sui nemici/amici l'ha trovata sull'autorevole portale nonteladaràmai.com.
A proposito: iniziamo a sospettare che Jorah sia uno Stark. Ad ogni gioia (due, in sette anni) corrisponde sempre un #mainagioia uguale e contrario. Riesce a riconquistare la fiducia di Daenerys? Si prende il morbo grigio. Riesce a sconfiggere il morbo grigio? Daenerys flirta con Jon.
Ogni volta che vi lamenterete delle lunghe file in copisteria, dovrete pensare a Sam. Festeggerà il 30 in dermatologia in compagnia delle cimici carnivore.
Diciamolo una volta per tutte: il popolo di Approdo del Re si ritrova i sovrani che merita.
Euron è il nuovo Re nella lotta per estirpare il tumore della friendzone.
Il Greyjoy, ormai prossimo all'ingresso in (n)euro(n)psichiatria, è stato un vichingo, ma non lo ricorda. Poi un pirata di Black Sails e il leader di una rockband norvegese, ma ha dimenticato pure questo. Ora sta conquistando i Sette Regni, ma domani mattina, una volta smaltita la sbronza, sarà solo un lontano ricordo.
Le donne, quando non ne hanno voglia, puntano sul mal di testa, tengono duro e non cedono. Gli uomini, quando non ne hanno voglia, dopo un po' tengono il durello e cedono.
Le banche riscuotono sempre i loro crediti.
Quando si parla di banche europee, Draghi è il problema e la soluzione. Quando si parla di banche braavosiane, i draghi sono il problema e la soluzione.
Cersei opta per la colazione dei campioni: un bicchiere di VINOH a stomaco vuoto e si va a comandare.
Abbiamo capito che la produzione di Game of Thrones sta andando al risparmio con le battaglie, i metalupi e i draghi, ma un po' di CGI per le povere tette di Cersei no?
 Ramsay, di carne, se ne intendeva…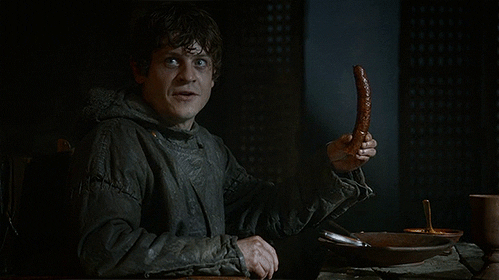 … ma volete mettere i Lannister col veleno?
Da Grande Inverno a Roccia del Drago in cinque minuti. Da Approdo del Re ad Alto Giardino in due minuti. La Metreros offre un servizio unico e inimitabile.
L'edizione odierna dei #DeliridiSpade è andata in onda in forma integrale perché la conclusione dello strazio di Dorne bilancia lo strazio per la dipartita di Olenna (<3).
Un saluto da Jaime Lannister!
Antonio Casu