Dire che Game of Thrones ha alzato l'asticella sulle Serie Tv non è certo un'affermazione azzardata o frutto di becere opinioni da fandom.
Non faccio parte del fandom di Game of Thrones (non faccio parte di nessun fandom in generale, tanto che ne detesto semplicemente il concetto), quindi posso parlarne a cuore aperto, riconoscendone i limiti e, soprattutto, i tantissimi pregi.
Ci sarà sempre un paragone con questa Serie Tv, come succede con FRIENDS per le sitcom: è inevitabile, quando ci si confronta con dei capostipiti, dei precursori.
E, di fatto, Game of Thrones ha portato le Serie Tv fantasy a un livello mai prima raggiunto, apprezzato anche da chi non ama il fantasy, tipo la sottoscritta. Ecco, io sono una di quelle sei persone al mondo che non sa nulla di Harry Potter, si è addormentata al cinema a vedere Il Signore degli Anelli e ha odiato Le Cronache di Narnia.
Non sono adatta, non è il mio genere, non ci posso fare niente.
Eppure Game of Thrones mi fa dimenticare che è una Serie Tv fantasy ed è riuscita ad appassionarmi.
Ne parlo da esterna perché non sono una tassonomica di questa Serie, non ho letto i libri, qua e là mi sono persa dei pezzi di trama e non pretendo di saperne più di altri, anzi, proprio perché la mia visione è "superficiale", ai miei occhi è chiaro il perché Game of Thrones si distingua da tutte le altre Serie trasmesse in questo decennio.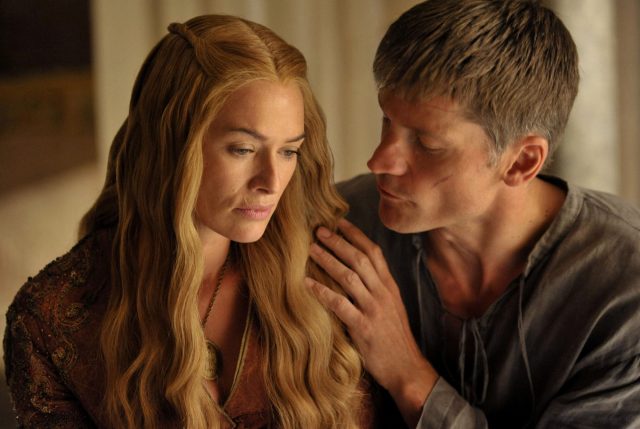 Game of Thrones è stata in grado di attirare a sé anche i non appassionati di fantasy e io ne sono un esempio. Tollero i draghi, le mitologie inventate, un'epoca storica imprecisata ed indefinita. E dire che io sono un po' una storica freak, quindi anche solo il fatto che non riesca a capire quando tutto ciò accade mi innervosisce.
La trama è geniale, ma sono i personaggi che danno vita alla storia: bisogna dar loro un'occasione di fare breccia nel tuo cuore. Tutti gli appassionati di Game of Thrones hanno uno o più favoriti e sono tutti pronti a gettarsi nel fuoco per loro: ora, io non dico che mi butterei nel fosso per Jon Snow, ma di certo ho pianto lacrime amare sul suo presunto cadavere.
Sempre per quanto riguarda i personaggi, sono talmente tanti che non puoi non seguire con attenzione, sia mai che ti perdi chi è il figlio di Tywin o il nipote di Daenerys. Io sono anziana e faccio fatica a star dietro a tutto e c'è voluta una delle mie più care amiche che mi ha virtualmente disegnato l'albero genealogico delle varie famiglie. La ringrazio, ora e sempre.
Anche ora che devo richiederle parentele che mi ha spiegato già cento volte.
Ma questo la dice lunga sul fatto che esista un disegno ben preciso e che non sia una storia sviluppata a seconda dei lampi di genio degli sceneggiatori o per assecondare i voleri del pubblico (seppure sia una critica spesso mossa dai fan in riferimento, soprattutto, a questa ultima stagione).
Game of Thrones ha sdoganato tutto.
Se hai visto Game of Thrones, hai visto incesti, stupri, omicidi tra i più brutali, neonati seviziati ed uccisi, matricidi, teste su picche, cuori infranti e, di certo, non per amore. E non è una violenza fine a se stessa, per scioccare, ma uno sguardo su un'epoca che, seppur inventata, è di certo piena di ombre. Ho guardato tutto, a occhi aperti e non perché ho pensato che nel "Medioevo succedeva così", ma perché Game of Thrones mi ha portato in una dimensione in cui ho pensato che tutto ciò che accadeva fosse "plausibile".
Ami determinati personaggi o li odi. Sansa non ti può essere indifferente, io, per esempio, che riservo il mio gelido distacco per chi voglio più ferire, non posso affermare con certezza che Sansa mi sia indifferente. No, vorrei proprio prenderla a ceffoni, male. Arya, vorrei che fosse mia figlia. Detesto e, al tempo stesso, ammiro Cersei e adoro come preferito in assoluto per sempre e sempre Jon Snow.
Game of Thrones dipinge i propri personaggi con pennellate fiere, decise, vibranti, che non potranno mai essere color pastello.
Ci sono i valori, ma, al tempo stesso, anche le peggiori bassezze umane e nessuno è tutto buono o tutto cattivo, nessuno è uno stereotipo: il cavaliere senza macchia e senza paura, la damigella in difficoltà, il cattivo malvagio e perverso.
In Game of Thrones questi personaggi non esistono, perché il cavaliere può diventare nero, la damigella impara a salvarsi da sola, il cattivo si redime ed è pronto a rischiare la propria vita pur di restare fedele alla causa in cui crede.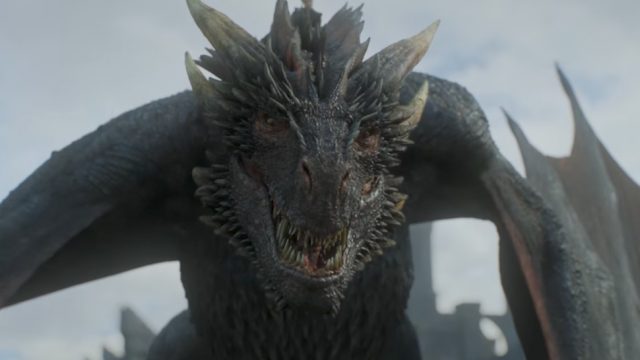 Aggiungiamo anche che i fan di Game of Thrones si accendono con poco e scatenano battaglie tra fazioni avverse che quella dei Bastardi è una passeggiata al parco a raccogliere margherite. Fan dei Lannister contro ultras dei Targaryen, appassionati degli Stark e nostalgici dei Tyrell: l'amore e la passione (e, dal mio punto di vista, la follia) del fandom di Game of Thrones è ai miei occhi un incomprensibile indice di quanto questa Serie Tv sia in grado non solo di fidelizzare il proprio pubblico, ma anche di infervorare gli animi a livelli inauditi.
Ultimo, ma non ultimo, nessuno dei personaggi è al sicuro.
Il colpo di scena è sempre dietro l'angolo e, ogni volta, è un pugno allo stomaco.
Eddard Stark era indiscutibilmente il protagonista di Game of Thrones, quello che chiunque avrebbe visto seduto sul Trono di diritto.
E, invece… altre morti inattese sono state Robb e Catelyn, Oberyn Martell, Jeoffrey (probabilmente sono l'unica al mondo a cui Jeoffrey piaceva), Margery, solo per citarne alcune. Non importa quanto il personaggio sia valido, amato, carismatico o protagonista: nessuno si salva, nemmeno, anche se per poco, il re del Nord.
Questi sono solo alcuni dei motivi per cui Game of Thrones ormai fa genere a sé: diversa da tutto, accattivante, brutale, convincente, di certo destinata a diventare cult ancora prima della fine di questo decennio.