Ogni dettaglio, ogni singolo dettaglio di tutto quello che gira attorno all'ultima stagione di Game of Thrones è un piccolo pezzo del grande puzzle che abbiamo iniziato a costruire due anni fa, alla fine della stagione 7.
Oggi non parleremo dell'intera storyline di tutti gli episodi nel loro insieme, ma solo del primo: è stato svelato tutto il cast che parteciperà alla puntata 8×01 del 14 aprile.
Il sito ufficiale di HBO ha pubblicato una foto con la lista d'oro.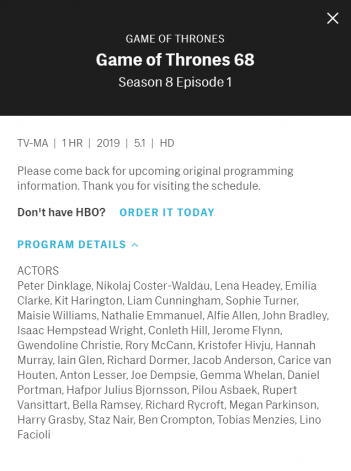 I nomi che saltano all'occhio sono quelli che non ci saremmo aspettati sono principalmente due: Tobias Menzies (che interpreta Edmure Tully) e di Lino Francioli interprete di Robin Arryn (leggi qui per saperne di più).
Il resto del cast è principalmente formato dagli attori che interpretano i protagonisti che più amiamo e odiamo come i superstiti della famiglia di Grande Inverno: Maisie Williams (Arya Stark), Sophie Turner (Sansa Stark) e Isaac Hempstead Wright (Bran Stark).
I Lannister sono, come sempre, protagonisti e compaiono sino dal primo episodio sia Peter Dinklage (Tyrion Lannister), sia Nikolaj Coster-Waldau (Jaime Lannister) che la regina Lena Headey (Cersei Lannister).
Vedremo anche Emilia Clarke (Daenerys Targaryen) e Kit Harington (Jon Snow) e chissà se dovranno affrontare subito il loro rapporto d'amore/familiare e come reagiranno.
Magari Daenerys si farà distrarre da questo ostacolo o rimarrà focalizzata sul suo obiettivo primario, riprendersi il Trono di Spade.
Tutti gli altri personaggi presenti nella 8×01 di Game of Thrones hanno a che fare con i protagonisti principali tra consiglieri, guardie, figli illegittimi e parenti vari.
Ma, come in tutte le belle storie c'è un ma, in questa lista non saltano all'occhio solo i personaggi presenti, ma anche quelli che NON compaiono.
Qualcuno ha notato che The Night King non compare?
Sembra proprio che nella prima puntata di Game of Thrones la tensione continui a rimanere lì sospesa, in attesa di capire cosa succederà nella battaglia finale con gli Estranei.