In questo articolo, vi avevamo parlato del primissimo pilot di Game of Thrones. Scopriamo che in realtà, alcuni personaggi e qualche scena erano stati pensati in modo diverso. Ad esempio, l'incontro tra Cersei Lannister e Jaime e tra Daenerys Targaryen e Khal Drogo non erano stati pensati nel modo in cui li abbiamo visti. Ma una cosa rimane più o meno uguale: la scena di apertura. Ricorderete tutti l'episodio, gli Estranei appaiono per la prima volta a Will, il ranger, che sopravvive al massacro per portare a sud della Barriera il messaggio: gli Estranei sono tornati.
Nel pilot che non è mai andato in onda il giovane ranger agendo d'astuzia si arrampica su un albero per vedere dove sono finiti i cadaveri. Proprio nel primissimo script scopriamo un dettaglio interessanti sugli Estranei: il loro linguaggio. Nel pilot originale, recuperato da Bill Bradley in Texas all'University's Cushing Memorial Library, il linguaggio dei non morti viene descritto così: "non sono i versi di predatori privi di ragione", ma una sorta di "lingua di ghiaccio".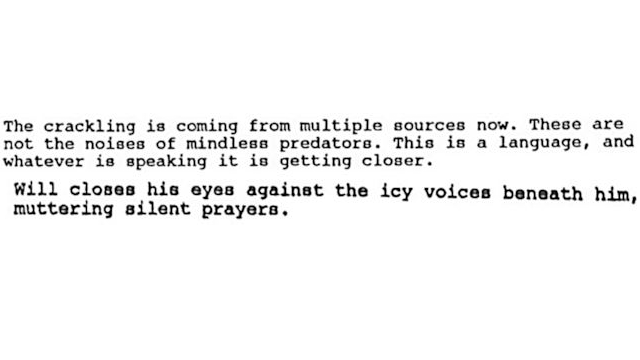 Nella serie sappiamo che i White Walkers sono presentati come creature silenziose e misteriose. Un dettaglio del genere sulla lingua era forse il dettaglio che avremmo voluto realmente vedere in Game of Thrones. La sceneggiatura (che potete trovare nella foto sopra) recita: "Il crepitio proviene da più fonti ora. Questi non sono i rumori di predatori senza mente. Questa è una lingua, e qualsiasi cosa stia parlando si sta avvicinando." La sceneggiatura continua: "Will chiuderà gli occhi contro le voci di ghiaccio sotto di lui, mormorando silenziose preghiere".
Questo linguaggio è descritto nei libri di George R.R. Martin ed è stato anche creato da David Peterson (per la serie) che lo ha chiamato Skroth. Ma nella serie non viene mai sentito. Praticamente, sempre Peterson afferma che intorno al linguaggio degli Estranei ci sono state diverse discussioni. Alla fine, si è optato per non utilizzarlo anche se faceva parte delle riprese del pilot.