I visi, i volti degli attori in stato di grazia, sono la prima cosa in questa puntata di Game of Thrones.
Per capire questa puntata, e questa stagione che già si preannuncia caotica e infernale come il respiro di fuoco dei draghi, dobbiamo guardare le facce dei giocatori di quel gioco strano chiamato Game of Thrones. Sono tese, deformate in alcuni casi. Nessuno è più al sicuro. Si inizia a giocare fuori casa, a esporsi, nel bene o nel male, nudi o ricoperti d'acciaio, al fortunale del destino. Destino che è, ora più che mai, nelle mani di pochi giocatori disposti a tutto per vincere.
If you like to gamble, I tell you I'm your man,
You win some, lose some, it's all the same to me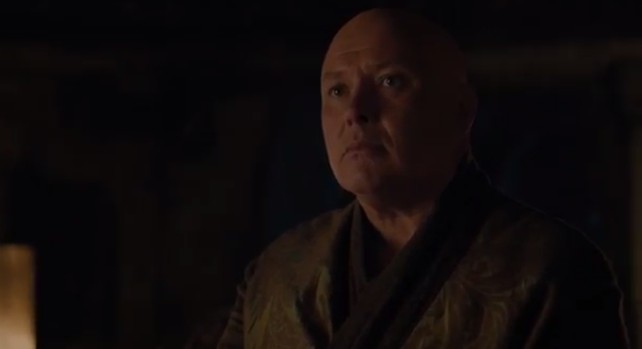 Il re delle ambiguità, Varys il monco apre il suo cuore all'autoproclamatasi Regina dei Sette Regni con un monologo che fa intravedere quelle che erano sempre state le sue ambizioni: servire non un Re, ma un paese. Questo è quello che dice l'uomo che più di tutti ragiona con il cervello, la parte che il coltello non è riuscita ad evirare.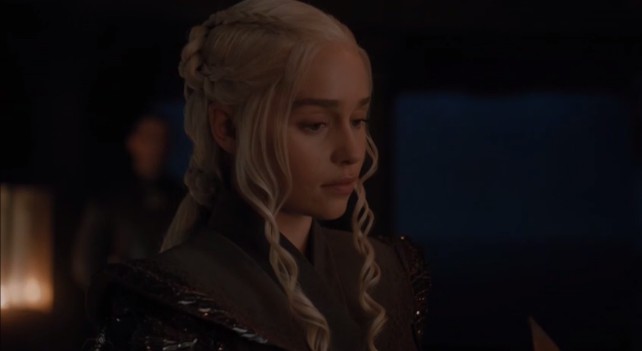 La Regina delle Ceneri, il cui impero consta al momento di città lasciate in guerra e di un nuovo regno in cui è una sconosciuta o un trofeo da impalmare, sfoga la sua smania di individuare il tradimento con qualche mese di ritardo. Ma è giusto che ci ricordi che è una vera Targaryen; e fa bene nonna Olenna, a stuzzicare il drago che dorme.
The pleasure is to play, makes no difference what you say
Il giocatore che gioca per amore del gioco, per amore di sé. Incarnazione suprema dell'individualismo, Ditocorto continua a tessere imperterrito la sua ragnatela intorno a Sansa; che, nel momento cruciale, incrocerà sempre i suoi occhi con lo sguardo paterno di Lord Baelish, prima di rivolgerli al fratello Jon. Cruciale gioco di inquadrature, questo, che si ripete dalla prima puntata della settima stagione di Game of Thrones, a significare un allontanamento di Sansa da Ditocorto che è più un giro su se stessi che una decisa, definitiva, mossa in avanti nella scacchiera.
Playing for the high one, dancing with the devil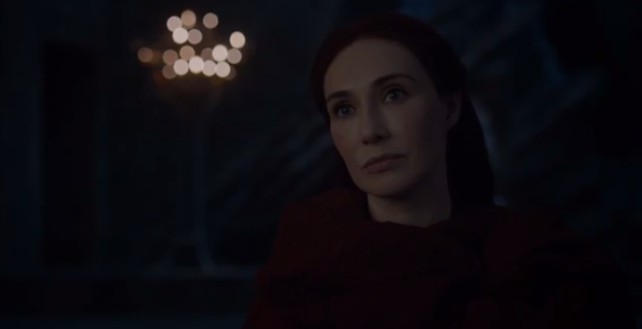 C'è chi gioca per conto di un altro, muovendo le pedine consigliato da un potere superiore: Melisandre, resiliente e tenace più che mai, continua ad andare avanti forse più per attaccamento alla vita che per vera fede, ma non molla. La sua fedeltà ora si divide tra il principe che (forse) fu promesso e la nata dalla tempesta, ma mai come ora i suoi occhi riflettono solo il vuoto e non più le fiamme che avevano riarso donne, uomini e bambine innocenti. Ora che il suo dovere di messaggera e di anello di congiunzione tra ghiaccio e fuoco è concluso, forse la tenebra è ciò che la attende.
Seven or Eleven, snake eyes watching you,
Double up or quit, double stake or split
Occhi vuoti di drago osservano un'altra Regina delle Ceneri, mentre prepara la sua contromossa per abbattere la più grande minaccia ai Sette Regni dopo la loro conquista originaria. Per Cersei questa sarà la stagione della caduta, lo sappiamo già: non puoi giocare più carte di quelle che hai in mano, non puoi volare troppo in alto senza bruciarti le ali, anche se hai il fuoco dentro.
Che la sua fine sia grandiosa.
Read 'em and weep, the dead man's hand again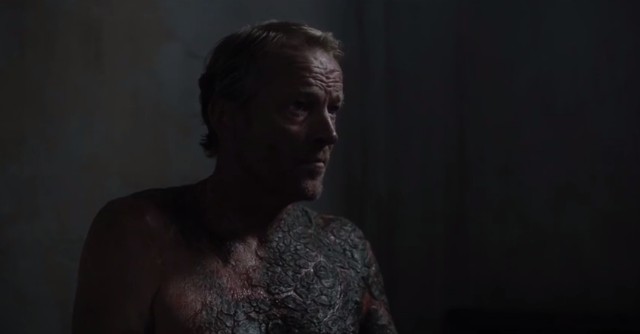 Sam avrà un ruolo in questa stagione, l'abbiamo capito, che va ben al di là del pulire merda e vomito dalle celle dei Maestri. Sam è la mente di Jon, arriva dove Jon non può arrivare come un'estensione del suo braccio, e figura in questa puntata come il Deus Ex Machina per ben due volte: quando Jon annuncia la necessità di estrarre il vetro di drago da Roccia del Drago e quando improvvisa una cura per Jorah. Personaggio che, altrimenti, finirebbe in un oblio senza fine senza aver terminato il suo scopo sulla terra. Chiedere ed ottenere il perdono reale, e un po' dell'amore sincero che Daenerys è stata in grado di donare, dopo Drogo, solo a lui.
I see it in your eyes, take one look and die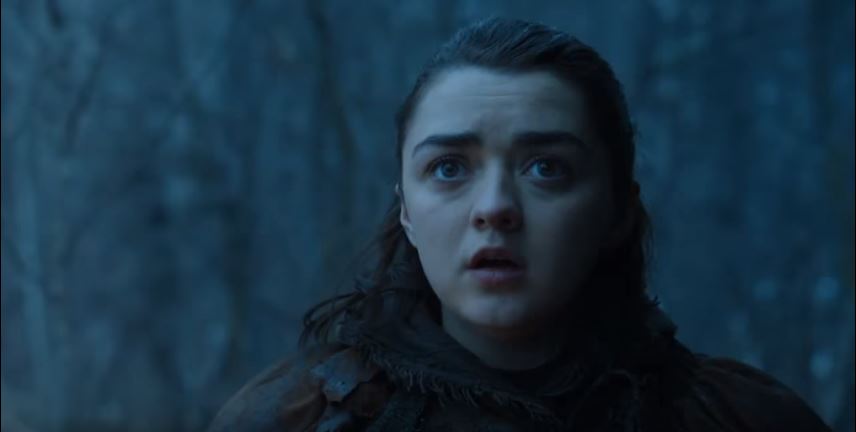 Nel suo lungo ritorno a casa, Arya si imbatte nel fantasma del suo passato per eccellenza, la sua lupa: è lei, è indubbiamente Nymeria, e nei suoi occhi Arya vede prima la morte e poi il suo passato, che è anche peggio. Ma questa volta è la lupa a voltarle le spalle. Lo spirito degli Stark non è morto, sembra dirci questa scena, continua ancora ad aggirarsi nei boschi, ha saputo ricostruirsi un reame; ma deve rimanere sepolto, dentro la piccola lupa, per lasciare spazio a quello che lei è, che è molto più di una Stark. Arya è Arya e non è più lei, così come Nymeria non è più lei: e le parole di commiato di Arya, "non sei tu", assumono, in questa scena, un sapore di speranza e di fiele insieme.
You know I'm born to lose, and gambling's for fools,
But that's the way I like it baby,
I don't wanna live forever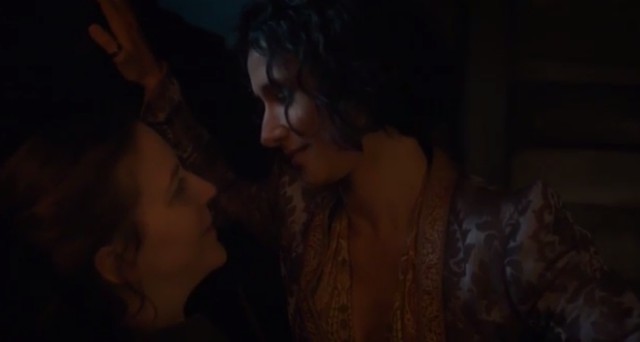 Uno degli aspetti più esaltanti di questa puntata si rivela alla fine: ci siamo finalmente liberati delle Serpi delle Sabbie, ormai inutile contentino per gli amanti degli aspetti più esotici della saga ma sottoposte ad un vero e proprio genocidio scenico da parte dell'adattamento seriale. La promettente scena saffica tra le due vendicative giovani donne viene infatti interrotta da un vero e proprio arrembaggio, che finalmente catapulta sulla scena, in tutto il suo disarmante fascino, quello che era stato fino ad ora uno dei personaggi sottoposti alle più feroci critiche da parte dei fan.
AND DON'T FORGET THE JOKER!
Il suo urlo di guerra ci ha gelato le viscere. Mimica facciale perfetta, che trasforma il paffuto e macchiettistico re improvvisato dei filibustieri in un vero pirata sanguinario, spietato, combattivo e completamente folle. Assetato di sangue, Euron non si ferma davanti a niente e raccoglie l'eredità di Ramsay dello psicopatico totale dominando completamente la scena in un combattimento navale perfetto, coinvolgente, adrenalinico come non si vedeva dalla Battaglia delle Acque Nere. Euron si toglie la maschera da pirata giostraio e scanzonato, e si mostra per quello che è: un giocatore a tutti gli effetti. L'unico che non ha niente da dimostrare perché lui, la sua battaglia, l'ha già vinta. Conquistando i fan di Game of Thrones con un'interpretazione perfetta, e distendendo le spire della piovra su tutti i mari.
Oggi, è lui il Re.