Alla vigilia della fine di Game of Thrones, probabilmente lo show più amato e discusso degli ultimi dieci anni, ci ritroviamo tutti piuttosto spiazzati da ciò che scopriremo nelle prossime 48 ore.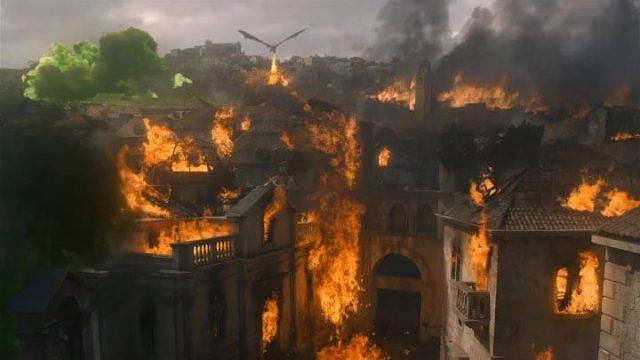 Game Of Thrones volgerà al termine, lasciandosi dietro una sfilza infinita di proteste, delusioni e commenti su come sarebbe dovuto finire lo show. Lo diciamo con una buona dose di sicurezza perché, viste le linee narrative che Benioff e Weiss hanno deciso di far seguire alle creature di George R.R. Martin, a meno che non si rivelino due fantasisti dello script, è molto probabile che il finale di questa controversa ottava stagione lascerà molte persone con l'amaro in bocca. Ognuno dei fan ha il suo finale personale in mente, il più plausibile per chi scrive (laddove di plausibile gli showrunners della serie ci hanno lasciato davvero poco!), vedrebbe Sansa Stark seduta sulla sedia più ambita di tutta Westeros.
Premesso che la speranza sia che suddetta sedia si scopra irrecuperabile sotto le macerie di una Fortezza Rossa frantumata, se proprio uno dei sopravvissuti deve farsi carico del peso della corona, io non vedo nessuno più idoneo della bella figlia di Ned Stark.
Parole grosse dette da una che Sansa l'avrebbe fatta defenestrare da Joffrey all'inizio della seconda stagione, ma che nel corso delle stagioni a venire non ha potuto non notare il percorso fatto dalla ragazza dallo sguardo di ghiaccio più sottovalutato della serie.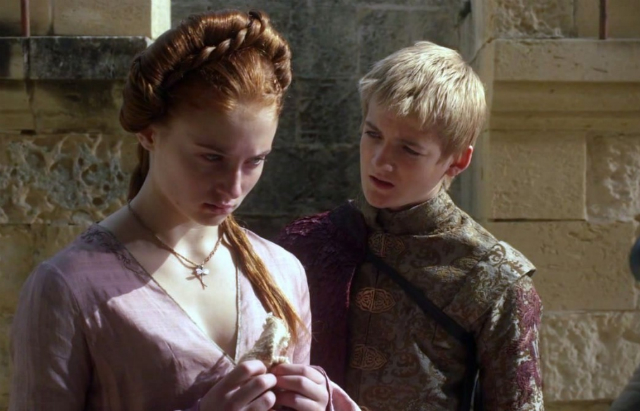 Perché il punto è proprio questo: se Daenerys, Cersei e Arya sono sempre state simboli di forza, potere e determinazione femminile in un mondo che ha provato a schiacciarle più volte di quante possiamo ricordare, Sansa è stata invece masticata dallo stesso mondo molte più volte di quante vorremmo ricordare. Per svariati episodi è stata l'emblema della debolezza femminile, dell'ingenuità che ha generato solo errori e dispiaceri, e anche dell'odioso cliché della fanciulla debole e sola che deve essere salvata dall'eroe di turno.
Di principi la nostra Sansa ne ha trovati ben pochi sul suo cammino, ma come ci ricorda lei stessa parlando al Mastino sono tutti serviti a farla diventare ciò che è adesso.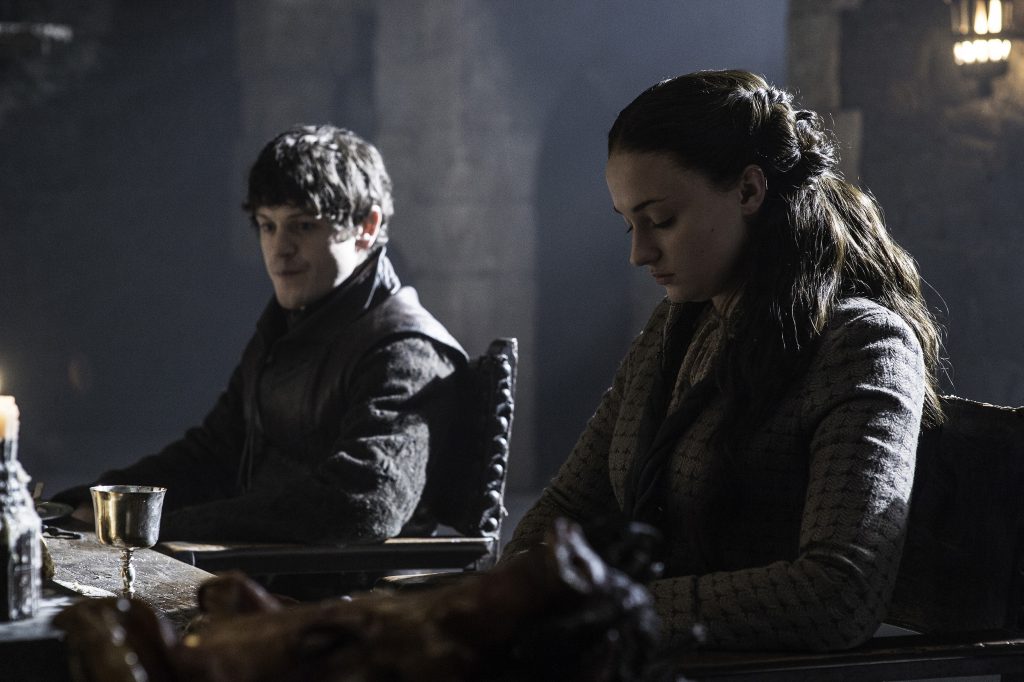 A giochi quasi conclusi, fatta eccezione della stoica sorella, è l'unica tra le donne di Westeros a essere ancora in piedi sulle sue gambe (e sana di mente). Come le ricorda Tyrion, "Tanti ti hanno sottovalutata in passato, molti di loro sono morti" ma, a differenza delle altre protagoniste, lei non partiva da un punto di forza, né caratteriale né materiale. Ostaggio, vittima, bottino di guerra, merce di scambio e infine di nuovo vittima e prigioniera, nella propria casa per giunta.
È l'unica a essere passata sotto le grinfie dei peggiori psicopatici dello show e con entrambi ha avuto il piacere di vederli morire malissimo.
Sansa meriterebbe il Trono non solo per il percorso notevole di crescita e solidità che ha saputo intraprendere contro tutte le aspettative, specie quelle dei fan che l'hanno ignorata per buona parte dello show, ammaliati dai sorrisi calcolatori di Cersei o stupefatti dalle prodezze eroiche della piccola Stark. Sansa è rimasta in piedi incassando in silenzio colpi di efferata brutalità, imparando dai suoi errori e prendendosi sudate rivincite. Si è trasformata così da agnello a lupo con una consapevolezza che ci ha conquistati lentamente.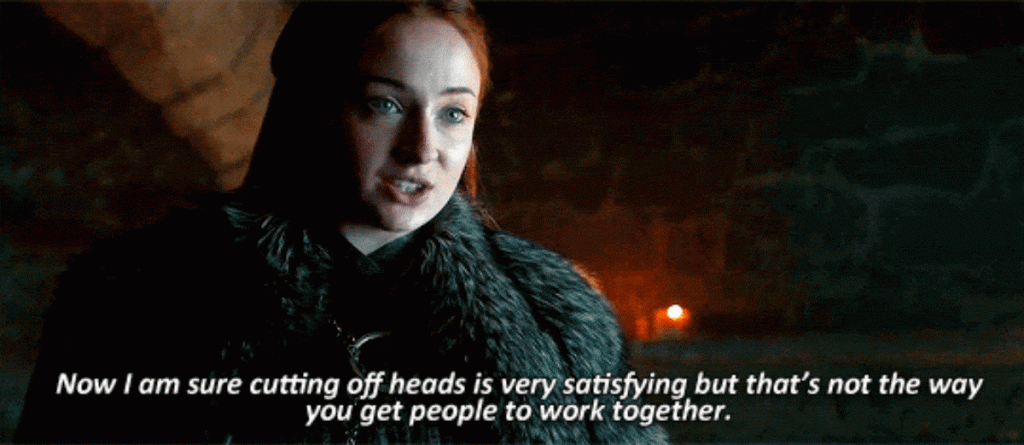 Non solo per tutto questo meriterebbe di essere presa in considerazione per il trono. Lo meriterebbe anche perché ha dimostrato più lungimiranza e attitudine al comando lei, di chi il Trono lo vuole davvero o addirittura lo merita per diritto di nascita. A differenza del cugino Jon, che continua a sostenere da cinque episodi che lui il Trono non lo vuole, o di Daenerys che lo rivendica con la foga di un dittatore, Sansa lo meriterebbe perché è l'unica ad aver dimostrato sempre un costante e leale interesse verso la sua gente.
Mentre chi durante la guerra pensava solo a strategie militari (rivelatesi per giunta fallimentari) o a sanare vecchi rancori, Sansa si assicurava che il popolo fosse al sicuro e avesse di che mangiare.
Ella ha dimostrato lealtà verso chi si era impegnato per seguire lei e la sua famiglia, e più di qualunque altro Stark, ha seguito i valori per i quali la sua casata si è guadagnata il rispetto che possiede.
Tra tutti i figli rimasti ancora vivi, forse è lei la Stark che più di tutti somiglia a Ned.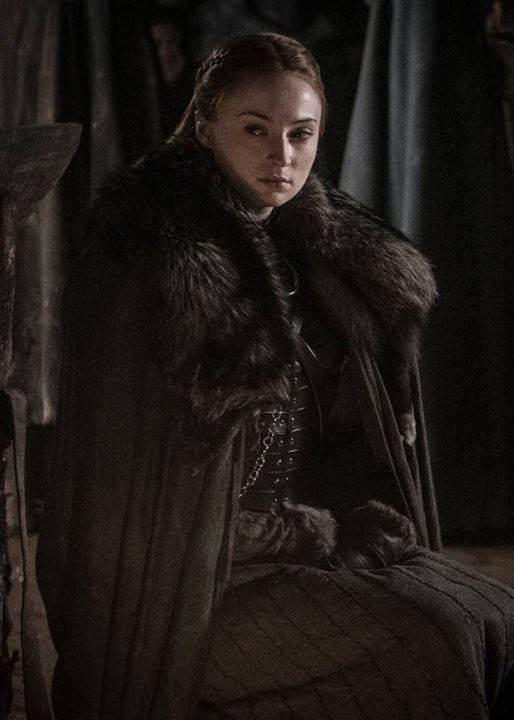 Senza dimenticare che, se abbiamo ancora la possibilità di vedere Jon Snow fissare stordito ciò che gli accade intorno, è merito della controllata sorella. Non è un caso che la splendida ed epica Battaglia dei Bastardi sia stata vinta grazie a Sansa.