Game of Thrones è tornato e con lui di certo non potevano mancare le nostre strampalate pagelle.
Come prima puntata è stata una grande delusione: per quanto la trama in sè non fosse niente male (alla fine i nostri colpi di scena li abbiamo avuti) ci sono stati troppi, troppi errori! Ma io dico, D&D cosa si sono fumati prima di girarla? Facciamo un respiro profondo e procediamo con calma.
Alla Barriera:
Per fortuna la storia è ricominciata esattamente dove l'avevamo lasciata l'anno scorso, con un certo cadavere disteso nella neve. Pugnalate, sangue ovunque, Spettro che ulula per due ore e nessuno che si caga il povero Giovanni Neve. Sonno pesante al Castello Nero eh? Per fortuna Davos, allarmato dal metalupo, trova il corpo e decide di fare la cosa più insensata possibile: si rinchiude in una stanza con i pochi "fedeli" a Snow, lasciando tutto il tempo a Thorne di portare dalla sua parte anche i confratelli che non avevano partecipato alle Idi di Jon. Bella mossa! In tutto ciò si dimentica anche di liberare il povero Spettro. Per chiamare i rinforzi decide di mandare Ed dai Bruti, gli unici che ormai sono, forse, rimasti fedeli al Lord Comandante.
Il rapporto tra Melisandre e R'Hllor stava già vivendo una crisi di mezza età dopo il fallimento Stannis e Davos le da il colpo di grazia anche con Jon. Il rapporto tra i due ex #TeamMannis sembra abbastanza disteso, dobbiamo dedurre che della "situazione Shireen" non si è parlato? Come ha potuto il Cavaliere delle Cipolle dimenticarsi di chiedere dettagli una bambina orfana? Mistero.
Ma passiamo alle cose veramente salienti: Melisandre e l'immagine che nessuno di noi riesce più a togliersi dalla testa.
Togliendosi il suo amato collarino magico la Donna Rossa ci rivela la sua vera forma: una donna anziana, molto anziana. L'espressione della donna è solenne, come se fosse consapevole che qualcosa di terribile sta per accaderle. Il fatto che anche nelle stagioni precedenti si sia tolta il collarino senza alcun effetto collaterale ci fa dedurre che questa volta le cose siano veramente serie. Perché Thoros di Myr, praticamente un infedele, è riuscito a far rinascere Dondarrion ben 7 volte? E lei per un bacettino veloce a Jon fa tutta questa scena? La risposta potrebbe essere nella sua età: forse essendo così vecchia rischierebbe di consumarsi completamente, in fondo ha sempre detto di praticare la magia da moltissimi anni, e se Jon fosse veramente l'ultimo? Spiegherebbe anche perché non è rimasta ad aiutare il suo amato Stannis.
Davos ha le orecchie di Dumbo ma poi lascia tutto in mano ad ED L'ADDOLORATO : 6 1/2
Melisandre ignora i suoi impegni e va' a dormire come faccio io prima di un esame: 7/8
Al Nord:

Ramsay davanti al cadavere di Myranda ha un istante molto introspettivo e romanto, in pratica quasi un miracolo. Ricorda come quella ragazza fosse l'unica ariuscire a tenere testa sia a lui stesso che ai cani da caccia di Forte Terrore. Ironia della sorte in pieno stile Bolton: anziché regalarle un degno riposo da in pasto il suo corpo ai cani.
Intanto la fuga di Theon e Sansa procede sfidando ogni legge della fisica: dopo essere sopravvissuti completamente illesi al salto dalle mura attraversano anche un fiume ghiacciato senza andare in ipotermia.
Theon ormai non è piú Reek, ma nemmeno lo sciocco e immaturo nobile delle prime stagioni. Finalmente ci troviamo davanti ad un personaggio coraggioso e forte, pronto perfino a sacrificare la propria vita pur di rimediare ai propri errori. Se non vi si é stretto il cuore quando ha abbracciato Sansa per scaldarla siete delle bruttissime persone. Tuttavia il povero Theon da solo non può fermare le guardie dei Bolton e, come i migliori tra gli dei ex machina, spuntano Brienne e Podrick e salvano i due fuggitivi. Pod è probabilmente lo scudiero meno promettente del mondo, eravamo rimasti a "ci eserciteremo ogni giorno con la spada" e il risultato non è stato dei migliori.
Finalmente la Briennona riesce a convincere Sansa ad accettare i suoi servigi. Visti i precedenti si avvicina molto ad una prematura condanna a morte, ma vedere i suoi occhi brillare per la gioia è stato commovente.
Ramsay ha rivisto le sue priorità, dogs before bitches: 8
Theon ha finalmente tirato fuori gli attributi (????) : 9
Sansa è l'unica ragazza del Nord ad aver paura del freddo: 5
Brienne e Pod dopo cinque stagioni finalmente ottengono una gioia: 7
A Sud: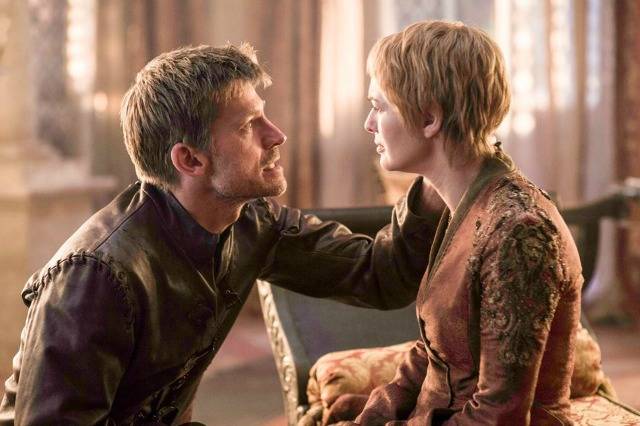 Cersei ci ha veramente spezzato il cuore in questa puntata, la speranza e la gioia nei suoi occhi, strappate dalla vista della bara d'oro è stato davvero terribile.
La tragedia sembra riunire i due gemelli/amanti, il dolore e la sete di vendetta sembrano cancellare completamente i rimorsi accumulati nelle scorse stagioni. Ma parliamo seriamente di una cosa: Jaime è forse il protagonista che è cresciuto di meno in cinque stagioni. Certo, forse oggi non lancerebbe più bambini dalle torri, ma dobbiamo ammettere che per averne passate così tante è rimasto esageratamente piatto. Insomma, è solo il cagnolino di Cersei. Theon ha più palle di lui, ed è tutto dire. Il fatto stesso che provi a consolare la sua amata con delle parole assolutamente vane ("Al diavolo le profezie", ma chi ce crede???) ne è la prova concreta.
La piccola rosellina Tyrell intanto è ancora sotto le amorevoli cure di Septa Ulenna, ma l'Alto Passero le da un suggerimento che spero coglierà: forse non ha commesso il crimine per il quale è stata accusata ma non è pulita dal peccato. Ora, se siete nati tra gli anni 80 e fine 90 non potete sicuramente non collegare questa scena a quella del mitico Chunk nei Goonies. La confessione sulla bottiglia di vero vomito? Yep.
Se non capite la citazione guardate questo video ( e poi andate di corsa a recuperare questo grande classico, shame!)
Intanto a Dorne succede il DELIRIO. Davvero, io non capisco cosa abbiano in testa queste donne. La vendetta e la sete di sangue applicate senza pensare non portano mai a buone conseguenze. Tipo sterminare un'intera famiglia nobile in una sola puntata. Giusto per fare un esempio. Ma torniamo un secondo indietro nel tempo, alla puntata 5×10: avevamo lasciato le Serpi sul molo, mentre guardavano la Nave con Jaime, Myrcella e Bronn salpare. Un paio di domande: come ci sono arrivati Trystane, Nymeria e Obara su quella stessa nave ad una sola puntata di distanza? Il viaggio tra Dorne e Approdo del Re è piuttosto lungo, si sono smaterializzate? Teletrasporto? Si sono fatti dare un passaggio da Barry Allen? Ancora Misteri.
Ma soprattutto, perché diamine Trystane non è sceso dalla nave pir sapendo che la sua amata Myrcella è stata uccisa dalle stesse donne che gli portavano il cibo? E niente, lui se ne sta tranquillo a disegnare gli occhi per il funerale della sua ragazza. Sorridendo come un serial killer. Ok forse non sarebbe stato un buon regnante.
Dopo aver ucciso anche Doran, Ellaria è pronta a controllare il regno, con quale diritto e quale pretesa al trono lo sa solo lei però.
Non sarebbe stato molto più facile fingersi amica di Doran e manipolarlo? No, meglio scegliere sempre la strada più difficile.
Cersei e Jaime pensano di poter fregare le profezie, poveri illusi: 6
Margaery capisce come fregare la Septa Trinciabue: 8
Le serpi uccidono gente a caso: 4
Essos:

La situazione a Meeren non è della migliore: ora oltre ad odiare i "masters" gli schiavi vogliono fare anche Dany a fettine. Un effetti è volata via sul suo Sfortunadrago proprio nel mezzo di una ribellione, non esattamente una mossa da regnate saggio.E perciò Tyrion e Varys decidono di vestirsi come normali mercanti e andare a dare un'occhiata in giro, tipo i vecchietti che guardano i lavori e commentano. Non fanno assolutamente nulla, tranne fare la carità ad una povera donna, ma nemmeno in quello riescono a fare un buon lavoro.
Daario intanto si dimostra un tipo scaltro come sempre, è in compagnia di un Jorah incazzato, nervoso e geloso, e lui cosa fa? Lo insulta per tutto il viaggio. Jorah fai un favore a tutti e contagialo. Per favore.
Arya inizia ad affrontare le prime difficoltà della vita da cieca, di certo la tipa che ogni giorno gliele da di santa ragione non aiuta. Ma già ce la immaginiamo come il miglior supereroe cieco di Bravoos's Kitchen.
Ma arriviamo alla parte comica della puntata. Se D&D volevamo creare un incredibile straniamento e farci sentire allo Zelig dei Dothraki ce l'hanno fatta in pieno. Tutta la dignità che questo popolo aveva guadagnato nelle prime stagioni è stata spazzata via con qualche ciak. Oltre all'infinita stupidità di Dany, che sembra non solo aver dimenticato tutti gli usi e costumi del popolo del quale si proclama regina, ma anche di avere un drago. Drogon dove sei quando servi? Spiegatemi come può il drago aver completamente abbandonato la sua padrona per giorni. Ok che era stanco e con la pancia piena, ma anche il nostro riposino dopo il pranzo di Natale ha un limite di tempo.
Questo nuovo Khal è così poco credibile che viene preso in giro perfino dai suoi Cavalieri di Sangue, ma finalmente qualcuno ha riso in faccia alla Madre di Draghi quando ha provato a salvarsi con la sua lunghissima e inutile lista di epiteti.
Tyrion viene preso per un comunista e Varys lo apostrofa come solo Ygritte sa fare: 6
Jorah e Daario giocano a fare Sherlock e Watson, con tanto di insulti e velate minacce di morte: 5
Arya Stark is the new Matt Murdock: 6 1/2
Dany ci prova con la tecnica dello studente impreparato, dice cose senza senso e si fa ridere in faccia: 3
Dato che io sono una fan accanita di ogni tipo di premiazione esistente ogni settimana oltre alle vere e proprie pagelle daremo anche…
GLI OSCAR DEL TRONO! Diamo l'occasione a questi personaggi di riscattarsi no?
Premio scemo del villaggio: Trystane, che decide di restare in compagnia di donne rancorose che hanno appena ucciso la sua fidanzata
Premio muori male: Le serpi, e non c'è bisogno di ulteriori spiegazioni
Premio spaccaculi: Theon, che adesso ci fa vedere il kraken (niente, non riusciamo a non fare battute al riguardo)
Premio non ce la faccio a farcela: Dany, non ne azzecca una manco per sbaglio, "è risaputo"
Premio miglior nuovo personaggio: Khal Giacomo con i suoi Cavalieri di Sangue Giovanni e Aldo
Miglior citazione: Tyrion "Chiunque tu sia, dovunque tu vada, qualcuno in questa città vuole ucciderti" in pratica riassume tutta la saga in un unica frase.
E adesso basta raga, tutti a fare il riposino di bellezza con Melisandre, lei ne sa a pacchi su come mantenere la pelle giovane e fresca
Ringraziamo i nostri partner di  Game of Thrones – Italy, Game Of Thrones fans page -ITA- , Game of Thrones ITALIA , L'immane disgusto di Varys nei confronti dell'umanità. Team Sansa, Il trono di spade