Game of Thrones non è uno show televisivo come gli altri.
Ci vuole dedizione, buona memoria e costanza per comprendere appieno tutto il mondo di Westeros, e poi ammettiamolo: non è facile tenere tutto a mente dopo sette anni di relazione complicata con la regina delle Serie televisive.
Buona parte degli eventi ci ha traumatizzato al punto da indurre la nostra memoria a rimuovere scene, immagini e soprattutto morti disastrose, rifiutando addirittura la possibilità del rewatch. Un esempio? Le nozze rosse ragazzi, e non credo di dover aggiungere altro.
Per questo, a circa 109 giorni dall'inizio della settima stagione di Game of Thrones è forse il caso di cominciare il nostro complicato ripasso attraverso tutti i sessanta episodi, che sessione esame levati che qui abbiamo da lavorare.
Per cui cominciamo con il confronto tra le sei stagioni di Game of Thrones, in cui, vi assicuro, sono cambiate davvero moltissime cose, prima fra tutti la vitalità della maggior parte dei personaggi.
#1 Piccoli Peter Pan cadono
Ci fu un tempo di gioia, pace e serenità in cui ancora non sapevamo niente.
In quanti hanno affermato trionfanti guardando Ned Stark: «Sarà lui a sedere sul trono di spade»? Ebbene, al tempo avevamo ancora gli occhi dell'innocenza, e come si fa con dei bambini per insegnar loro a nuotare, i poco amorevoli genitori David Benioff e D.B. Weiss ci hanno presi e scaraventati giù dalla torre spezzata di Grande Inverno.
Cersei aveva guardato suo fratello, amante e padre dei suoi figli scaraventare giù dalla torre il piccolo Bran Stark, mentre Jaime esclamava «The things I do for love». Al tempo odiammo Jaime e quello ci sembrò davvero un gesto orribile, che invece ora, a dirla proprio francamente, non sembra poi questo gran dramma, o sbaglio?
In ogni modo la ruota gira per tutti, e i Lannister pagano sempre i loro debiti.
Così, sei anni dopo, ecco il perfetto parallelismo chiudere l'ascesa dei Lannister, sancendo in un qualche modo la rivincita degli Stark, che speriamo sia solo al principio.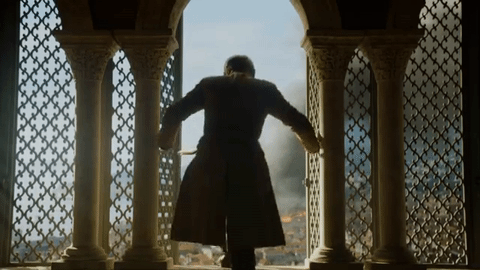 Tommen Lannister (o Baratheon che dir si voglia) si arrende alla vendetta materna, a quella sete di potere che ha contraddistinto Cersei fin dal primo momento in cui l'abbiamo conosciuta, e che la rende l'unica vera erede di suo padre.
Tommen si lancia dalle stanze in cui è stato recluso, realizzando perfettamente il destino che era stato profetizzato alla madre.