#DeliridiSpade è la nuova rubrica del martedì sera di Hall of Series che vi racconterà ironicamente l'episodio di Game of Thrones andato in onda il giorno prima. Siamo impazziti, e lo capirete presto. 
You know nothing, Jon Snow
Una notizia sconvolgente ha travolto il mondo di Westeros: Jon Snow è morto e una nuova stella è nata. Se qualcuno pensava che Kit Harington fosse un pessimo attore con due sole espressioni, con e senza spada, dovrà ricredersi e si scioglierà come Snow al sole. Kit è un interprete fenomenale, e nella 6×01 l'ha finalmente dimostrato.
Guardate questo frame: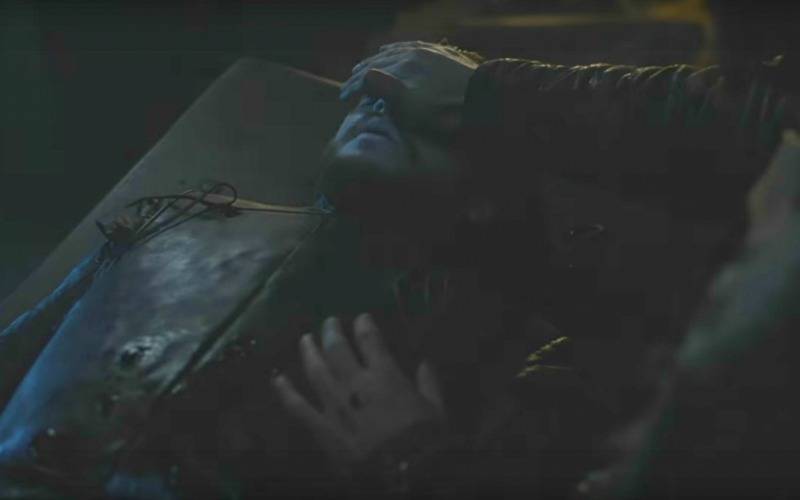 Che attore, ragazzi. Che attore. Come fa il morto lui manco il Re della Notte. In fondo era solo una questione di ruolo e Kit doveva trovare la sceneggiatura giusta per dare fondo a tutte le sue qualità recitative. Se starà zitto e con gli occhi chiusi per tutta la stagione, l'Emmy sarà sicuramente suo.
Qualcuno, però, non ha apprezzato il nuovo ruolo del Lord Comandante più sfigato della storia della Sette Regni. La povera Melisandre, una che probabilmente dovrebbe risintonizzare il suo braciere, ha perso in un solo episodio l'Azor Ahai Stannis (seh, vabbé) e un fenomenale toy boy con il quale non è riuscita a concludere nulla. Jon Snow non sa che si è perso e Melisandre lo dimostra avanzando prepotentemente la sua candidatura ai prossimi AVN Awards (gli Oscar del porno) nella categoria "mature".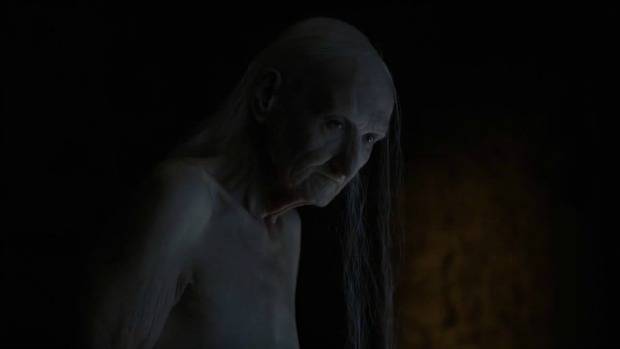 Un po' troppo mature, forse. Per la categoria "milf" erano finiti i posti.
Dopo aver tolto un semplicissimo medaglione, Melisandre ha mandato in malora i sogni erotici di milioni di persone e acceso allo stesso tempo quelli dei nonni più audaci. Inoltre, ha confermato la diceria secondo la quale la bellezza di una donna emerge realmente al risveglio. Oppure prima di andare a dormire. Una cosa, però, è certa: il make up fa miracoli e Chiara Ferragni può iniziare a tremare. Il messaggio di speranza di Melisandre farà proseliti in tutto il mondo.
You know nothing, Jon Snow.
Quello sdolcinato di Ramsey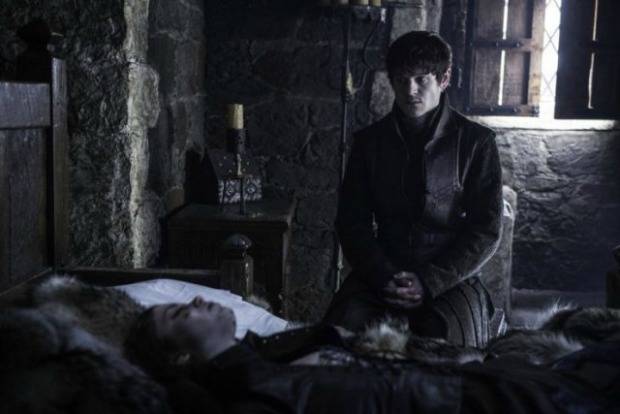 Uno che ha capito tutto è invece Ramsay Bolton, protagonista di un atto di romanticismo che ispirerà gli aspiranti Romeo delle prossime cinque generazioni.
Nel momento in cui ha parlato per l'ultima volta con quel che resta di Myranda, si è avventurato in una sequenza di frasi dolcissime che hanno fatto pensare che le salsicce mangiate a colazione fossero avariate. Poi, all'improvviso, l'abbiamo riconosciuto.
Quel mattacchione di Ramsay sa bene come regalare una eterno riposo degno ai propri cari, e invece di bruciare il corpo o seppellirlo come farebbe qualunque sfigato, ha deciso di… darlo in pasto ai cani.
"She's good meat", d'altronde.
E lui di carne se ne intende: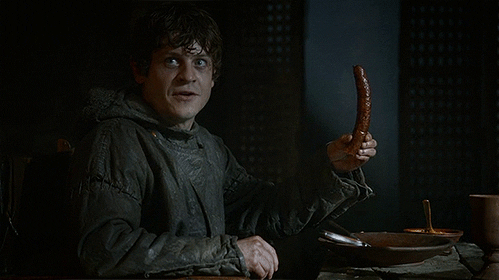 Vero?
Vacanze a Dorne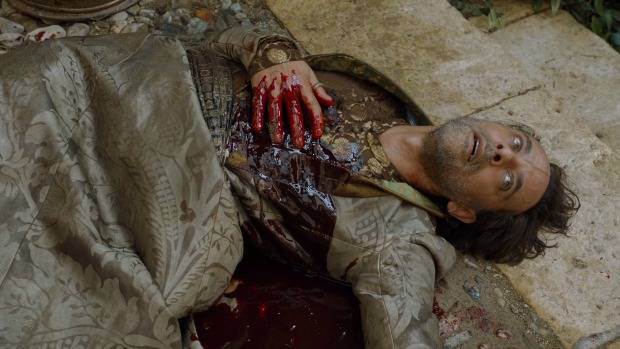 A Dorne, intanto, succede di tutto. Agli sceneggiatori. Dopo oltre dieci episodi, non abbiamo ben chiaro che diavolo succeda a D&D prima di scrivere i testi per la storyline di Dorne. In quel bel posto succedono cose che manco in Occhi del Cuore.
Facciamo un piccolo riassunto. Jaime e Bronn partono a Dorne in vacanza premio per salvare Myrcella. Non ci riescono e le sequenze sono fantozziane. Le Serpi si incazzano e mostrano le tette a caso, Ellaria si incazza e non mostra manco le tette, Doran è rincoglionito, Trystane è ancora più rincoglionito, viene portato a termine un colpo di stato in 15 secondi circa e si assiste a misteriosissimi fenomeni di teletrasporto sulle navi.
Quindi, che diavolo succede a D&D? Proviamo a formulare delle ipotesi:
La storyline di Dorne è curata dagli sceneggiatori de L'Onore e il Rispetto.
Hanno bevuto il vino di nonna Olenna corretto col crack. Joffrey ne è uscito meglio.
Hanno visto una qualunque fiction di #BeppeFiorello.
Quel marpione di Martin se la spassa con la moglie di uno dei due.
Optiamo per la prima.
Considerazioni sparse su Dorne:
La presenza contemporanea di Massimo Boldi, Lino Banfi e Tina Cipollari avrebbe reso più credibili le sequenze.
Se i vari Martell avessero detto "Hodor" per tutto il tempo la trama ne avrebbe beneficiato.
Ogni volta che vediamo Dorne reagiamo così: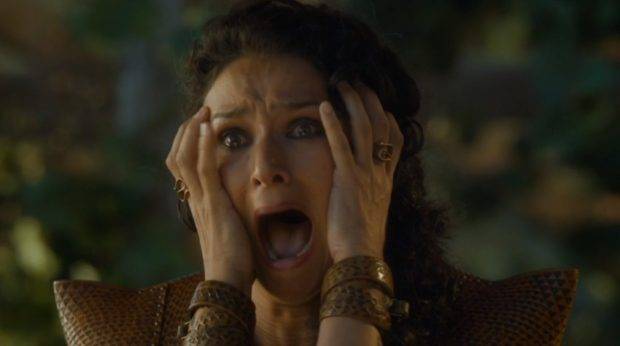 Lando Buzzanca e gli assassini di Don Matteo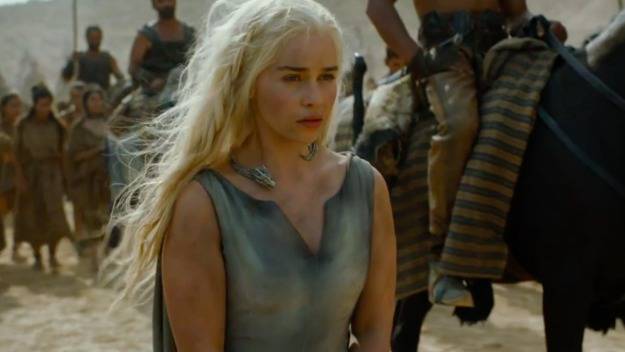 E poi ci sono i Dothraki. Li avevamo lasciati infami e cattivi e li ritroviamo cattivi… e un po' ridicoli. Il tempo passa per tutti, anche per un'orda di barbari, e si vede.
Mettiamola così: i Dothraki di ieri stanno ai Dothraki di oggi un po' come Jim Moriarty sta all'assassino di turno di Don Matteo.
No, non ci siamo. E vogliamo parlare di Khal Moro? Casca sempre in piedi. È passato da Gloria Guida a Emilia Clarke, e almeno per lui il tempo sembra non trascorrere mai. Volete una dimostrazione? Eccola!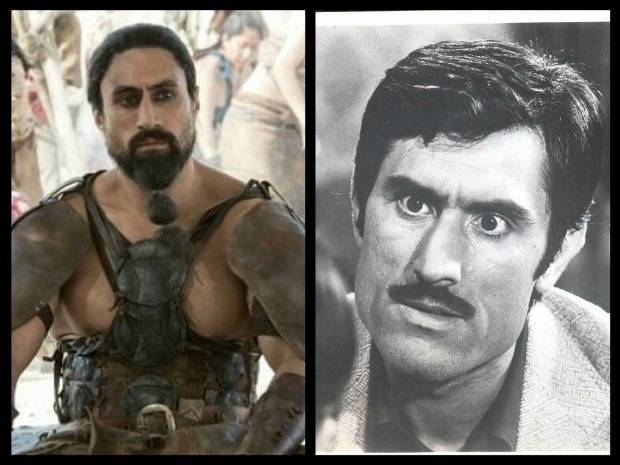 Due gocce d'acqua.
Daenerys non se la passa molto bene, ma non tutto è perduto. Ser Friendzone è sulle sue tracce, farà di tutto per salvarla e intanto confessa alla persona sbagliata i suoi sentimenti per la bella Khaleesi. Jorah è un tipo riservato e ha atteso solo 51 episodi per ammettere un cosa evidente fin dai primi due minuti di Game of Thrones.
Dovrebbe lasciar perdere, il povero Jorah. Il problema non è il morbo grigio né l'avvenenza di Daario, ma la possibile alternativa. Jorah, diciamolo, ormai ha una certa età e 20 secondi di sesso con l'irresistibile Dany potrebbero stroncarlo. Oltretutto, la friendzone è una filosofia di vita che non porta mai nulla di buono, e dovrebbe trovare una donna adatta alle sue caratteristiche. Una donna esperta, navigata e sessualmente appetibile. Ah, e possibilmente senza problemi alla pelle.
Una donna rossa, insomma. La donna rossa, anzi.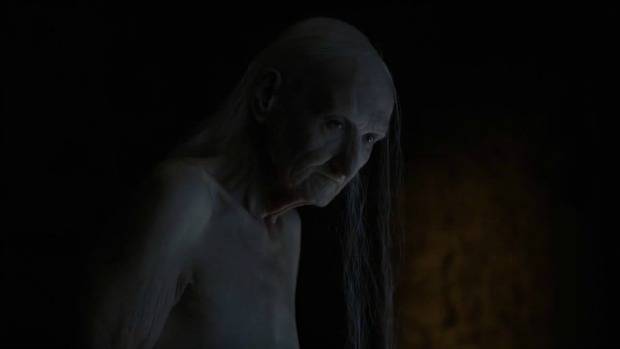 Gli anni passano, ma il fascino è immortale. Più o meno.
Un paio di considerazioni finali:
Jaime e Cersei hanno evitato una nuova scopata col morto. Ne abbiamo fatto volentieri a meno.
Brienne e Sansa hanno iniziato la nuova stagione con una gioia: è proprio vero che l'Inverno sta arrivando.
Pod è più inutile di un jolly in una partita di poker.
Rosabell Laurenti è meno espressiva di Luca Laurenti.
Nel prossimo episodio dovrebbe tornare Bran e riavremo la tanto auspicata pausa pipì. Estranei permettendo.
Un saluto da Tywin Lannister!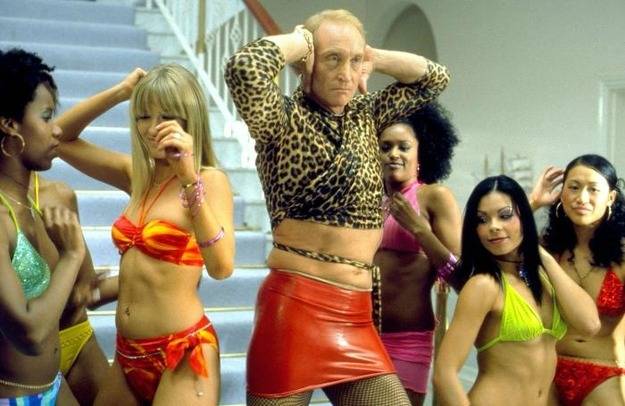 Antonio Casu 
@antoniocasu_