Brienne di Tarth è un personaggio magari non eccessivamente appariscente, ma che merita assolutamente l'amore dei fan di GOT!
Chi ha detto che l'avvenenza fisica è la conditio sine qua non dell'innamoramento?
Beh, a dire il vero è probabile che l'abbiano detto in tanti, quasi tutti, ma non per questo bisogna dar loro ragione.
Prendiamo ad esempio Brienne di Tarth, il gargantuesco personaggio di Game of Thrones interpretato dalla fin troppo sottovalutata Gwendoline Christie dall'alto dei suoi 191 cm: non è la classica lady con vestiti di seta e acconciature elaborate, anzi, è un vero e proprio cavaliere stipato dentro una pesantissima armatura, eppure conserva un fascino particolare. MOLTO particolare.
Noi di Hall of Series crediamo che esistano almeno 10 buone ragioni per cui il vostro cuore dovrebbe battere per lei; certo non significa che siete obbligati a farlo, però ci sono alcune qualità della figlia di Lord Selwyn davvero interessanti: scopriamole insieme!
Alert: troverete degli SPOILER nelle prossime righe. Fate attenzione.
10) È alta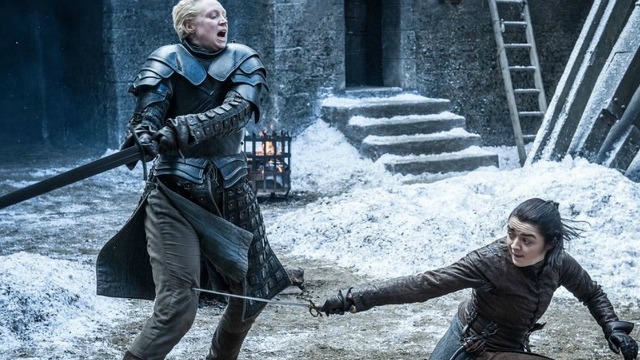 Che c'è? Sottolineare la qualità fisica migliore di Brienne vi sembra banale? Diamine, lo è eccome, tuttavia non bisogna affatto dimenticarsi di quest'aspetto perché, checché ne dicano le seguaci del "nella botte piccola sta il vino buono", una donna alta mantiene sempre e comunque un elemento di unicità che la distingue da tutte le altre a prescindere dal candore della sua pelle o dalla profondità dei suoi zigomi. Non è molto, ma è già qualcosa, dai.