# #
La storia di Bette Davis e Joan Crawford non è mai stata solo una semplice rivalità, una sobria competizione tra due delle più famose attrici degli anni '30, bensì qualcosa di più. Il noto conflitto tra queste due grandi donne può essere identificato correttamente con il termine di 'faida', ed è proprio questa parola a dare il titolo (Feud) alla Serie Tv di Ryan Murphy. Per chi non è un esperto del panorama cinematografico che risale ai ruggenti anni '20, la domanda "Chi sono Bette Davis e Joan Crawford?" è più che comprensibile. Io stessa me la sono posta appena sono venuta a conoscenza della produzione della Serie che avrebbe visto protagoniste due delle attrici che ammiro di più. Jessica Lange e Susan Sarandon che interpretano rispettivamente Joan e Bette.
# #
Ai fan di American Horror Story, il nome di Jessica Lange sicuramente non risulta nuovo e, all'abbandono della Serie dopo la quarta stagione, molti di loro ne avranno sentito la mancanza. Qual è, quindi, il rimedio migliore se non rivederla di nuovo protagonista, stavolta in Feud?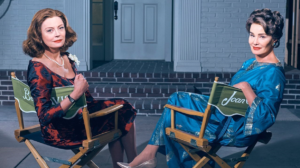 # #
"Le faide non sono mai basate sull'odio. Le faide sono basate sul dolore."
Dice Olivia de Havilland nella pilot. In Feud vediamo due attrici dimenticate da Hollywood perché non sono più nel fiore degli anni.  Due attrici ad un passo da una crisi finanziaria e disposte a qualsiasi cosa pur di ritornare alla fama di trent'anni prima. L'unico modo per riacquistare quella notorietà bramata da entrambe è recitare insieme nel film "Che fine ha fatto Baby Jane?", diretto da Robert Aldrich. Quando due donne dal grande talento e dal carattere deciso entrano in contrasto, la convivenza non è facile per nessuno. Le due attrici, infatti, non riuscivano ad andare d'accordo, creando problemi alla troupe e ai produttori a causa dei loro incessanti scontri e dispetti.
Stanchi delle loro continue provocazioni, il cast e i registi minacciarono di cacciarle dalla produzione qualora non avessero continuato a lavorare in modo professionale. Bette e Joan, allora, continuarono a lavorare apparentemente d'amore e d'accordo portando a compimento il film. Il quale si rivela un grandissimo successo. La convivenza civile tra le due attrici è bruscamente interrotta appena sono rese pubbliche le nomination ai Premi Oscar: Bette è stata nominata, Joan invece no. L'avvenimento che distrugge definitivamente il rapporto tra le due è quando Joan Crawford, durante la cerimonia, ritira il premio dell'attrice vincitrice Anne Bancroft ridicolizzando Bette Davis nella stessa categoria nella quale lei era candidata.
Le due attrici non si ricongiungeranno mai lasciando per sempre aperta la loro questione personale.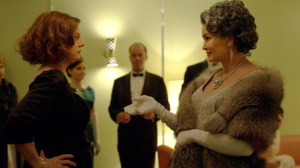 Ciò che ci si aspetta dalla Serie è probabilmente un racconto lineare, un pezzo di storia già raccontata in numerosi documentari e biografie, mentre ciò che lo spettatore riceve è una storia di forti sentimenti, famiglia e segreti. Joan Crawford e Bette Davis non sono solo delle attrici, ma sono persone, madri, donne. Donne che amano, soffrono e che, sì, a volte si odiano. Vediamo due grandi attrici che vengono riportate in vita da Jessica Lange e Susan Sarandon, due grandi artiste che hanno saputo essere all'altezza del compito. Rivediamo la Lange nel tipico personaggio di una donna contro tutti, sempre inarrestabile e indomita, e ritroviamo la Sarandon nel ruolo che ci era mancato, una combattente, una madre difficile e un'artista dai più talenti (la performance della canzone What ever happened to Baby Jane? ci riporta un po' ai tempi del Rocky Horror Picture Show).
Tra gli otto episodi della stagione, Mommie Dearest e You Mean All This Time We Could Have Been Friends? Sono quelli che hanno segnato in modo particolare la mia esperienza di Feud. Come lascia intendere il titolo, il primo episodio attraversa il rapporto madre/figlia delle due attrici come madri e anche come figlie, dando alle figure di Bette e Joan, per la prima volta dall'inizio della Serie, uno spessore psicologico rilevante. La puntata non è più incentrata solamente sulla trama principale, ma si ferma a descrivere delle protagoniste distaccate completamente dal loro 'acting persona'.
Madri, amate e odiate e accomunate nel dolore anche quando cala il sipario.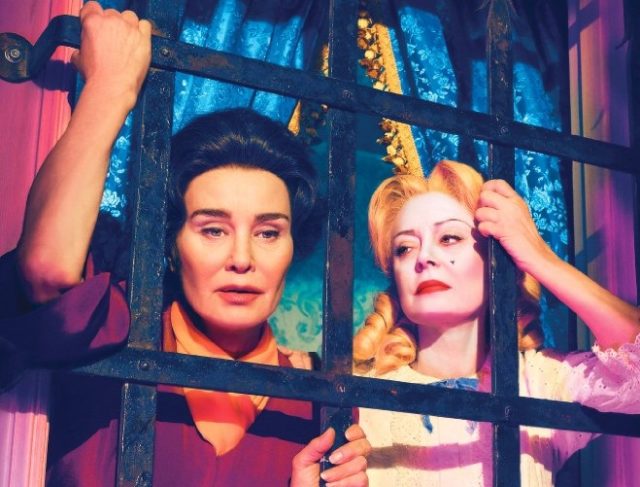 (Seguono spoiler). Il secondo episodio sopracitato corrisponde al finale di stagione. Uno dei momenti più toccanti della puntata (e anche dell'intera stagione) è quando la nostra Joan Crawford indossa un maschera da primate in un teatro vuoto, accompagnata dalla struggente The End dei The Doors. Riprendendo nel titolo la celebre frase finale del film "Che fine ha fatto Baby Jane?", ci viene presentata non più una Joan Crawford simbolo di bellezza, ma una semplice donna anziana alle prese con gravi problemi di salute. Joan, infatti, non recita più e vive in una casa modesta insieme alla fedele Mamacita. È tutto finito per Joan, ma anche per Bette, che è ormai consumata dall'alcolismo e dal ricordo di un passato glorioso. Dopo la morte della rivale, la quale la lascia molto turbata, Bette realizza che anche lei sarà destinata ad un mero omaggio di pochi secondi.