Fear The Walking Dead ci ha abituati a una crescita esponenziale negli ultimi episodi e, il quarto, non è stato assolutamente da meno. Paura, ansia, la fiducia che vacilla, il mondo intorno che continua a crollare..le premesse per continuare a fare bene ci sono tutte.
Ripartiamo da un punto nascosto in questa puntata di Fear The Walking Dead. All'apparenza non si riconosce il posto. Vediamo solo il mare, la grande ambientazione di tutta la seconda stagione della serie; poi vediamo Nick alla deriva che approda su un'isola in cui la scritta SAVE US è tracciata con dei corpi morti. Cos'altro? Un elicottero, (forse) un altro piccolo richiamo alla serie madre, una tendopoli completamente desolata e un nuovo vecchio metodo per riuscire a non farsi scoprire dagli zombie che camminano intorno a te.
La situazione nuova, sconosciuta, ci spiazza perché non capiamo come si possa essere esattamente arrivati a quel punto. Così, dopo la prima scena, vediamo Travis e Madison discutere animatamente. L'argomento è tanto semplice quanto importante considerando il contesto di Fear The Walking Dead. Da una parte si schierano la giustizia e la volontà di Travis di trovare un modo per sopravvivere anche senza l'uomo che condanna a morte le persone per egoismo e paura; dall'altra parte invece c'è sua moglie Madison che afferma senza timori di volere qualcosa in più che sopravvivere, afferma di desiderare un nuovo inizio, una nuova possibilità con la sua famiglia allargata. E' difficile non concentrarsi su questi dialoghi e su quello che gli autori ci vogliono trasmettere facendoceli ascoltare. Come spesso accade in questo tipo di serie tv ci spingono a farci una nostra opinione riguardo quello che vediamo accadere sullo schermo. Che cosa avremmo fatto noi? Il nostro senso di giustizia avrebbe superato il bene per la nostra famiglia o avremmo tentato la sorte?
Se da una parte vediamo gli adulti confrontarsi tra loro sulle sorti generali del gruppo, dall'altra invece ci sono Chris e Ofelia, due personaggi che ancora non si erano particolarmente relazionati, in una conversazione che sembra non appartenere nemmeno al mondo di Fear The Walking Dead. Si parla di storie passate, origini, cose fatte di nascosto ai genitori, speranze per l'immediato futuro, relazioni; si parla insomma di tutti quegli argomenti con cui due persone sconosciute potrebbero rompere il ghiaccio per conoscersi un po' meglio. Come è tradizione che accada, però, queste parole tranquille e spensierate non hanno vita lunga in un mondo del genere.
Qualcosa turba l'equilibrio già precario della barca.
Ci sembra di riconoscere la voce del ragazzo, ma non ne siamo sicuri. Vediamo Chris e Ofelia che, senza riuscire ad uccidere a sangue freddo, cercano aiuto. Una donna incinta ed una terza persona si agganciano alla barca e cominciano a salire a bordo. Madison si prende in carico la donna e il bambino in pericolo, Travis e Daniel cercano di captare tutte le sfumature dalle informazioni dell'uomo che si regge in piedi davanti a loro. Strand capisce al volo e si arma, scherzando ironicamente su quando lo avevano definito un pazzo paranoico. La conferma sul fatto che si tratti di Jack, il ragazzo con cui Alicia aveva ripetutamente parlato via radio, ci arriva proprio da Alicia stessa. Riconosce la sua voce e la situazione disperata di cui le aveva parlato. Si ferma immobile davanti a lui consigliandoli di smetterla, ma a quel punto Jack è molto fermo nel rispondere con un'altra delle grandi verità del mondo di Fear The Walking Dead.
"Se ti fermi a fare domande, qualcuno potrebbe morire nel frattempo"
Si riferisce ovviamente a Chris e alla sua incapacità di sparare a sangue freddo a chiunque chieda aiuto. Chris non è Strand, e questa volta deve pagarne le conseguenze. Quelli sulla barca vengono fatti prigionieri, mentre il capitano abbandona la nave e non si conoscono le sorti di Nick.
Dopo un flashback su Strand che ci porta ancora di più a capire la sua vera natura di parassita e opportunista ci ritroviamo davanti ad un Alicia capace di tenere testa all'uomo che ha appena legato tutte le persone che ama e che ha minacciato di uccidere Chris. La ragazza è ferma, risoluta e decisa; crede di essere certa di non aver sbagliato con Jack perchè si fida di lui. Ci ha parlato, lo ha in qualche modo conosciuto e, anche se ora sembra essersi trasformato, anche se molte erano bugie, lei pensa di avergli scavato di più nel profondo. I fatti le danno ragione, anche se l'uomo si nasconde dietro altre frasi omaggio già sentite in The Walking Dead.
Ognuno ha il suo compito in questo mondo.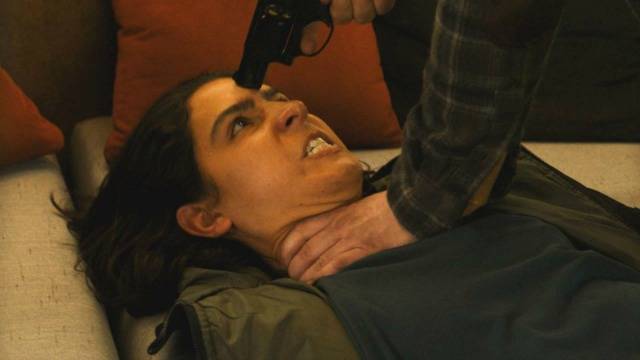 A questo punto la puntata si divide definitivamente per tre strade che si riuniscono solo nel finale. Nick sull'isola, Strand nel flashback e in mare e l'Abigail di cui finalmente capiamo il nome di provenienza.
Nick incontra l'uomo di Strand e finalmente si capisce cosa si era nascosto dietro tutto il suo grande piano, le sue chiamate nascoste, il suo obbiettivo in Messico. Lui e il suo nuovo alleato salvano la situazione sulla barca quando tutto sembrava precipitare senza rimedio. Madison tenta di uccidere per la prima volta e chiede a Chris di non concludere il suo lavoro in uno slancio protettivo verso quel ragazzino che fa sempre più parte della famiglia. Daniel, sempre nascosto dall'ombra della famiglia di Travis, sembra trovare il modo per aiutare tutti con la sua scaltrezza che spesso tiene nascosta.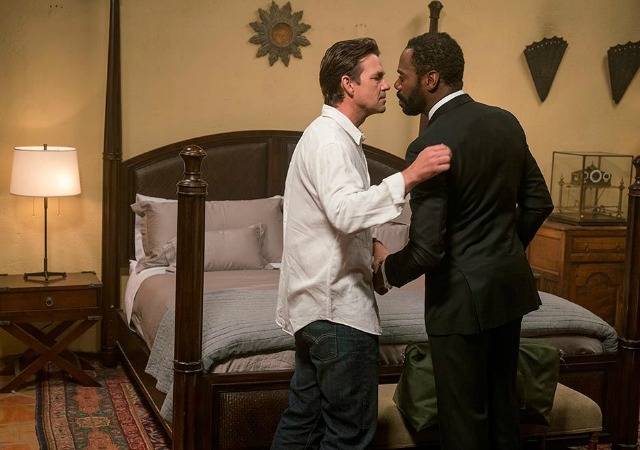 Nei vari flashback di Strand, una frase è degna di nota per il suo valore particolare applicabile totalmente a Fear The Walking Dead.
Questo posto mi fa sentire come se il resto del mondo fosse stato spazzato via e non avessimo più bisogno di lui.
Il mondo è stato spazzato via, letteralmente. L'epidemia ha cominciato massacrandolo, l'egoismo degli uomini e la loro sete di potere e di sopravvivenza ha completato l'opera magistralmente. La barca Abigail è salva, anche se Alicia e Travis sono ancora nelle mani sbagliate; Nick si è riunito alla sua famiglia e, per ora, anche il cerchio di Strand si è chiuso.
Gli scontri interni non mancano mai in situazioni come queste. Nelle scorse puntate Madison aveva discusso a petto duro Strand e le sue convinzioni, ma alla fine è proprio la donna che lo aveva affrontato di più a salvarlo e a tendergli la mano per risalire a bordo.
La famiglia si è così allargata ancora di più, anche se non è unita e in sicurezza come prima.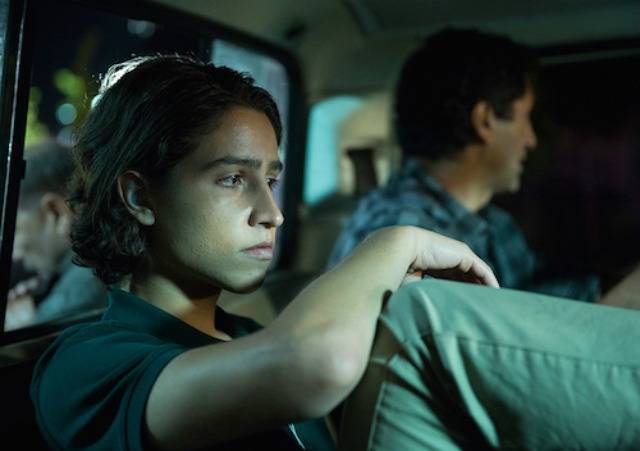 Un saluto agli amici di Fear The Walking Dead Italia !