La maggior parte delle volte, e non provate a negarlo, i personaggi che attirano maggiormente la nostra attenzione non sono tanto i protagonisti, gli eroi o i in generale i personaggi "normali", ma quelli più strani e stravaganti. Questi sono spesso degli outsider, dei villain fuori di testa (come in Doctor Who), delle strampalate figure ai margini della storia che riescono però a conquistarci. 
I pazzi, poi, sono una categoria tanto terribile quanto affascinante e spesso rappresentano anche una grande prova attoriale. Ma non basta di certo, come qualcuno potrebbe sostenere, gridare frasi insensate e ridere sguaiatamente per interpretare la parte del pazzo. I grandi attori hanno modi più sottili per portare la follia sullo schermo.
Un esempio su tutti: quel maestro di follia che è Jack Nicholson, abbonato a ruoli di questo tipo. 
Anche nelle serie tv ci sono attori che più di una volta si sono trovati a riprendere, seppur in maniera diversa, un personaggio mentalmente instabile o molto particolare. Nell'articolo di oggi non parliamo quindi solo di attori che hanno interpretato ruoli folli (come il Moriarty di Sherlock) ma che lo hanno fatto in più di una serie tv.
Eccone 5!
1) Michelle Gomez – DOCTOR WHO / CHILLING ADVENTURES OF SABRINA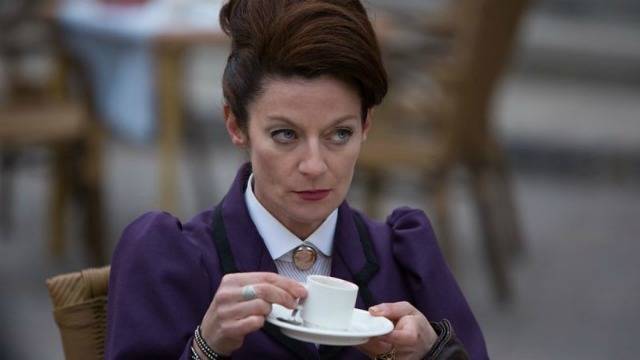 Da nemesi del Dottore a Signora dell'Oscurità il passo è breve. 
In fondo non è che sia così tanta la differenza tra il Maestro in Doctor Who e la Lilith nel remake di Sabrina. Entrambi sono personaggi manipolatori, opportunisti e, soprattutto, mentalmente instabili. L'unica differenza è che mentre la più recente versione del Maestro in Doctor Who sembrava stesse andando incontro a una reale trasformazione interiore, il personaggio di Lilith è cattivo fino al midollo, interessata solo a raggiungere il proprio malefico obiettivo.
Entrambi sono portati sullo schermo dall'eccelsa Michelle Gomez. Un'attrice dalla performance sublime che, tra la voce accattivante e gli occhi spiritati. sembra essersi legata a questo ruolo da villain. In Doctor Who, Missy è stata una delle versioni del Maestro più fuori di testa e totalmente imprevedibile. In  Chilling Adventures of Sabrina, Lilith non è di certo da meno.