Che Steven Moffat si diverta a sfatare tutte le ipotesi che i fan hanno fatto durante la messa in onda della stagione, per risolvere le cose in modo più semplice, ma al contempo più complicato possibile, è cosa ormai nota. Ma in Hell Bent – è proprio il caso di dirlo – si è superato. La sceneggiatura impareggiabile, ogni parola calcolata al millimetro, l'interpretazione straordinaria degli attori, la regia ancora una volta precisa ma calda… E la musica, il theme di Clara che risuona di continuo, come una filastrocca, come un motivetto che non possiamo dimenticare, che nessuno può dimenticare…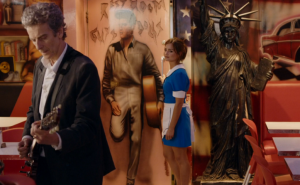 Ma procediamo con ordine. All'inizio vediamo solo il Dottore camminare spaesato per il deserto, la chitarra a tracolla, ed entrare in un dinner americano. E lì c'è Clara ad aspettarlo, vestita da cameriera anni '50, con un vestitino blu tardis. La ragazza non sembra riconoscerlo e il pensiero sorge spontaneo: è una sua eco? Ma, come sempre, le cose non sono così semplici.
Il Dottore inizia a raccontarle una storia: la storia di cosa è successo a Gallifrey. Ed ecco partire il flashback: ancora una volta il Dottore sta camminando nel deserto diretto verso… il fienile di Listen. Ed ecco un altro tassello che si aggiunge al puzzle.
Così, ricongiunto alla sua famiglia, il Dottore sta per pranzare quando arrivano i soldati a prenderlo per scortarlo dal lord President, che altri non è che… Rassilon, rigenerato. Da notare la sottigliezza della citazione: quando i soldati chiedono al Dottore di disarmarsi, lui poggia il cucchiaio sul tavolo (I don't need a sword. Because I am the Doctor. And this is my spoon, 8×03, "Robot of Sherwood"). E questo è l'episodio delle citazioni, forse più di tutti gli altri.
Il Dottore si dimostra subito pericoloso, già in quella circostanza: i soldati hanno paura di lui, anche se vogliono seguirlo. Sembra quasi avere di nuovo a che fare con il War Doctor, con il guerriero. Il Dottore non c'è più.
Rassilon viene sconfitto a suon di parole ed esiliato. Ed è ora che il nostro TimeLord può mettere in atto il suo piano: non tornare a casa, non salvare il suo pianeta, ma Clara. E ci riesce, apre uno squarcio nel tempo un momento prima che il corvo entri dentro di lei. Ma la ragazza è comunque morta: il suo cuore non batte. Lei parla, si muove, può toccare il Dottore, ma il suo cuore è congelato. La sua morte è un fatto che non può essere cambiato. Ed è contro questo che il Dottore combatte disperatamente, così disperatamente da sparare contro un altro TimeLord, forzando la sua rigenerazione.
E scappa. Scappa assieme a Clara, cercando di fare quello che ha già fatto: rubare una Tardis e portare la sua companion lontano. Ma per farlo deve penetrare nel database di Gallifrey: è il cimitero dei timeLord che, una volta morti, vengono salvati nel database. Procedimento inquietantemente simile a quello della Biblioteca dove si trova River? Un modo diabolico di Moffat per dirci che River non potrà mai fuggire da lì? Staremo a vedere.
Con un ottimo lavoro di squadra, i due riescono a fuggire a una nuova TARDIS. Ma nulla cambia. Il tentativo fallisce. Dopo averci fatto sperare che Twelve potesse salvarla, anche noi – come lui – dobbiamo arrenderci all'evidenza: Clara è morta. E ora, alla fine dell'Universo, il Dottore deve finalmente fare i conti con se stesso: deve affrontare l'ibrido. E l'ibrido è… lui. Ma non è finita qui. L'ibrido sono due persone, così simili, così affini da sembrare quasi una persona sola: il Dottore e Clara, TimeLord e Umana, le due razze guerriere della profezia. Ed è Ashildr a fargli prendere consapevolezza di ciò, mentre guarda l'universo finire.
Ed è adesso la scena più ricca di pathos: il Dottore ancora non si è arreso, ancora vuole salvare Clara. E sa che può farlo in un unico modo: cancellandole i ricordi, facendo in modo che lei non torni mai più a Gallifrey. Ma Clara non è Donna e non lo accetta. Preferisce morire, piuttosto che perdere parte della sua storia. Ed è Twelve, allora, a perderla, perché loro due non possono viaggiare insieme o faranno avverare la profezia e distruggeranno qualsiasi cosa incontrino.
Commuovente, straordinaria l'interpretazione di Capaldi, ma anche quella della Coleman che deve affrontare una Clara che non si arrende davanti a nulla, nemmeno davanti al suo migliore amico che non la riconosce e che ancora tenta di aiutare e di consigliare.
Run, you clever boy, and be a Doctor.
Un saluto agli amici di Doctor Who pagina italiana.