ATTENZIONE: Questo articolo contiene SPOILER sulla decima stagione di Doctor Who, fino alla 10×06.
Quindi, se non siete in pari, NON proseguite con la lettura!!

Premetto che anche a me sembra una bestemmia. Ma lo sembra anche solo pensare che Doctor Who abbia qualcosa che non funzioni, figuriamoci scriverci sopra un articolo. Certo, questo articolo è incentrato esclusivamente sulla decima stagione – o meglio, sulla prima metà della decima stagione – eppure in qualche modo mi sento in colpa a scriverlo.
Perché Doctor Who per me è LA Serie e Steven Moffat è LO showrunner, senza, ovviamente, nulla togliere a Russell T. Davies, che ha fatto un lavoro notevole e senza cui non ci sarebbe oggi alcuna nuova puntata di Doctor Who. E quindi sì, scrivere questo pezzo, pensare questo pezzo, è difficile.
Eppure, proprio perché sono una fan come tutti voi, non posso ignorare i dubbi che mi hanno assalita fin dalla 10×01 e che mi attanagliano ancora. Perché, se devo essere onesta, fino alla 10×05 (inclusa) mi è sembrato quasi di guardare un'altra Serie. Eppure lo showrunner non è ancora cambiato!
Perché sì, io una cosa del genere me l'aspetto con il "passaggio" di consegne tra Moffat e Chibnall, così com'è successo quando c'è stato quello tra Davies e Moffat. Ed è giusto. È giusto che ogni showrunner voglia metterci del suo, voglia lasciare la propria impronta. Me l'aspetto e mi sta bene, perché, in fondo, Doctor Who è la Serie dei cambiamenti.
Basti pensare anche solo al fatto che il primo a cambiare è proprio il Dottore e non solo fisicamente. Quindi sì, i cambiamenti vanno bene, il problema è proprio che in questa stagione, finora, cambiamenti non ce ne sono! Lo so che sembra una contraddizione, ma lasciatemi spiegare.
Inizio col dire che queste nuove puntate non fanno schifo, tutt'altro! Sono buone puntate e, probabilmente, se le avessi viste in un un'altra Serie Tv, le avrei giudicate ottime, se non eccellenti addirittura.
Ma – purtroppo o per fortuna – Doctor Who mi ha abituato ad altri livelli di scrittura e quindi queste puntate mi sono sembrate carine sì, ben fatte sì, ma in un certo qual modo monche e un po' ripetitive.
Che voglio dire? Non so se avete notato – sicuramente sì, se siete fan come me – ma le prime cinque puntate erano praticamente un mix di altre puntate.
Ad esempio, la 10×01, The Pilot, è un po' un misto tra L'acqua di Marte e Midnight. Insomma, due tra gli episodi più quotati della quarta stagione. Eppure… Eppure manca la verve di quegli episodi, è tutto un po' sottotono, un po' come quando si copia il compito dal più bravo della classe, ma non lo si fa bene, ecco.
Certo, la storia di puntata regge, la storia d'amore che racconta è sicuramente emozionante, ma il villain di puntata non è entusiasmante e – a parte un vago accenno al caveau e a una promessa di non lasciare la Terra – non sembrava esserci una delle complesse storyline orizzontali tipiche di Moffat.
Che fine hanno fatto? Possiamo sperare di ritrovarle? La sesta puntata, Extremis (qui la recensione), mi ha ridato speranza, ma non voglio parlare troppo presto!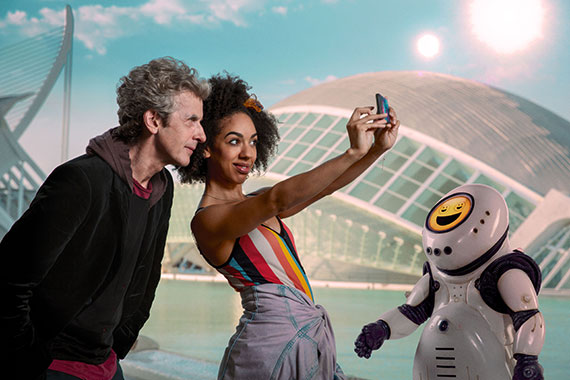 Diciamo, piuttosto, che la cosa migliore del primo episodio – di tutti i primi cinque episodi – è proprio Bill, che ci ha incantati con la sua curiosità, il suo buon umore e la sua capacità di stupirsi. Una ventata d'aria fresca, insomma, di cui lo show aveva proprio bisogno!
Lo stesso discorso che ho fatto per The Pilot si potrebbe fare anche per le altre quattro puntate, fino alla 10×05, Oxygen, che però era già di un livello un po' più alto. Ma è stata la 10×06, Extremis, a lasciarmi senza fiato.
Qui si sente tantissimo la mano di Moffat – e infatti la puntata l'ha scritta lui – e, nonostante si era ormai capito da un po' che nel caveau ci fosse Missy (o il Maestro di John Simm, in alternativa), la spiegazione tramite flashback è stata, non solo ricca di colpi di scena, ma anche ben strutturata e inserita.
Insomma, le premesse per una seconda parte adrenalinica e interessante ci sono tutte. Speriamo solo che le sfruttino! Io, come al solito, in Moffat ho piena fiducia.
Passate anche dagli amici di Doctor Who "ita"