Un vecchio saggio sostiene che "solo alla morte non c'è rimedio". Il suo problema, tuttavia, è solo uno: non ha mai incontrato Steven Moffat.
Lo showrunner di "Doctor Who", autentico genio del male per la sua capacità di illudere, terrorizzare e sviare i fan della serie, ne ha fatta un'altra delle sue: ha ucciso la coprotagonista, mostrandone la fine da più angolature, ma non ha convinto quasi nessuno. La domanda è e rimarrà solo una almeno fino a sabato prossimo: Clara Oswald è realmente morta? Oppure è ancora viva? Oppure è un po' morta e un po' no? I whovians, divisi come in pochi altri casi sull'esito della vicenda, sono in subbuglio e stanno trascorrendo una settimana da incubo. O da sogno, dipende da punti di vista.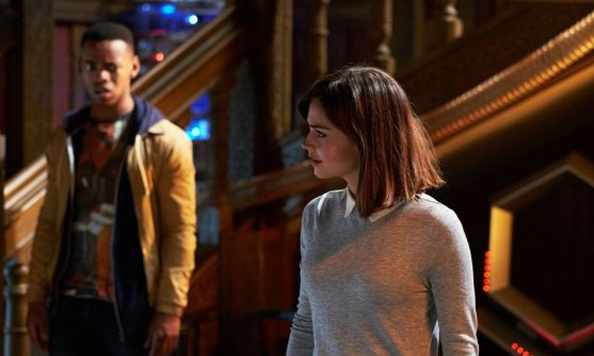 CLARA È MORTA… – Prima di continuare, è il caso di fare un po' d'ordine. Sabato scorso è andato in onda sulla BBC il decimo episodio della nona stagione moderna,"Face the Raven". La puntata era stata anticipata da svariati rumors e innumerevoli teorie, tutte rivolte verso un unico obiettivo: la morte di Clara.
La tragica fine della companion del Dottore era stata annunciata da un'inquietante dichiarazione di Moffat, rilasciata al Lucca Comics: "La dipartita di Clara sarà scioccante, terrificante e sorprendente". Però non si sapeva quando sarebbe avvenuta.
Molti avevano indicato l'episodio sopracitato, e così è stato. Clara, in preda ad un delirio d'emulazione del Dottore, firma da sé la propria fine con una mossa sciocca e ingenuamente realistica. La Oswald, dopo un lungo dialogo con Twelve, esala l'ultimo respiro, colpita a morte da un corvo particolare. Il Dottore si scaglia contro Ashildr, responsabile indiretta della tragedia, e viene teletrasportato in un luogo non indicato (probabilmente Gallifrey).
… PERÒ… – Tutto finito? Affatto, perché "Doctor Who" non è e non sarà mai una serie come le altre. Subito dopo la fine dell'episodio, i whovians si sono scatenati sul web. C'è chi amava Clara ed è rimasto scioccato, chi la odiava e ha esultato, chi ha preso atto della scelta degli sceneggiatori, e chi, infine, ha tirato in ballo una clamorosa ipotesi: Clara non è morta realmente.
Citare tutte le teorie elaborate richiederebbe più dello spazio di un articolo (questo no, dentro non è più grande), però è possibile chiamare in causa gli indizi principali. L'episodio 9×10 non è stato scritto da Steven Moffat, bensì da Sarah Dollard. Pensare che uno dei momenti più importanti delle ultime stagioni non sia stato scritto dallo showrunner risulta improbabile ai più.
In seconda battuta, molti hanno concentrato le loro attenzioni sull'ultima copertina del magazine ufficiale di "Doctor Who", nella quale è presente Clara nei panni di una cameriera anni Cinquanta. Ad oggi, la Oswald non è mai apparsa in scena vestita in quel modo. Quindi riapparirà? Quasi sicuramente. Dimostra che Clara non sia realmente morta? No, affatto, ma è stato sufficiente per elaborare mille teorie.
Terza opzione (la più avventurosa): qualcuno ha visto Missy. Il personaggio, presente nella nona stagione solo nei primi due episodi, avrebbe fatto una comparsa fugace e molto velata in "Face the Raven", poco prima che Clara venisse trafitta dal corvo. Osservando attentamente le immagini, compare effettivamente, seppure per pochi attimi, una donna dai tratti affini a quelli di Missy, ma la sequenza è talmente veloce da non permettere ulteriori valutazioni. La comparsa di un personaggio del genere aprirebbe nuovi scenari e rimetterebbe in discussione la veridicità della morte di Clara. Sono solo deboli supposizioni (prendetele come tali), ma tanto basta per costruire un mondo intorno al dettaglio ambiguo.
UNA SETTIMANA DA WHOVIAN – Teorie su teorie, rimandi alla serie classica, analisi nel dettaglio di ogni momento dell'episodio e dell'intera stagione, con riferimenti allo special dei 50 anni di "Doctor Who". Più in generale, sogni, paure, speranze e dubbi. La bellezza di uno show longevo e dalle mille sfaccettature è anche questo: la visione dell'episodio è solo una piccola parte della settimana di un whovian. "Doctor Who", in questo, è unico: niente è come sembra, tutto è possibile, spazio e tempo non hanno confini. Alla creatività degli sceneggiatori corrisponde quella dei fan, pronti a cogliere ogni dettaglio.
In conclusione: a tutto c'è un rimedio. Persino ad una morte palesata. Moffat, intanto, si diverte come un bambino e gioca con i sentimenti degli appassionati. Alla prossima puntata, quindi. O meglio, alla prossima settimana da whovian: "To be continued" è una filosofia di vita.
Antonio Casu 
@antoniocasu_