# #
Chi pensava che dopo Avengers: Endgame la Marvel avesse esaurito i propri assi nella manica si sbagliava di grosso. La Disney sembra infatti più convinta che mai nel continuare a puntare sui propri supereroi: non solo film quindi, ma anche tantissime nuove serie tv, in stretta continuità con quanto visto nelle ventuno pellicole Marvel già uscite, pianificate meticolosamente per incastrarsi con tutti i prodotti seriali e filmici del franchise di prossima uscita.
# #
Un progetto assai ambizioso, ma se c'è qualcuno che può essere in grado di portare avanti e gestire questo incredibile universo questo è proprio Kevin Feige, produttore esecutivo e Presidente dei Marvel Studios.
Lo stesso Feige, durante l'Investor Day, la conferenza di presentazione dei nuovi show Disney ai papabili finanziatori della compagnia, ha mostrato un interessantissimo panel dei prodotti in fase di lavorazione della Marvel: venti minuti di trailer, annunci e succose novità che hanno lasciato i fan con la bocca spalancata.
# #
Dal punto di vista filmico spiccano l'annuncio di una pellicola sui Fantastici 4 (che sarà diretta da Jon Watts), Ant-Man and the Wasp: Quantumania, che arriverà in sala nel 2022 con Black Panther 2 e Capitan Marvel 2, insieme a conferme relative al cast di altri prodotti, come Christian Bale in Thor: Love and Tunder.
Ma è in ambito seriale che i Marvel Studios si sono scatenati maggiormente: scopriamo insieme quali saranno le nuove serie tv di Disney+ che ci terranno compagnia dal 2021 per i prossimi anni a venire.
WandaVision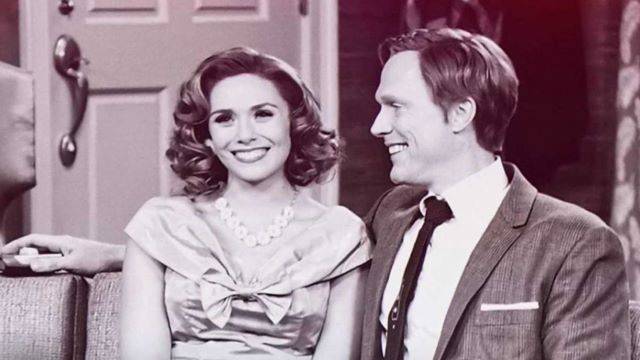 L'Investor Day ci ha mostrato in anteprima il final trailer di WandaVision che arriverà su Disney+ a gennaio. La miniserie, composta da 6 episodi, vedrà la regia di Matt Shakman e la sceneggiatura di Jac Schaeffer. Nel ruolo dei protagonisti rivedremo Elizabeth Olsen e Paul Bettany, rispettivamente nei ruoli di Wanda Maximoff, alias Scarlet Witch, e di Visione.
Se uniamo le indiscrezioni e le teorie del web all'analisi del trailer possiamo provare a ricostruire i presupposti che daranno il via alla serie: Wanda, triste per la morte dell'amato, userà i suoi poteri, forse su suggerimento di Agnes (presunta villain dello show), per ricreare una sorta di realtà parallela/microcosmo idilliaco dove poter vivere in pace e armonia con Visione e crescere insieme a lui i loro figli. Le atmosfere comedy si mescoleranno tuttavia a scenari inquietanti: cosa è reale e cosa non lo è? Di quanto sarà consapevole Wanda? Fin dove si potranno spingere i suoi poteri?
Presupposti davvero interessanti per una serie tv che per certi versi potrebbe rivelarsi una sorta di erede di Legion in salsa MCU: come dichiarato dallo stesso Kevin Feige, WandaVision getterà le basi su cui si costruirà Doctor Strange in the Multiverse of Madness, che vedrà infatti Wanda ricoprire un ruolo chiave. Che Stephen Strange debba porre rimedio a una catastrofe generata dal potere di Scarlet Witch?
Nel cast della serie ritroveremo dei personaggi secondari già apparsi nel MCU, come l'agente dell'FBI Jimmy Woo visto in Ant-Man and the Wasp, Darcy Lewis (l'assistente di Jane Foster in Thor) e Monica Rambeau (la figlia della migliore amica di Capitan Marvel): come faranno questi personaggi a entrare nel mondo di Wanda? Per scoprirlo non ci resta che sintonizzarci su Disney+ il 15 gennaio.
The Falcon and The Winter Soldier
Altro adrenalinico trailer presentato alla conferenza è stato quello di The Falcon and The Winter Soldier, serie tv di stampo action/spionistico che vedrà i personaggi di Sam Wilson e Bucky Barnes destreggiarsi con l'onerosa eredità di Capitan America.
La miniserie di sei puntate, che Kevin Feige ha descritto come un lungo film di sei ore, vedrà molto probabilmente l'affiatata coppia di supereroi scontrarsi ancora una volta con gli intrighi di Zemo, ovviamente interpretato da Daniel Brühl. Non possiamo escludere però il fatto che i due eroi possano decidere di allearsi temporaneamente con lui per fronteggiare un pericolo ancora più grande: forse l'associazione terroristica Flag-Smasher, forse U.S Agent, il nuovo super-soldato del governo impostosi come novello Capitan America.
Tante le ipotesi e le teorie che avranno risposta il 19 marzo 2021, quando la miniserie approderà su Disney+.
Loki
Forse la vera sorpresa di questo 10 dicembre: il trailer della serie sul dio degli inganni ha infatti fomentato non poco i fan.
La miniserie si focalizzerà sul Loki della realtà alternativa creatasi in Endgame: nella pellicola in questione infatti, durante il viaggio nel tempo nel passato, il Loki del primo Avengers riesce a utilizzare il Tesseract per fuggire dalla sua prigionia, creando una nuova linea temporale. Non sorprende dunque che secondo il presidente dei Marvel Studios la serie si collegherà strettamente a Doctor Strange in the Multiverse of Madness.
A partire da questo presupposto vedremo il personaggio di Tom Hiddleston precipitare in un luogo sconosciuto ed essere catturato con ogni probabilità dalla TVA (Time Variance Authority), una sorta di polizia dello spazio e del tempo con l'obiettivo di cercare di eliminare qualsiasi tipo di anomalia temporale: tra gli agenti di quest'agenzia troviamo il personaggio interpretato da Owen Wilson.
L'adrenalinico trailer ci ha fatto rimanere a bocca aperta, e seppur non sia stato molto esplicito circa la trama vera e propria dello show siamo sicuri che azione, divertimento, e una buona dose di doppiogiochismo, non potranno mancare all'appello.
What if…?
Interessantissima pare What if…?, basata sull'omonima serie a fumetti, che vedrà tornare come doppiatori dei personaggi gli attori che nel MCU rivestivano il ruolo delle loro controparti live action.
La serie si interrogherà su cosa sarebbe successo se alcuni eventi dei film della Marvel si fossero verificati diversamente. Cosa sarebbe successo se fosse stata Peggy Carter ad assumere il siero del super-soldato al posto di Steve Rogers? E se a diventare Star-Lord fosse stato T'Challa al posto di Peter Quill?
Lo show si pone l'obiettivo di rispondere a queste domande mentre prendiamo il punto di visto dell'Osservatore alieno Uatu, doppiato da Jeffrey Wright (il Bernard di Westworld), incaricato di scrutare il Multiverso. La serie animata, composta da dieci episodi, arriverà su Disney+ a 2021 inoltrato.
Ms Marvel, Hawkeye, She-Hulk e Moon Knight
Passiamo ora all'analisi delle serie Marvel ancora in lavorazione, ci riferiamo a Ms Marvel, Hawkeye e She-Hulk.
Abbiamo avuto modo di dare uno sguardo ravvicinato al personaggio di Kamala Khan, interpretato dalla giovanissima Iman Vellani, grazie al trailer first look di Ms Marvel (le cui riprese sono tutt'ora in corso), che ci ha permesso di avere un'idea della protagonista e del tono della serie. Lo show focalizzerà la sua attenzione su Ms Marvel, un'eroina adolescente di origini pakistane, grande fan di Carol Danvers (Capitan Marvel). Non conosciamo ancora la trama, ma la curiosità non manca.
Anche su Hawkeye le informazioni in nostro possesso sono ben poche, quel che è certo è che la serie si concentrerà sull'addestramento da parte di Clint Barton (alias Occhio di Falco) alla sua nuova allieva Kate Bishop, interpretata da Hailee Steinfeld. La serie avrà toni spionistici e sarà strettamente collegata a Black Widow, film di prossima uscita nella primavera del 2021, dal momento che vedrà la comparsa di Yelena Belova, la papabile nuova Vedova Nera.
Troviamo poi la serie dedicata a Jennifer Walters, la verde cugina di Bruce Banner: avvocato e allo stesso tempo supereroina, She-Hulk sarà interpretata da Tatiana Maslany, famosa per le sue interpretazioni in Orphan Black. A fianco dell'attrice troveremo Mark Ruffalo, molto probabilmente nella forma del Professor Hulk visto in Endgame, e Tim Roth, che più di 10 anni dopo riprende il suo ruolo di Abominio.
Nessun annuncio per quanto riguarda invece Moon Knight, serie tv presentata al D23 del 2019, di cui sappiamo ben poco, se non che Oscar Isaac era in trattative per la parte di protagonista, cosa di cui comunque non abbiamo la certezza.
Secret Invasion, Armor Wars e Iron Heart
Dopo gli annunci relativi a serie di cui già eravamo a conoscenza la Disney ha poi presentato altri tre show in lavorazione: Secret Invasion, Armor Wars e Ironheart.
A settembre si era parlato per la prima volta di una serie incentrata su Nick Fury, interpretato dall'immenso Samuel L. Jackson, ma nessuno avrebbe mai previsto che lo show in questione alla fine si sarebbe rivelato essere la trasposizione seriale della saga fumettistica di Secret Invasion. Queste le premesse: un gruppo di Skrull, specie aliena in grado di cambiare a piacimento le proprie sembianze, si infiltra sulla Terra provocando una catena di pericolose conseguenze. A fianco di Nick Fury troveremo il personaggio di Talos, interpretato da Ben Mendelsohn, e conosciuto dal pubblico in Capitan Marvel.
Le più grandi paure di Tony Stark si realizzano quando le tecnologie della Stark Industries finiscono nelle mani sbagliate: questo il punto di partenza di Armor Wars, serie che vedrà Don Cheadle vestire ancora una volta i panni di James Rhodes/War Machine, che lotterà per preservare l'eredità dell'amico di una vita.
Infine è stata presentata Ironheart, serie tv con protagonista Riri Williams (interpretata da Dominique Thorne), una geniale giovane ragazza che riesce a costruirsi un'armatura simile a quella di Iron Man.