Torneremo sicuramente a Dreamland: Netflix ha rinnovato Disincanto. La comedy serie animata firmata Matt Groening, creatore de I Simpson, continuerà a intrattenerci. Il colosso streaming ha ordinato la produzione di 20 episodi da aggiungere a quelli già in programma. La prima stagione ha contato 10 episodi e altri 10 erano stati ordinati sin dall'inizio. Aggiungendo questi ultimi venti, possiamo contare un totale di quattro stagioni da 10 episodi ciascuna.
La seconda stagione di Disincanto sarà disponibile nel 2019 su Netflix. La terza e la quarta rispettivamente nel 2020 e nel 2021.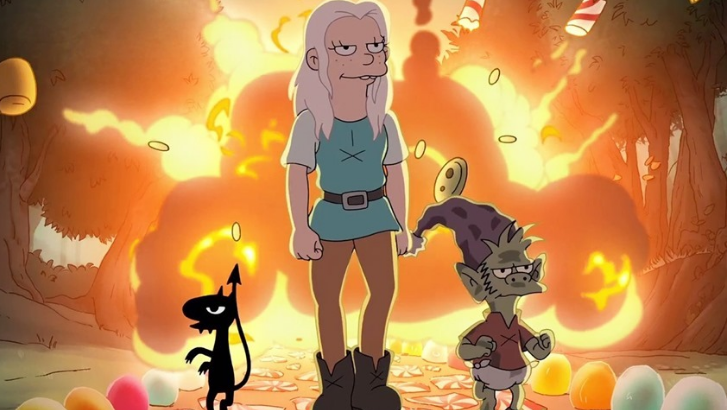 Ecco quanto dichiarato da Groening:
Siamo elettrizzati nel poter continuare questo epico viaggio con Netflix. Aspettatevi altra suspense, plot twist infuocati, e la dipartita di personaggi amati.
La prima stagione di Disincanto è disponibile su Netflix dal 17 agosto e ha ottenuto molte critiche positive. The Hollywood Reporter ha sottolineato da subito il suo forte impatto visivo e i suoi momenti di puro divertimento. Nonostante questi complimenti la serie non sembrava essere completa. Con i nuovi episodi possiamo aspettarci questa novità.
Netflix non rilascia dati in merito al suo pubblico, ma secondo quanto riportato da una ricerca condotta da Nielsen la serie è stata vista da oltre 4 milioni di persone solo nel primo weekend di disponibilità.
La decisione di aggiungere nuovi episodi alla serie si accompagna a un maggior tempo di produzione richiesto. I disegnatori e gli scrittori, compresi gli showrunner, continueranno a lavorare senza interruzione mentre anche altri servizi streaming si applicano a questo genere. Nello specifico, l'animazione della serie è curata dagli Rough Draft Studios (Futurama). La serie è poi prodotta da The Ululu Company.
Il rinnovo di Disincanto per (almeno) due stagioni porterà la serie alla chiusura del cerchio. Gli spettatori avranno modo di rispondere a molte domande che si sono posti nel corso dei primi episodi, soprattutto per quanto riguarda Elfo.