E' sbarcato da poco su Sky il nuovo show Tin Star con protagonista Tim Roth, l'amato Cal di Lie to Me. L'appuntamento con la Serie Tv è fissato ad ogni martedì sera su Sky Atlantic per ben 10 episodi. 
Tin Star sembra riportarci all'esperienza visiva di Twin Peaks mista a possibili temi in comune con Breaking Bad. Ma la serie britannica thriller noir ha ben altro da raccontare: una messa in scena molto cinematografica con inquadrature fluide e scenari incantevoli che ci aiutano ad immergerci in questo nuovo racconto di Rowan Joffé.
Disclaimer: l'articolo contiene spoiler sul primo episodio di Tin Star!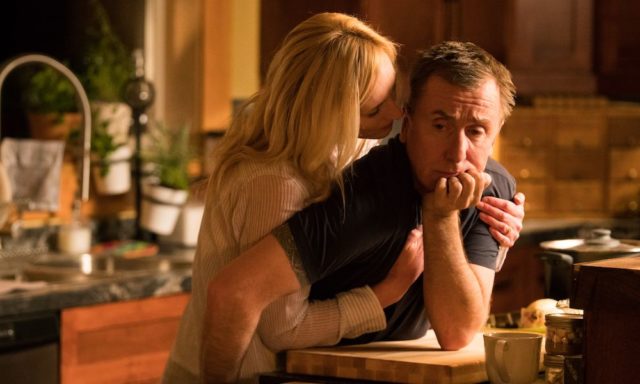 Tin Star parte subito con il piede giusto: incanalato nel genere thriller, ne dà subito prova nei primi 3 minuti in cui crea la giusta suspense con annessa scena scioccante. Inusuale direi, che nei primi minuti del telefilm ci lasciano già intravedere la morte del protagonista Jim Worth (Tim Roth).
Un incipit repentino, che catapulta immediatamente lo spettatore dentro un momento clou della Serie Tv per poi farlo tornare ad un ritmo più pacato nella scena successiva, che ci riporta indietro di un anno. Insomma, scatta subito la molla di interesse nel voler continuare a guardare la puntata.
Siamo ad un anno prima del tragico sparo: cominciamo a conoscere Jim Worth, nuovo capo della polizia locale di un paesino sperduto tra le montagne rocciose del Canada. Una cittadina tranquilla, scelta appositamente da Jim per fuggire dal suo passato londinese insieme alla sua famiglia. Meno d'accordo è la figlia, Anna, che nel suo futuro vede una carriera giornalistica che non potrà certamente portare avanti in un posto sperduto come questo.
Scopriamo presto che Jim ha un passato da alcolista, che è un anno che non tocca alcol e continua a seguire un gruppo di sostegno della cittadina. Il suo posto di lavoro non richiede un grande impegno, il crimine non esiste quasi per nulla. Almeno fino all'arrivo della compagnia petrolifera North Stream Oil: una multinazionale che ha intenzione di aprire una raffineria proprio lì in zona.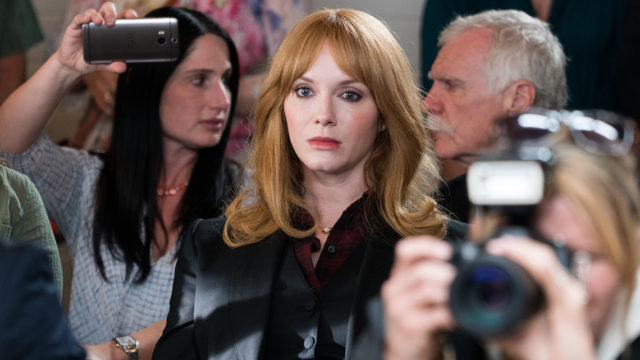 Per rassicurare i cittadini sull'impatto minimo che avrà la compagnia sul territorio, la North Stream Oil viene rappresentata dalla signorina Bradshaw. Una ex giornalista e attivista assolutamente contraria alle corporation del petrolio che sembra però essere passata al lato oscuro. La sua compostezza e i suoi metodi diplomatici persuasivi riusciranno a convincere la popolazione ad accogliere questo nuovo progetto volto anche a espandere l'economia del luogo.
Eppure con l'afflusso dei nuovi lavoratori migranti, Worth sarà costretto ad affrontare una crescente ondata di criminalità. La dottoressa Susan Bouchard sembra essere la prima vittima. Dopo aver denunciato l'azienda, si ritrovata esser screditata da tre suoi colleghi misteriosamente. Senza più un paziente e consapevole di essere spiata dal capo di sicurezza della North Stream Oil, Louis Gagnon (Christopher Heyerdahl), la donna è sull'orlo di una crisi.
Non si tarda a concludere che,  quando lo sceriffo viene contattato per il ritrovamento di un cadavere, la povera vittima è niente meno che Susan. All'apparenza sembra trattarsi di un suicidio, ma l'inquadratura sulla pistola adagiata sul sedile del passeggero, insinua ben altro. Non passa di certo inosservato a Jim, che non crede minimamente alla via del suicidio, e nella scena successiva il prete sostiene che nonostante tutto la donna stesse ancora perseguendo la sua battaglia contro la multinazionale.
"And after that she was blacklisted"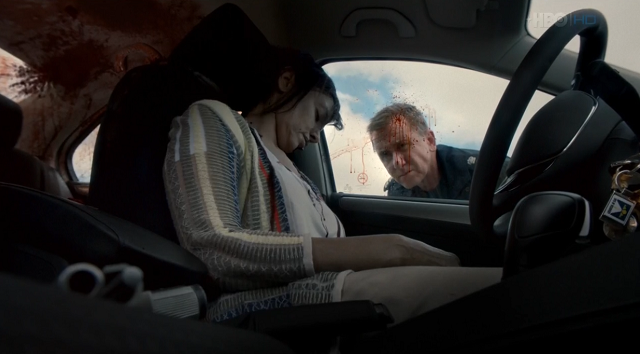 Il suo telefono è spiato da Gagnon e nelle scene successive le parole dette da Jim si ripercuotono sulla sua famiglia. Le sue azioni provocano un gruppo di assassini che attaccano lui e i suoi cari nella loro casa, portandoli a dover fuggire e ricollegandosi alla scena iniziale. Siamo quindi portati a credere che sia la multinazionale ad aver ingaggiato degli uomini contro lo sceriffo. Eppure nell'ultima scena, Jim mostra un enorme tatuaggi sulla schiena raffigurante un serpente, lo stesso che suo figlio ha ritrovato davanti la porta di casa. Sarà forse il suo passato ad aver bussato alla porta di casa?
Rivelazione choc è la scena della sparatoria: in un primo momento ci mostrano come Jim si sia chinato in tempo per evitare la pallottola, che inevitabilmente prende il figlio seduto dietro. Ma non è così: in ospedale, nella sala chirurgica c'è la moglie, Angela. Un colpo di scena veramente ben architettato. Una suspense calibrata e colpi di scena notevoli.
Come quello sulla personalità di Jim: se nel corso della puntata abbiamo visto i suoi atteggiamenti strani dinnanzi agli specchi, a conclusione dell'episodio capiamo che probabilmente abbiamo di fronte un personaggio dotato di un alter ego violento. Da non perdere d'occhio sono invece gli indiani d'America: dalle inquadrature sembra poter esserci un loro coinvolgimento in tutta questa faccenda, ma quale potrebbe essere?
Una famiglia distrutta, un disastro ambientale sullo sfondo ed una criminalità organizzata che sta per investire tutta la cittadina: questi sono i temi su cui verte Tin Star, oltre all'accennato disagio personale di cui soffre il protagonista e che non vediamo l'ora sia messo in scena dal brillante Tim Roth. Una partenza potente che presagisce una Serie Tv dai notevoli risvolti, che pone le basi dello show ma che lascia anche uno stuzzicante mistero sul passato del protagonista.