Joe Berlinger ha praticamente deciso che il 2019 doveva essere l'anno in cui il mondo si sarebbe ricordato dell'esistenza di Ted Bundy. A 30 anni dall'esecuzione della pena di morte nei confronti del famigerato serial killer americano, infatti, escono due prodotti di sua fattura che riaccendono l'interesse verso questa figura che, già all'epoca, aveva avuto un'influenza mediatica notevole.
Da pochi giorni, infatti, Netflix ha rilasciato a sorpresa il documentario Conversation with a Killer: The Ted Bundy Tapes, creato da Berlinger, mentre il 26 gennaio è stato presentato al Sundance Film Festival Extremely Wicked, Shockingly Evil and Vile, film con protagonista Zac Efron nei panni di Ted Bundy, diretto sempre da Berlinger.
Il documentario Netflix, come dice il titolo stesso, si caratterizza per avere come protagonisti assoluti i nastri su cui sono state registrate le dichiarazioni di Ted Bundy, rilasciate al giornalista Stephen Michaud prima, e all'agente speciale FBI Bill Hagmaier. La presenza e l'originalità di questi nastri, chiaramente, hanno indotto la piattaforma streaming americana ad avvertire gli spettatori che il contenuto del documentario è sensibile, arrivando addirittura a sconsigliare di vedere la serie da soli. Al di là di queste raccomandazioni, che vanno comunque a toccare la soggettività delle persone, una cosa è certa: Ted Bundy era il Male e, cosa peggiore, non lo sembrava affatto.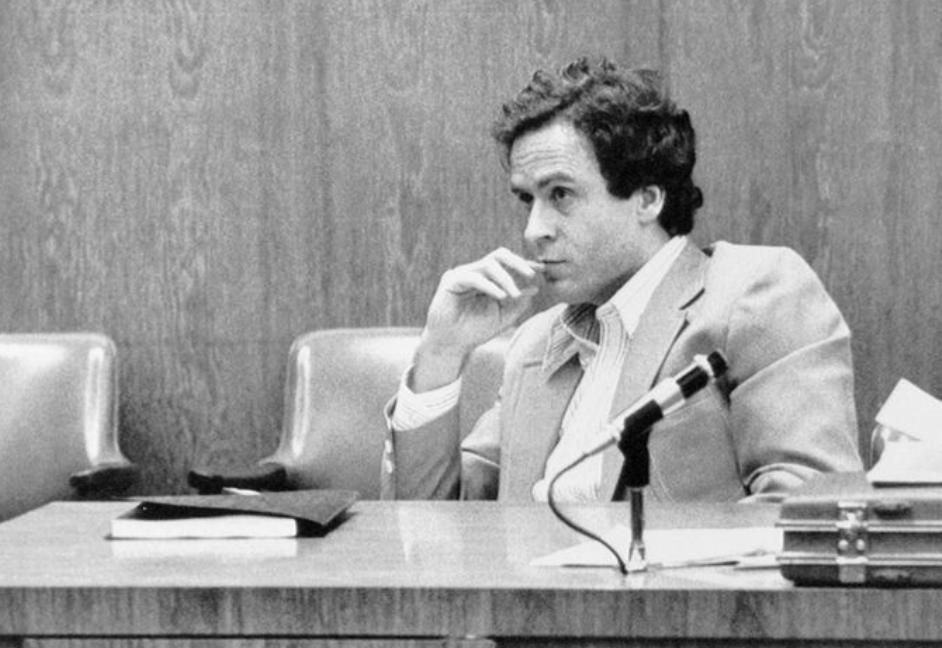 Un punto di partenza interessante per comprendere l'intero significato che questa macabra storia ha assunto, sia da un punto di vista mediatico che da un punto di vista tristemente sostanziale, è leggere e interpretare i titoli delle quattro puntate del documentario. La prima tematica la solleva il primo episodio: Handsome Evil.
Questo titolo riassume perfettamente uno degli aspetti più inquietanti e rivoltanti di Ted Bundy. Fin da ragazzo, era sempre stato visto all'esterno come affascinante, bello e intelligente. Un elemento che l'assassino ha sempre cercato di sfruttare a suo favore, con successo purtroppo: ne sono la prova le più di 30 donne rimaste uccise dalla sua follia.
Tuttavia, quello che emerge dal documentario è che Ted avesse di se stesso una considerazione diversa rispetto a ciò che effettivamente sembrava all'esterno. Testimonianze di un'amica di infanzia, infatti, sottolineano come Ted fin da piccolo fosse un escluso, un diverso, uno "strano". Mentre, lui, nelle registrazioni, parla della sua infanzia come il periodo più bello della sua vita: i medici interrogati hanno supposto che Ted abbia idealizzato l'infanzia che ha vissuto, per eliminare dai ricordi le esperienze negative. Esperienze che, però, sono rimaste nel livello subconscio.
Questo ci porta a quella che personalmente ritengo la chiave di lettura sociale dell'intera faccenda Bundy, cioè il titolo del secondo episodio: One of Us. Uno di noi. Chiaramente questo titolo è collegato al concetto espresso dal primo episodio: il camuffarsi dietro l'aspetto esteriore è reso inquietante proprio dall'impossibilità di distinguere un mostro simile da tutti gli altri. Diventando, appunto, uno di noi. Contiguo a questo discorso (che alla luce di ciò che si è scoperto dopo rende il tutto ancora più paradossale) c'è da registrare il comportamento che Bundy ha avuto per tutto il corso dei processi in Florida: dichiararsi innocente.
A volte le prove erano quasi schiaccianti (la presenza di fili del suo maglione e di sangue della vittima nel furgone che aveva rubato, per esempio), ma nonostante ciò il suo delirio gli impediva di togliersi la maschera che si era obbligato a indossare in pubblico. I suoi avvocati dichiarano nel documentario che Ted sembrasse incapace di comprendere la gravità della situazione e soprattutto della sua posizione, quasi indifendibile.
Da un lato sembrava che l'uomo non riuscisse ad accettare il fatto di essere stato scoperto, e quindi fosse in una fase di diniego. Dall'altro, invece, il suo ego impazzito e protagonista lo spingeva veramente a credere che se la sarebbe cavata. La fase della confessione, alla luce di questo atteggiamento negazionista, risulta ancora più brutale.
A sottolineare, invece, quella che a lunghi tratti è stata l'inadeguatezza delle forze di polizia (e non) è chiaramente il titolo del terzo episodio, Not My Turn to Watch Him. Lo scarica barile che si crea nel momento in cui Ted riesce a scappare per la prima volta (fuggendo dalla libreria in cui stava studiando il modo per difendersi nel processo) è disarmante.
Inoltre, in tutto Conversation with a Killer, viene dagli agenti e dai detective sottolineato come la caccia all'uomo che si stava verificando all'epoca li poneva di fronte a un fenomeno nuovo. Sappiamo, grazie a Mindhunter, che il serial killer non era un fenomeno criminoso conosciuto nè, soprattutto, catalogato: gli agenti non sapevano ancora come muoversi.
Il titolo dell'ultimo episodio, infine, evidenzia un tema che rappresenta di fatto l'altra faccia della medaglia della mostruosità. Burn Bundy Burn, infatti, è l'urlo della folla che attende l'esecuzione della condanna a morte. Un urlo che fa riflettere su come sia facile, per la massa, trasformarsi in giudici e carnefici.
Senza dubbio Ted Bundy, per quelle che erano le leggi in Florida, ha avuto la fine giuridicamente opportuna e prevista, ma quante volte abbiamo assistito a scene simili nei confronti di persone che poi si sono rivelate innocenti? Personalmente, il finale della folla che esulta alla morte di Bundy fa riflettere su quanto numerose possono essere le zone d'ombra dell'animo umano. E, a volte, non c'è bisogno di essere dei pazzi omicidi seriali per perdere la propria umanità.