"Eroe: persona che per eccezionali virtù di coraggio o abnegazione s'impone all'ammirazione di tutti."
Ora, capire chi può essere considerato un eroe non è certo una cosa facile, soprattutto nel mondo delle Serie Tv. In effetti ne vediamo tutti i giorni e di tutti i generi; supereroi con poteri, gente che salva altra gente e potrei continuare a lungo. Ma allora, come è possibile che io consideri Chuck Bartowski e John Dorian, i miei eroi?
La definizione parla chiaro in realtà. La parola chiave è virtù, virtù che sicuramente questi due meravigliosi ragazzi posseggono e come.
Due nerd convinti, certo Chuck notevolmente di più (proprio come me). Due ragazzi buoni che non si lasciano sopraffare da ciò che la vita pone davanti a loro, dalle difficoltà e degli ostacoli. I due, in un modo o nell'altro, riescono a rimanere sempre ciò che sono. Una cosa notevole direi.
Proviamo allora ad analizzare nel dettaglio entrambi i ragazzi, magari sarà più facile spiegarvi perché sono così importanti nella mia vita.
Senza nulla togliere al dottor Dorian, Chuck Bartowski è il mio personaggio preferito delle Serie Tv (qui la classifica dei preferiti di tutta la redazione di Hall of Series). Un ragazzo che si dimostra buono fin dal primo momento. D'un tratto poi la sua vita cambia radicalmente. Quale persona non sarebbe impazzita davanti a una cosa del genere? Ma Chuck no, lui rimane integro (più o meno) e sfrutta quella che è l'occasione più grande della sua vita. Certo, farà errori, neanche l'intersect può esimersi da questo dogma, ma poi recupererà sempre, per il bene della sua famiglia e della sua squadra.
Ecco cosa mi ha insegnato Chuck Bartowski. Mi ha fatto capire che anche se davanti a noi si presenta un ostacolo immenso, che all'apparenza è impossibile scavalcare, non tutto è perduto. Il suo coraggio, la sua determinazione e il suo essere nerd mi hanno fatto comprendere che un semplice ragazzo bravo in informatica può essere qualcuno, senza dover per forza avere qualcosa di speciale. Un eroe di tutti i giorni, che ama la propria famiglia e i propri amici. Un ragazzo che vede come suo scopo ultimo quello di proteggere i suoi cari a ogni costo, senza se e senza ma, ditemi voi se questo non significa essere eroi.
Chuck Bartowski mi ha aiutato a crescere in una fase della mia vita nella quale era quello il mio compito, l'adolescenza. L'ho conosciuto che ero un bambino, e forse, se oggi sono "più uomo" lo devo anche a lui.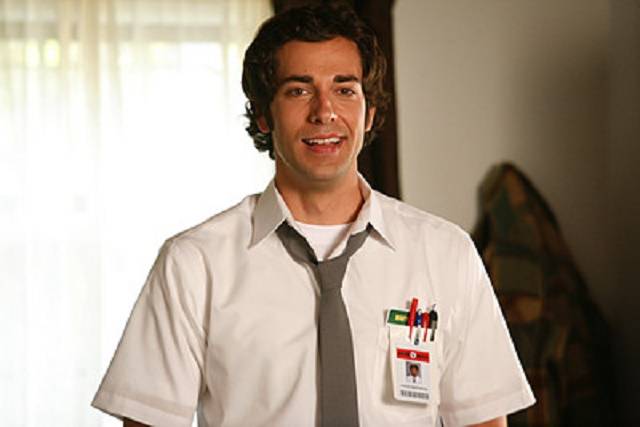 Il rapporto con J.D. invece è completamente diverso. Il dottore del Sacrocuore è speciale. Lui è probabilmente il personaggio nel quale mi rivedo di più in assoluto.
Il motivo? La sua capacità di sognare, e il suo essere fin troppo ingenuo.
Il protagonista di una delle comedy più belle ed emozionanti degli ultimi anni non ha paura di nulla, vuole essere se stesso, nel bene e nel male, anche se a volte sa che tutto ciò lo porterà a stare male e soffrire. Ma è questo il bello di J.D., sa che la vita è composta anche da questi momenti, che magari grazie a dei buoni amici, possono essere superati. Un ragazzo che riesce a essere allo stesso tempo infantile (nel senso buono del termine) e saggio, nei momenti in cui ci regala delle massime ma viste prima.
Perché quindi uno come l'ingenuo e grandioso J.D. è un eroe?
Forse perché, oltre a salvare vite tutti i giorni ai suoi pazienti, salva vite anche ai suoi amici; o perché è pronto a farsi sfottere da Cox, se questo vuol dire farlo riprendere dal suo momento peggiore; o infine perché metterà sempre al primo posto Turk ed Elliot, e solo successivamente lui. Perché, in fondo, le persone buone, così buone, hanno il diritto di essere chiamate eroi.
J.D. mi ha fatto capire che sognare non ha età. Con lui ho imparato a inclinare la testa e immaginare ciò che voglio, anche escludendomi dal mondo, perché è solo così che si può andare avanti nella vita vera. Non precludersi mai nulla, perché nulla è impossibile, neanche conquistare una donna dopo 8 anni di tentativi andati a male.
Due ragazzi normalissimi, due persone speciali. Potrà sembrare un ossimoro, ma vi assicuro che non è così. Perché a volte la realtà, la vita vera e normale che troviamo in Chuck e Scrubs, è più difficile di quella del mondo Marvel o D.C., e loro sono gli eroi che mi hanno fatto capire come poter sopravvivere in essa.
Questi sono i motivi principali per i quali considero Chuck Bartowski e John Dorian sono così importanti per me. Ma volete sapere il reale motivo, che supera tutto ciò che è stato appena detto?
Per la prima volta dirò qualcosa di personale, spero me lo concederete.
Questi due fantastici ragazzi sono fondamentali per un motivo molto più semplice di tutto questo. Lo sono perché senza di loro non sarei qui oggi, a scrivere questo pezzo, facendo parte di un progetto incredibile come Hall of Series, dandomi la possibilità di parlare e confortarmi con utenti che ormai ci seguono con amore.
Quindi, a dir la verità, ecco perché li considero i miei eroi.