# #
Attenzione! Questa recensione contiene spoiler su Chilling Adventures of Sabrina 3×06
# #
Ci eravamo lasciati nel precedente episodio con un gruppo di streghe un po' folli e ribelli che si erano aggiunte ai vari problemi della congrega di Sabrina, ma per saperne di più potete leggere la recensione qui. Ovviamente con l'aiuto di Mambo Marie e del gin tutto volge per il meglio.
C'è da dire che si lasciano convincere anche fin troppo facilmente: in fondo, nel corso di questi anni, non abbiamo mai visto onore e legami di sorellanza all'interno delle congreghe di Chilling Adventures of Sabrina.
Mambo Marie ci ricorda che loro non sono uomini pronti a scannarsi per cose stupide come potere, vendetta o una richiesta di aiuto forzata. La figura della sciamana vudù è sicuramente la più singolare e la più apprezzata.
# #
Ne abbiamo fatto la conoscenza grazie ad Ambrose e Prudence ed infatti è stata quest'ultima ad inviare la richiesta di aiuto anche a lei. Tuttavia è evidente che la sua presenza non faccia piacere a Zelda per due particolari motivi: prima di tutto è una donna forte, una leader carismatica molto più di lei; infine, è cattolica.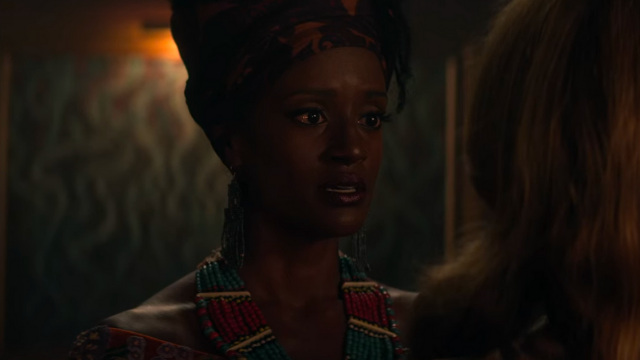 Ma lasciamo da parte le vicende di questa nuova e sgangherata congrega di studenti e sciamani per concentrarci su Sabrina.
Come abbiamo scritto più volte questa serie corre moltissimo: le vicende del sesto episodio si svolgono infatti due ore dopo l'ultimo.
La ferita causata dalla rottura con Nick è ancora fresca ma la nostra protagonista deve convivere e collaborare con il suo ex. Questo perché, nonostante ci siano una ventina di studenti, che potremmo definire braccia rubate al signore oscuro, Zelda Spellman commissiona sempre a Sabrina, Nick e Prudence di occuparsi degli ospiti.
L'amore è una forza maligna da estirpare perché ci fa soffrire, almeno così pensa la sorella sinistra che propone un rito per dimenticare il suo affascinante stregone.
A Sabrina, però tutto questo non serve: lei si fa scudo dell'amore che prova, è la sua marcia in più. E poi diciamocelo, non le serve perché c'è Caliban. Ciò che era solo un sospetto negli episodi precedenti, diventa una sexy realtà in Chilling Adventures of Sabrina 3×06. L'uomo d'argilla intensifica le sue avance alla strega e le propone di "allinearsi", termine tecnico infernale per "matrimonio di interesse".
Nell'ottica di far cadere la giovane Stella del Mattino tra le sue braccia, Caliban decide di aiutarla a far tornare in carne e ossa Roz tramite l'incantesimo di Pigmalione. Ovviamente niente va per il verso giusto: prima la statua di Roz viene fatta in mille pezzi, poi Harvey e Sabrina per un istante si riavvicinano e per finire c'è il fallimento dell'incantesimo proprio a causa di questa ritrovata vicinanza. Strano a dirsi, Harvey Kinkle prova ancora qualcosa per la nostra strega ma non vuole ammetterlo.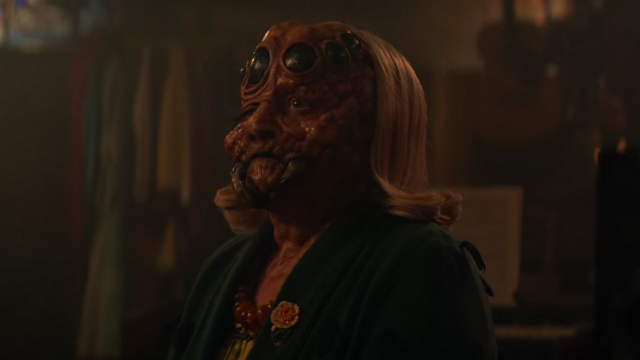 I nostri teenager di Greendale non sono gli unici a fare i conti con l'amore, purtroppo. Hilda sta pagando le conseguenze dell'incantesimo di Circe proprio quando sta vivendo anche il suo momento più romantico. Temendo di morire a causa della fattura, decide di passare quel poco che le rimane con il suo amato Dottor C.
Ma la simpatica zietta non sta morendo, si sta trasformando in una pericolosa e affamata donna ragno proprio come in quei film horror tanto amati dalla coppia. Ci rimette la pelle un povero motociclista affamato che per puro caso entra nel locale.
Nemmeno l'amore può niente contro questa abominevole trasformazione e infatti Hilda divora anche il amante chiudendolo in un bozzo per gustarlo accuratamente. Dovrà essere Zelda a porre fine a questa triste storia sparando all'amata sorella. Ovviamente il piano è quello di seppellirla in seguito nella fossa di Caino.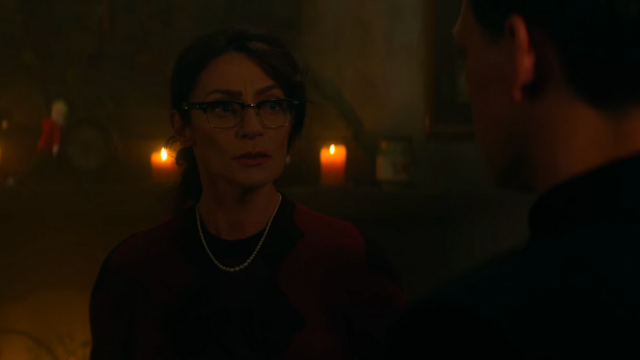 Insomma, streghe e amore non vanno molto d'accordo. Lo capisce persino Lilith quando, spaventata dalla vendetta del signore oscuro e cacciata dalla congrega delle Spellman, si rifugia dalla professoressa Wardwell nei panni dell'amato Adam.
Qui, con un grosso sforzo di fantasia, assistiamo a una delle scene più trash di questa stagione. Lucifer arriva a casa della Wardwell travestito da prete, per predicare su come il male è in città e si travesta da chiunque, anche dalle persone che amiamo. In un attimo, la signorina Wardwell si fida di un perfetto sconosciuto in abiti clericali.
Non può finire così facilmente. Infatti, il diavolo ne approfitta per avvertire la professoressa che persino le Spellman sono streghe e che non può fidarsi di gente blasfema. A condire questa assurda verità, Lilith si rivela scioccandola definitivamente.
Lucifer chiede di essere separato da Blackwood, così Lilith sfrutta il momento per attuare il piano che le salverà la vita. Questa parte è davvero confusa: vediamo solo la madre dei mostri che addormenta il diavolo e fa un patto con Faustus. Come tutto questo sia avvenuto non è dato saperlo ma sembriamo gli unici perplessi.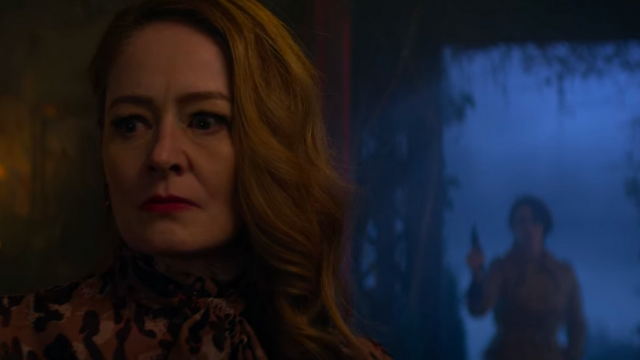 Visto che l'amore non funziona, Sabrina, su consiglio di Robin, decide di usare le maniere forti e si lascia donare i poteri dalle streghe ribelli al fine di catturare Circe. Ci riesce senza problemi e allo stesso modo la convince a salvare Roz, Dorcas e i bulli della scuola. Peccato che per zia Hilda sia effettivamente troppo tardi, vittima dell'incomunicabilità familiare.
È ora di porre fine al doloroso amore che affligge la nostra protagonista, per il suo bene e per il bene della sua amica Roz. Dando retta a Prudence, attua un rito delle candele al fine di cancellare i sentimenti che prova per Nick e Harvey. Una scelta dovuta per poter tornare a essere sè stessa.
Nel mentre ci apprestiamo a ricevere un cliffhanger inaspettato. Infatti, la signorina Wardwell si presenta di fronte a casa Spellman. Ancora sconvolta da Lilith, le parole di Lucifer e una strana scena in cui Zelda seppellisce sua sorella, prende una pistola dalla borsa e spara. È proprio la zia di Sabrina a pagarne le conseguenze cadendo a terra morente.
Le streghe hanno perso il loro potere e gli unici punti di riferimento della nostra protagonista sono con un piede nella fossa. Come potrà mai concludersi questa vicenda?
Leggi anche – Chilling Adventures of Sabrina 3×07: l'inizio della fine