Quanto ha inciso la musica italiana in serie famose e acclamate come Breaking Bad? Tanto, tantissimo, come dimostreranno gli esempi proposti. Da apparenti canzonette (con una profondità, invece, inaspettata) a twist conturbanti. Da ballate ruvide e drammatiche a nostalgiche melodie. E nel caso di Breaking Bad, in particolare, rimarremo, una volta ancora, estasiati dall'incredibile attenzione ai dettagli di Vince Gilligan.
1) Liberi liberi- Romanzo Criminale
Ad aprire questa eccezionale rassegna, la canzone che si è per sempre impressa nei nostri cuori con la fine di Romanzo Criminale. Un nostalgico, rassegnato Vasco, lontanissimo dall'estemporaneità giovanile di Vita spericolata si lascia andare al rimorso e il rimpianto. "Quella voglia che c'era allora chissà dov'è" si lega inscindibilmente ai ricordi del Bufalo, al passato di una Banda di cui non resta nulla. Di un un gruppo di criminali affiatati e protesi all'obiettivo.
In quel tempo di tensione e piombo c'è stala la lotta violenta, la scalata al successo, il brivido del rischio. C'è stata la vita vissuta. Ora, nella scena finale di Romanzo Criminale, c'è solo l'amarezza per un presente in cui la criminalità non è più lotta allo Stato ma affare di stato. E Bufalo è l'appendice di un mondo irrimediabilmente scomparso.
2) Senza un perché – The Young Pope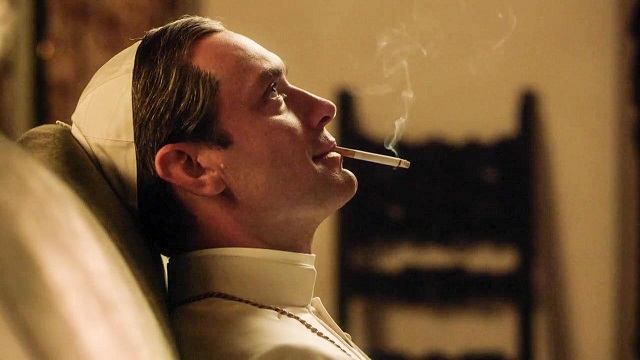 Il toccante, sublime capolavoro seriale di Paolo Sorrentino ha dato alla musica uno spazio d'eccellenza. Jude Law nei panni di Pio XIII ascolta il disco di Nada con la delicata Senza un perché regalatogli dall'affascinante primo ministro della Groenlandia. La canzone, subito dopo la messa in onda di The Young Pope, ha subito un'impennata incredibile degli ascolti e, finalmente, il meritato apprezzamento.
"Ha bisogno d'affetto e pensa che il mondo non sia solo questo" diventa la pennellata descrittiva di un uomo complesso e contraddittorio. Di un papa che ha subito il peso dell'abbandono e che aspira alla pace, la pace vera assaporata in una tiepida estate della sua infanzia. Nada ci cala nell'intimità di un uomo magnetico e combattuto. Il risultato è la chiusura di episodio più leggera e nostalgica della serie. Gioiello musicale italiano.
3) Lilly- Romanzo Criminale
Torniamo a immergerci nella clamorosa colonna sonora di Romanzo Criminale attingendo dalla scena finale dell'ottavo episodio della seconda stagione. La struggente ballata di Antonello Venditti si fonde con le immagini di un Freddo sfiduciato dopo l'uccisione del compagno Sergio Buffoni. Parallelamente il Sorcio elimina Trentadenari reo di avergli "rubato" la fidanzata. La musica sale di tono mentre il ragazzo si cala la cocaina.
Venditti ci ha messo di fronte alla drammatica vicenda di Lilly e della sua dipendenza. Una piaga che ha devastato una generazione. Le immagini della giovinezza passata, evocate con parole sparse, si succedono disordinatamente intramezzate dal grido disperato del nome della ragazza. Una delle canzoni più profonde del cantautore italiano. Romanzo Criminale l'ha consacrata anche alle nuove generazioni esaltandone tutta la drammatica, sconfortante rassegnazione. La stessa del Freddo e del Sorcio.
4) Prisencolinensinainciusol – Fargo
Successo planetario, ritenuto quasi unanimemente il primo rap italiano della storia, la tambureggiante canzone di Celentano trova spazio nel primo episodio della terza stagione di Fargo mentre Ray e Nikki sono impegnati nel torneo a carte. Il testo di Prisencolinensinainciusol  è nient'altro che un assemblamento di foni privi di significato che strizzano l'occhio all'inglese. Una sorta di slang finto-anglofono il cui fascino dominava gli anni '70.
Ma la canzone è anche e soprattutto, a detta dello stesso Celentano, una ribellione alle convenzioni, perfino a quelle linguiste e musicali. La stessa iperbolica ribellione di cui vanno in cerca Ray e Nikki. I due inseguiranno un perverso senso di affermazione personale e riscatto che, ovviamente, nel tipico stile coeniano, non potranno mai conseguire.
5) Guarda come dondolo- Master of None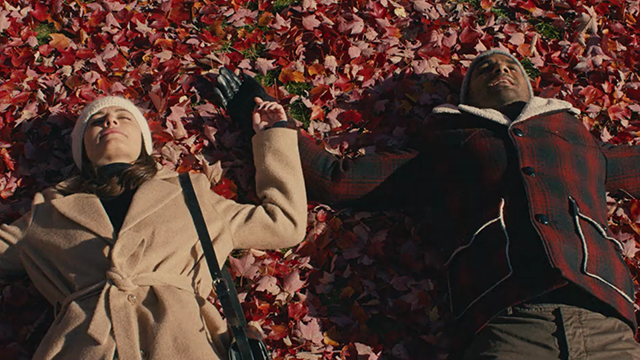 La seconda stagione di Master of None si lega a doppio filo all'Italia e alla vicenda amorosa del protagonista con la bella Francesca (un'ottima Alessandra Mastronardi). Il twist tutto italiano di Edoardo Vianello esprime così tutta la leggerezza del rapporto tra il protagonista Dev e la sua cotta italiana. Ma la canzone richiama anche l'Italia sublimata dagli americani. Quella di film di fama internazionale come Il Sorpasso, in cui compare proprio questo brano.
6) 7 vizi Capitale – Suburra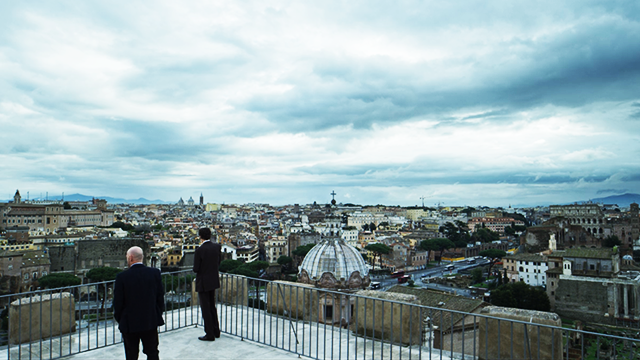 La profondissima sigla di chiusura di un ritrovato Piotta (con la collaborazione di Il Muro del Canto) è l'ennesimo, poetico, sentito, tributo a una città unica. Roma seduce e ammalia come una donna. Santa e dissoluta sotto il suo cielo si fondono la bellezza di un passato decadente col presente di compromessi, vendette e intrighi di potere.
"Gelosa, invadente, custode d'anime // Curiosa, indolente, infedele, preghiera // Roma mani infami dentro l'acquasantiera". Un inno struggente e profondissimo che diventa espressione di Suburra e dei suoi personaggi, costantemente protesi al raggiungimento di un potere assoluto che non conseguiranno mai.
7) Crapa Pelada – Breaking Bad
Oltre alla meravigliosa Black cantata da Norah Jones ma compostata dall'italianissimo Daniele Luppi e dai Cantori Moderni, Breaking Bad consacra come cult seriale anche il successo storico del leggendario Quartetto Cetra, Crapa Pelada. Siamo nel finale di terza stagione e Gus avvisa Gale di tenersi pronto a iniziare a cucinare da solo. Poco prima lo stesso Gale si stava rilassando in casa sua proprio all'ascolto della canzone, ripetuta con incredibile virtuosismo dal labiale dell'attore.
Una canzonetta, tale solo all'apparenza, che nascondeva in realtà un velato attacco a Mussolini ("Crapa Pelada") e all'esito inevitabilmente fallimentare delle sue azioni. Il testo e il contesto di Crapa Pelada si sposano così alla perfezione con l'aspetto e la situazione di Walter in Breaking Bad (e il suo futuro destino) in un momento decisivo della sua affermazione su Fring.
8) Bella Ciao – La Casa de Papel
L'epica patriottica di Bella Ciao rimarrà per sempre impressa nella memoria seriale grazie a una delle scene più potenti ed esaltanti presenti in La casa de papel. Il professore e Berlino, legati da un profondissimo rapporto, la canteranno all'unisono rievocando i ricordi d'infanzia del professore. La missione dei rapinatori si ammanta così di idealismo, dei valori propri di una resistenza che si scaglia contro le ingiustizie sociali e l'iniquia distribuzione delle ricchezze. Berlino e il Professore contro il mondo.
9) Con te partirò – I Soprano
Come in Breaking Bad la profondità della serie I Soprano, spesso e volentieri, si manifesta tramite la musica. Il sonoro diventa, infatti, espressione delle riflessioni personali dei protagonisti. Il successo planetario di Con te partirò – che si imponeva proprio negli anni della messa in onda della seconda stagione della serie – diventa così discorso interiore di una donna, Carmela, sul proprio rapporto con il contraddittorio Tony. Un modo, stando alle stesse parole del creatore David Chase, per richiamare "la nostalgia della terra degli avi". Un modo, per Carmela, di riaffermare il suo desiderio di essere altrove e di avere una vita diversa.
10) Acida – Suburra
Siamo nella sesta puntata della prima stagione e la canzone dei Prozac+ incornicia uno dei momenti di maggiore vicinanza e leggerezza tra Spadino e Aureliano. Un'amicizia impossibile tra due mondi in contrasto eppure, in qualche modo, accomunati da quella musica che ha segnato l'adolescenza di una generazione di trentenni. In questa breve scene emerge tutta l'estemporaneità di Spadino a cui si contrappone il carattere più schivo di Aureliano che, però, non riesce a rimanere a lungo insensibile alla foga dell'amico.