BoJack Horseman ha in sé una parola chiave: legacy.
Legacy. Lascito, eredità, reputazione. È questo ciò che frulla spesso nella mente di BoJack Horseman, tra i vari percorsi che i suoi demoni hanno creato nella testa. Per BoJack, infatti, soprattutto fino alla terza stagione (quella della sua solitudine, come abbiamo evidenziato), è fondamentale scrollarsi di dosso l'etichetta di attore di sitcom a livello professionale, di alcolizzato e, parafrasandolo, di "pezzo di m***a" a livello personale, prima di tirare le cuoia. Vuole fare questo in modo che il mondo si ricordi di BoJack Horseman non più solo come "il cavallo di Horsin' Around", ma come un attore di cinema e, cosa ancora più difficile, una brava persona. Per questo prendiamo la nota frase del film di Troisi, Non ci resta che piangere, e diciamo a BoJack: "Ricordati che devi morire".
Back in the '90s, I was in a very famous tv show
I'm BoJack the Horse, BoJack the Horse
Don't act like you don't know
And I'm trying to hold on to my past
It's been so long
I don't think I'm gonna last
I guess I'll just try
And make you understand
That I'm more horse than a man
Or I'm more man than a horse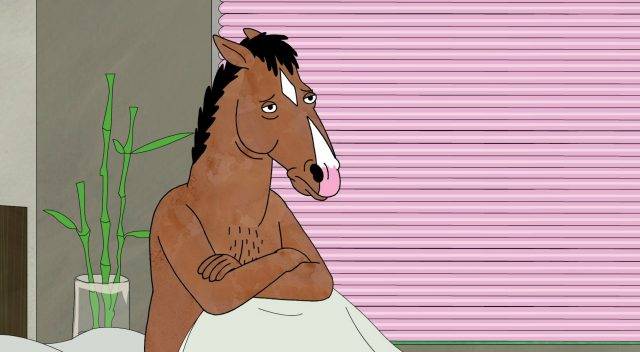 La canzone che chiude (quasi) ogni puntata della serie è un punto di partenza indicativo per comprendere quello di cui stiamo parlando. In particolare, in questo senso, è interessante il passaggio "I'm trying to hold on to my past": sto cercando di superare il mio passato. Per chiunque può essere difficile scrollarsi di dosso il passato, figuriamoci per una persona estremamente famosa, che anzi è nota solo per il suo passato. BoJack Horseman, infatti, teme di essere vittima dell'incontrollata serie di eventi che non solo gli impediscono di cambiare professionalmente, ma soprattutto gli pongono il dubbio che lui non possa mai cambiare come persona. Ma a un certo punto c'è una svolta, apparentemente.
La nuova popolarità ottenuta con la pubblicazione del libro di Diane, se risulta devastante dal punto di vista intimamente professionale, permette a BoJack di tornare a essere un nome gradito nella produzione cinematografica, tanto che ottiene quello che ha sempre definito il ruolo dei suoi sogni: interpretare il suo idolo Secretariat nell'omonimo film biografico. Anche questo, tuttavia, inizia per essere una buona motivazione per cambiare la propria storia professionale, ma finisce per diventare l'elemento scatenante di una crisi esistenziale: BoJack causa il licenziamento della regista Kelsey, fugge in New Mexico e rovina il suo lavoro, venendo sostituito interamente dalla sua controfigura digitale nel film.
Tuttavia viene candidato a numerosi premi (non agli Oscar, però) e la sua fama professionale continua ad aumentare: si potrebbe dire che BoJack Horseman, a questo punto della sua vita, sembra essere qualcosa in più di uno "stupido attore di una sit-com". La sua legacy, dunque, si sta lentamente affermando, almeno professionalmente. Ma basta solo questo? È solo in questa circostanza che BoJack deve ricordarsi che deve morire? Assolutamente no.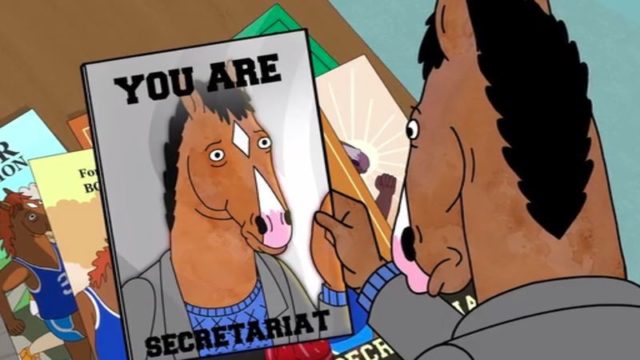 Sarah Lynn. Charlotte. Penny. Todd. Diane. La già citata Kelsey. Sono solo alcune delle persone a cui BoJack ha rovinato definitivamente o temporaneamente la vita. È questo il suo lascito? Un osservatore neutrale noterebbe che, in fondo, c'è del buono nell'uomo-cavallo. La speranza, infatti, è il tema del finale della quinta stagione, con BoJack che prova a chiedere aiuto presso l'istituto di riabilitazione. Ma dovrà fare una lunga strada per pagare per ciò che ha fatto, non solo per farsi perdonare, ma per permettere alle persone che lo conoscono di dire:
"Sì, BoJack Horseman è cambiato". 
Solo allora, se Todd, Diane o sua sorella Hollyhock saranno in grado di pronunciare questa frase, vorrà dire che BoJack ha cambiato il contenuto della sua eredità, ha modificato il suo lascito: si è ricordato che deve morire.