BoJack Horseman, nella terza stagione, è tremendamente impegnato nella corsa alla candidatura all'Oscar per la sua (non) interpretazione in Secretariat, esattamente come lo avevamo lasciato alla fine della stagione precedente. La curatrice della sua immagine e della sua campagna pubblicitaria, Ana Spanakopita, lo trascina nel grande sistema di eventi e sponsorizzazioni necessario per rendere BoJack un candidato accettabile e ben visto dai mostri sacri che decidono le candidature; nel frattempo nel privato, sempre più circondato da conoscenti e sempre meno da amici, BoJack si avvia verso una strada solitaria e pericolosamente buia.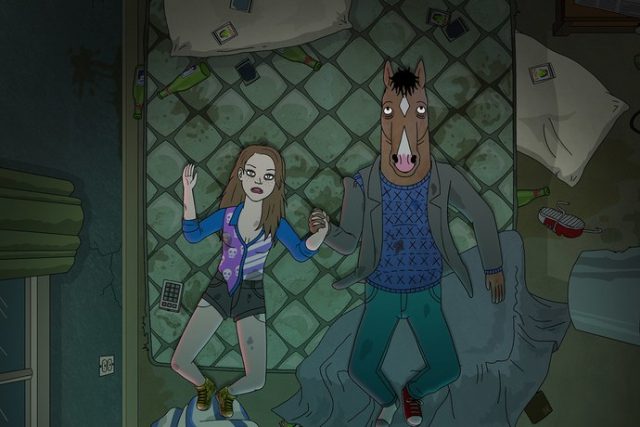 La terza stagione di BoJack Horseman riprende i toni più cupi e meno ironici della seconda (che abbiamo analizzato qui), elevando il prodotto in 12 puntate di maggiore qualità: infatti, le tematiche toccate diventano cruciali ormai non solo per la comprensione dei personaggi, ma anche per capire quale sarà il loro destino. Senza dubbio, la scia tracciata fin dalla prima stagione che critica (velatamente ma non troppo) Hollywood nella sua spasmodica ricerca di affermazione delle apparenze invece che della realtà trova una sua consacrazione adesso, quando il successo rappresenta solo una zolletta di zucchero concessa al malato terminale di turno, in questo caso BoJack.
Inoltre, per citare P.P. Pasolini, è ben chiaro dagli episodi  che "il successo non è altro che l'altra faccia della persecuzione": BoJack Horseman si perseguita per le sue azioni e quando crede di trovare nel successo la soluzione ai suoi problemi non fa altro che scoprire un altro modo per perseguitarsi.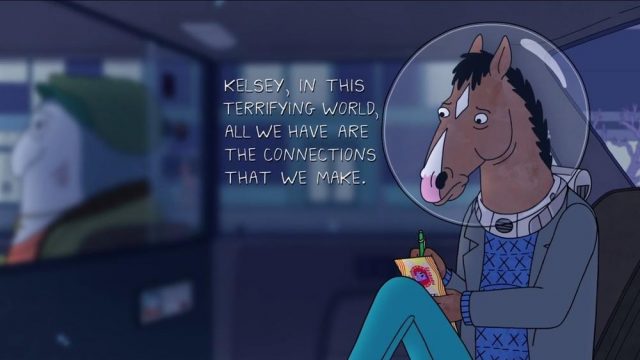 Ma la vera protagonista della terza stagione è la solitudine: già demone nelle due stagione precedenti, per Bojack questo problema diventa sempre più pesante dal momento che non riesce a rimediare agli errori che lo hanno reso e lo rendono sempre più solo. Una persona che lo stimava, la regista Kelsey, è stata licenziata a causa sua e BoJack non ha mai avuto il coraggio di chiederle scusa: nella quarta puntata "Fish out of water" (Pesce fuor d'acqua), definibile a tutti gli effetti un capolavoro e senza dubbio la migliore di tutte le puntate delle tre stagioni (si noti che conta solo 3 minuti di dialoghi in quanto si svolge sott'acqua), il protagonista ha la possibilità di chiederle scusa, e prova a farlo scrivendole un biglietto che ovviamente, sott'acqua, si sbiadisce senza che la donna riesca a leggerlo:
"Kelsey, in questo mondo terrificante, tutto quello che abbiamo sono i rapporti che creiamo".
Eppure, anche se sembra consapevole dell'importanza dei rapporti interpersonali, BoJack non fa altro che distruggerli, allontanando gli unici che gli vogliono bene (in particolare Princess Carolyn e Todd) a vantaggio di tanti conoscenti ed estimatori che lo seguono e lo avvicinano solo perchè in corsa per la candidatura all'Oscar. Imbucatosi ad una festa prematrimoniale, BoJack dice alla ragazza dubbiosa che bisogna accettare i compromessi delle relazioni e accettare se stessi perchè
"Un giorno potresti guardarti intorno e renderti conto che tutti ti conoscono, ma nessuno ti vuole bene…e questo è il sentimento più isolante del mondo" (One day you're gonna look around and you're going to realize that everybody loves you, but nobody likes you…and that is the loneliest feeling in the world).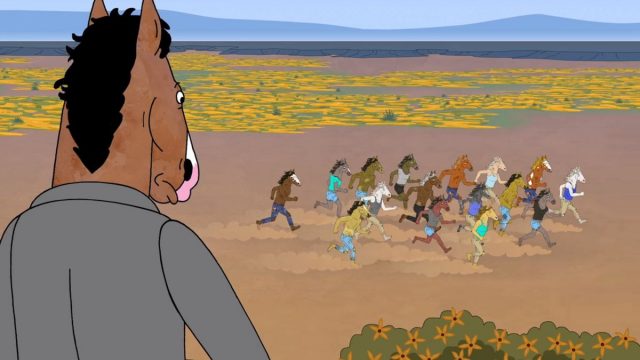 Tutta questa negatività, aggravata dalla tematica della morte di qualcuno di caro, porta verso poche direzioni: una di queste è l'autocommiserazione; l'altra è la reazione; un'altra ancora è il suicidio. La morte, infatti, aleggia in questa stagione di BoJack Horseman per confermare la tendenza dark già intuita nella seconda stagione: tutto, però, è alleviato e alleggerito dal classico sarcasmo e dall'ironia che colpisce nei momenti più inaspettati.
La terza stagione di BoJack Horseman è senza alcun dubbio la migliore finora: prosegue brillantemente la strada tracciata dalla prima stagione e proseguita nella seconda, calcando la mano sull'obiettivo principale degli autori, cioè la profondità del messaggio. La riflessione col sorriso, le frasi fatte assolutamente non scontate, e canzoni di alto livello creano una stagione in cui l'idea del lasciare qualcosa ai posteri ossessiona i personaggi, e l'unica risposta a tale problematica è il titolo della canzone dell'ultima scena:
We always have a story.