Finalmente ci siamo. Netflix ha distribuito le 12 puntate della quinta stagione di BoJack Horseman e oggi siamo qui per parlare del pilot di questi nuovi episodi, che si preannunciano forse più dark di quanto potessimo aspettarci. Il finale della quarta stagione, infatti, ci aveva lasciato con l'inconsueto sorriso del protagonista, rinfrancato dal fatto che la piccola Hollyhock volesse mantenere i contatti con lui, suo fratello maggiore. Ma, come era ovvio, The Light Bulb Scene riporta tutti alla realtà: e la realtà è spesso deludente.
Iniziamo a capire il tema portante di questa puntata (e, forse, dell'intera stagione) fin dalla sigla d'apertura. C'è un particolare diverso dagli altri opening credits: la casa di BoJack è vuota. Completamente vuota. C'è, tuttavia, un momento in cui sembra riempirsi: quando è il set della nuova Serie Tv in cui l'uomo-cavallo è protagonista, Philbert. Ma è solo un'apparenza.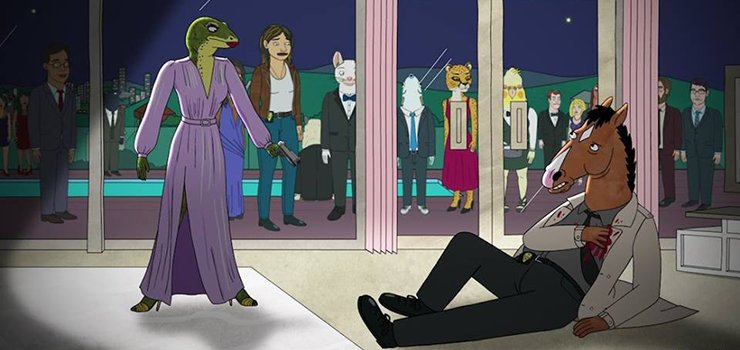 Il pilot di questa stagione di BoJack Horseman sembra giungere con due principali messaggi: il parallelismo tra BoJack e Philbert e la conseguente impossibilità di scappare da se stessi.
Avevamo lasciato BoJack ad accettare la parte nel progetto dello scrittore Flip McVicker per aiutare una Princess Carolyn in palese difficoltà. La storia di Philbert è intricata e non convince del tutto BoJack: il protagonista è un vecchio detective alcolizzato, tormentato dalla morte della moglie e incline a tendenze inconsuete.
In questa puntata, lo scontro tra BoJack e Flip raggiunge l'apice nel momento in cui il secondo ritiene che, per trasmettere al meglio il proprio messaggio, il protagonista debba essere completamente nudo, eccitato, al centro del salone con una lampadina in mano. BoJack mette da parte l'iniziale resistenza e alla fine fa la scena, sempre e ancora una volta per Princess Carolyn.
BoJack Horseman si fa da sempre portatore di un grande realismo. Questo è il principale motivo per cui l'assenza di Hollyhock riporta il nostro protagonista alla sua triste e solitaria realtà: ci sono dei segnali che BoJack stia provando a migliorare (per esempio segnare sulla bottiglia di vodka il limite da non superare nel corso della settimana) ma, come gli ha detto Todd alla fine della terza stagione:
"Sei tu. Tu sei tutte le cose che non vanno in te".
Infatti, nel momento in cui litiga con Flip, non si presenta al lavoro e si ubriaca tutto il giorno. Riesce a rimettersi in carreggiata per Princess Carolyn, ma questo sembra un deterrente temporaneo. Quanto effettivamente può durare? BoJack, sembra dirci questo inizio di stagione, non può fuggire dal suo essere: ma, alla fine, chi può?
Da ciò deriva il cinico realismo di BoJack Horseman. Il fatto che il protagonista non possa scappare da se stesso è sottolineato dalla parte che ha accettato di interpretare. Il set di Philbert ricostruisce parte della sua casa, la finta festa iniziale è la stessa vera festa del finale, la solitudine del protagonista assomiglia a quella di BoJack. Ma, soprattutto, Philbert è BoJack. In ogni senso. BoJack finge di estraniarsi dal ruolo, ma sa perfettamente perchè non è a suo agio: non è la trama, o il modo noioso di raccontarla come urla contro Flip al momento dello scontro, ma è questo:
"He's a drunk, he's an asshole. I don't wanna be him".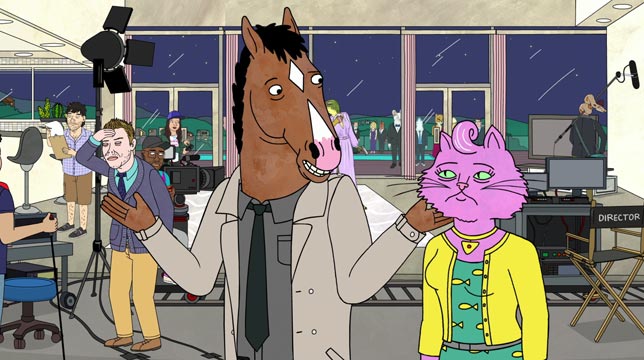 BoJack odia Philbert perchè BoJack odia se stesso. La spinta per continuare ad interpretarlo gli è data da Princess Carolyn, che gli fa capire che se non vuole essere Philbert, gli basta non essere "un ubriacone e uno stronzo": lo deve essere quando lo interpreta, ma al di fuori deve essere BoJack. Ma c'è effettivamente una differenza tra i due?
The Light Bulb Scene non rinuncia a lanciare frecciatine sulla realtà dello show business da un anno a questa parte. La scena della lampadina, con BoJack completamente nudo, precede una battuta dell'uomo cavallo in cui afferma che al giorno d'oggi una scena del genere avrebbe scatenato uno scandalo di molestie sul set. Sempre in relazione all'attualità, non sorprende che Todd sia diventato uno dei responsabili del network che produce la serie (What time is it right now) con un curriculum basato sulle idiozie e sulle casualità che hanno caratterizzato la sua vita: onore al merito, giusto…?
Princess Carolyn e Diane stanno seguendo i percorsi che avevamo immaginato basandoci sulla stagione precedente. La prima sta provando ad adottare un bambino e la seconda ha divorziato da Mr. Peanutbutter. Sarà interessante capire le loro storyline dove andranno a parare ora che forse si avvicinano entrambe a ciò che hanno sempre voluto.
Una chicca, infine, che potrebbe essere la chiave di lettura dell'intera stagione.
Nello studio di Flip, c'è una lavagna che si scorge nel momento in cui lo scrittore litiga con BoJack. Sulla lavagna ci sono scritte diverse informazioni relative ai 5 atti in cui la serie sarà divisa: alla voce "influenze" è ben cerchiato il nome Nietzsche. Se accettiamo il parallelismo BoJack-Philbert, chiaramente possiamo dedurre che il filosofo tedesco potrà essere l'autore che Raphael Bob-Waksberg ha deciso di mettere su schermo in questa stagione.
Dopo aver indagato le filosofie di Pascal, Sartre e Camus, che sia il momento del filosofo dell'Oltreuomo? Ci chiediamo quale aspetto dell'opera omnia di Nietzsche si voglia rappresentare: il principale indiziato può essere il concetto dell'eterno ritorno. L'impossibilità di uscire dal loop temporale e comportamentale rischia di diventare il tema portante di questa stagione di BoJack Horseman.
Se così fosse, non si mette bene per il nostro protagonista.