C'è una domanda che ogni spettatore di Better Call Saul si è posto almeno una volta, ed è una di quelle domande che contiene tutte le altre. Se è vero che probabilmente la più frequente è quella riguardante il destino di Kim Wexler, altrettanto vero è che non ci si può domandare di Kim senza al contempo essersi chiesti: qual è il momento topico in cui Jimmy McGill diventa definitivamente e unicamente Saul Goodman? Questo quesito è stato maggiormente rafforzato nel momento in cui il Jimmy McGill dipinto dalla coppia Gould-Gilligan (soprattutto nelle prime stagioni) era davvero tanto, troppo lontano dal Saul Goodman che abbiamo conosciuto in Breaking Bad. Pertanto era ed è lecito chiedersi se questo cambiamento così netto possa essere attribuito a un evento traumatico specifico, a un insieme di circostanze che lo hanno trasformato o se, infine, questo tanto ricercato momento in realtà non fosse mai esistito. Non nel modo in cui lo abbiamo sempre immaginato, almeno. Oggi vogliamo esplorare questa possibilità, partendo proprio da una scena del pilot della sesta e ultima stagione che, seppur non unica, può essere indicativa della direzione presa dai creatori. 
Partiamo innanzitutto da una constatazione: è evidente che ci sia uno schema. Non è un caso, infatti, che anche durante la visione di Breaking Bad una delle domande generali poste dagli spettatori fosse proprio "Quando Walter White è morto ed è nato Heisenberg?". L'incredibile capacità di Vince Gilligan e Peter Gould di creare e scrivere personaggi con una ampia e poco definita area grigia è al di sopra della media, e Walter White/Heisenberg e Jimmy McGill/Saul Goodman ne sono un perfetto esempio. Riprendendo un tema classico della letteratura e della narrativa – quello del doppio – gli autori sono stati in grado di creare una loro versione moderna, non polarizzata e sempre sfumata, che impedisce all'osservatore esterno (nonché agli stessi protagonisti) di avere precisa contezza dei confini e del loro superamento. È per questo che, ancora oggi, non c'è una risposta unica alla domanda sul quando Walt abbia deciso di dare voce unicamente ad Heisenberg: chi dice che il mostro è sempre stato dentro di lui, chi individua il momento epifanico nella famosa scena dell'esplosione nel covo di Tuco (1×06), chi ancora più avanti nella folle risata prima di decidere di uccidere Gus (4×11), e si potrebbe continuare all'infinito. Qualunque sia la verità, non sembra scorretto affermare questo: Gilligan ha fatto in modo che un uomo pieno di rimpianti e rancore, ma con grandi capacità, motivato da un evento catastrofico come il cancro, tirasse fuori il peggio di sé prima per sopravvivere e poi per soddisfare la sua delirante, geniale e malvagia personalità narcisista, in un vero e proprio crescendo che non implica automaticamente la morte di uno (Walt) a vantaggio dell'altro (Heisenberg).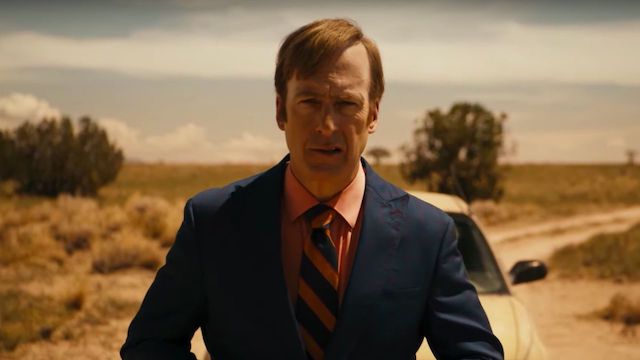 Per Jimmy McGill può farsi, ad oggi, un ragionamento analogo, con alcune fondamentali precisazioni. Sul fatto che in Jimmy fin dal principio ci fosse "un po' di Saul" nessuno può avere dubbi: i flashback di Better Call Saul ci mostrano chiaramente un passato da piccolo criminale truffaldino per Jimmy (alias Slippin' Jimmy) che, direbbero i sociologi, ha da sempre avuto una "mentalità deviante". Gli eventi, inoltre, che spingono Jimmy a essere Saul non sono malattie fisiche come il cancro per Walt, ma qualcosa di simile a ciò che il protagonista di Breaking Bad sappiamo aver vissuto, ma non abbiamo visto: il fallimento. Entrambi sono frustrati, rancorosi, insoddisfatti: Walt lo racconta (si pensi a tutta la faccenda Grey Matter), Jimmy ce lo mostra. Sono entrambi accomunati da un principio riassumibile in questa frase: a fare la scelta giusta non si guadagna niente di buono, anzi. Jimmy, in particolare, fa di questo un vero e proprio mantra, in contrapposizione all'ingombrante figura del fratello Chuck. Il burrascoso rapporto con lui e la tragica fine dello stesso può essere considerato il primo vero "switching point" per Jimmy, che entra nella dinamica del "the winner takes it all", nella dinamica secondo cui vale tutto pur di ottenere ciò che vuole, anche mettersi a disposizione del Cartello messicano, anche difendere un uomo (Lalo) che ha ucciso senza pietà un innocente. Con la rabbia di chi è sempre stato considerato l'ultima ruota del carro, Jimmy accetta di essere Saul Goodman, la maschera che gli serve per diventare più ricco, più famoso, più amato. Più.
Una maschera, appunto. Sottolineiamo questa espressione: Saul Goodman è la maschera di Jimmy McGill. Vien da chiedersi, allora, se il Saul visto in Breaking Bad non sia altro che un Jimmy che ha dimenticato di indossare una maschera, a furia di indossarla.
Qui serve una precisazione: non abbiamo, in Breaking Bad, la possibilità di valutare Saul nella sua vita privata. Eppure forse una piccola risposta la possiamo dedurre. In un articolo di (ormai) qualche anno fa – che lascio qui per la consultazione – avevo provato a evidenziare che in realtà anche in Saul Goodman potesse esserci del buono. Bisogna concentrarsi, in particolare, sul Saul della quinta e ultima stagione di Breaking Bad. La stagione inizia (5×01) con Saul che si rifiuta di proseguire la "relazione professionale" con Walt, una volta scoperto che il professore lo aveva usato nel suo piano diabolico per avvelenare il piccolo Brock e attirare nuovamente dalla sua parte Jesse. Emerge infatti che l'avvocato aveva accettato senza sapere che il bambino potesse subire delle conseguenze e infatti, con un espressione disgustata protesta contro Walt:
"…you never told me that kid would wind up in the hospital! You know what, take that thing [la sigaretta con la ricina, n.d.r.] and get the hell out of here. You and me, we're done!".
Segue poi la famosissima scena in cui Walt si impone col suo "We're done when I say we're done", lasciando Saul terrorizzato e sottomesso nell'angolo nel suo stesso studio. Questo è però un turning point: da quel momento Saul sparisce dai piani di Walt, incassa passivamente i soldi nella percentuale che gli spetta e ricompare solo per cercare di aiutare Mike a fuggire e poi dopo che Jesse lo aggredisce (guarda caso, dopo aver scoperto dell'avvelenamento di Brock, e in quella sede Saul lo implora di risparmiarlo dicendo che non avrebbe mai aiutato Walt se avesse saputo cosa aveva in mente). In poche parole, non è più il divertente, clownesco Saul Goodman delle stagioni precedenti. È terrorizzato e, forse, crede di essere andato troppo oltre, persino per i suoi standard. 
Questa appena descritta può essere una risposta dal futuro. Ma torniamo al presente di Better Call Saul: siamo arrivati alla scena fatidica. Il momento è nell'episodio pilota della sesta stagione, Wine and Roses. Jimmy è appena entrato in tribunale e ha salutato Kim, rassicurandola che tutto va bene: la sua faccia in ascensore, però, dice altro. Turbato, pensieroso, scosso: solo pochi giorni prima ha vissuto l'esperienza più traumatica della sua vita nel deserto, ha guardato la morte negli occhi e solo l'intervento di Mike lo ha salvato. Lo stesso Mike è stato il confessore dei suoi dubbi: nell'episodio finale della scorsa stagione, infatti, Jimmy si chiede come possa essere possibile accettare di aver passato le pene dell'inferno per salvare un assassino di un ragazzo innocente, la cui famiglia ha dovuto guardare negli occhi (5×07) in aula, visione che gli ha provocato un conflitto interiore meravigliosamente reso da Bob Odenkirk. Il dilemma morale c'è eccome.
Torniamo alla scena: Jimmy esce dall'ascensore ancora scuro in volto e vede in lontananza il Procuratore del caso Lalo (o meglio, del caso De Guzman) in compagnia del detective. Decide di avvicinarsi: prima però si ferma, si tocca l'anello che porta al mignolo (sul perchè questo possa essere rilevante leggete qui), prepara la sua maschera sorridente, e approccia i suoi avversari professionali, in pieno stile Saul Goodman, facendo battute idiote e raccontando la solita serie di bugie. Si lascia anche scappare il vero nome di Lalo, non è chiaro se per sbaglio o perchè una parte di lui ha voluto dare alle forze dell'ordine un piccolo indizio per riuscire a trovarlo.
A questo punto, alla luce di quanto detto finora, è lecito chiedersi: ci sarà un ulteriore strappo che renderà Jimmy unicamente il Saul di Breaking Bad? Oppure la convivenza continuerà? Si tenga presente, infatti, che non conosciamo (se non nella parte sopra illustrata) gli eventuali dilemmi di Saul in Breaking Bad, semplicemente perchè egli non era il protagonista. Non era funzionale alla storia mostrare se a Saul importasse o meno di Jesse, di Mike, se fosse dubbioso sulle scelte intraprese: Saul nasce come "comic relief", che si incupisce con l'incupirsi della storia, ma rimaneva comunque un accessorio. Se interpretassimo queste scene di Better Call Saul come un modo degli autori per dire che, per quanto traumatici possano essere gli eventi che colpiscono il protagonista e tragiche le scelte fatte dallo stesso, Saul (spregiudicato criminale) rimane comunque una maschera di un sempre più assottigliato ma comunque presente Jimmy (truffatore non privo di cuore o morale), potremmo dare un significato diverso a molte scene e questioni di Breaking Bad: non sembra un caso, infatti, che una delle frasi più ripetute da Gilligan, Gould e gli attori è che la fine di Better Call Saul cambierà il modo degli spettatori di vedere Breaking Bad. 
Staremo a vedere. Saul è sempre più predominante, questo è certo. Ma Jimmy è ancora lì e, forse, non se ne andrà mai.