# #
Vince Gilligan cura in maniera maniacale ogni dettaglio. Un'asserzione talmente abusata, dai tempi di Breaking Bad, da trasformarsi in un postulato. Il fatto è che l'immaginifico autore di due tra le Serie Tv più belle degli ultimi anni escogita sempre nuovi stratagemmi per stupire e riflettere. La terza stagione di Better Call Saul è attualmente intrisa del suo magic touch grazie a continui spunti di discussione offerti. A sostegno della tesi che apre questo pezzo.
# #
Non era sufficiente la simbologia dei colori (di cui abbiamo parlato anche in questo articolo). Né bastava la sua straordinaria capacità di comunicare attraverso le immagini, com'era solito fare Hitchcock. Emblematico, in tal senso, il sacchetto di letame piovuto dall'alto a sottolineare il momento nero di Jimmy McGill. Si va anche oltre il meta-citazionismo, suo marchio di fabbrica e presente in 'Expenses' con una rivisitazione della locandina de I Soliti Sospetti (la scena in cui Jimmy e gli altri ai lavori sociali sono poggiati al muro).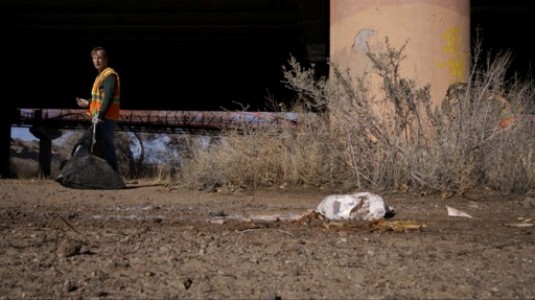 # #
Oltre tutto questo l'episodio mette in evidenza una serie di caratteristiche nell'evoluzione della trama e dei personaggi che possono essere messe in relazione fra loro. Si tratta di corsi e ricorsi della poetica di Gilligan che egli, nella sua genialità, rielabora rendendoli sui generis. Nella fattispecie sono due i side-ways che verranno analizzati, uno riguardante lo sviluppo del personaggio di Jimmy, l'altro inerente alla struttura narrativa.
Il primo, manco a dirlo, ci riporta a Breaking Bad. Non intendiamo tirare su l'ennesimo paragone sterile su quale sia la migliore tra due Serie troppo differenti per essere giudicate in quest'ottica. Ciò nonostante pare proprio che, si tratti di un professore di chimica o di un avvocato, Gilligan abbia un debole per  raccontare la parabola – morale – discendente di un uomo qualunque.
Basti pensare ai protagonisti di Better Call Saul e della serie madre.
Walter White e Jimmy McGill hanno un background molto diverso. Il primo è un chimico brillante, un genio che non è riuscito a sfruttare le sue potenzialità. Il secondo è il ritratto della mediocrità, cresciuto all'ombra del fratello. Tuttavia entrambi, magistralmente interpretati da Cranston e Odenkirk, sono relegati ai margini della società. A partire da essa covano un sentimento di rivalsa che si palesa in tutto il loro egocentrismo. Innato egocentrismo.
Infatti i rispettivi "mr. Hyde", Saul Goodman e Heisenberg, sono sempre stati parte di loro. In Better Call Saul ne abbiamo testimonianza diretta, essendosi, la Serie Tv, soffermata su tutte le fasi del protagonista, da Slippin' Jimmy in avanti. Per ciò che concerne Walter White abbiamo avuto modo di intuirlo dalla sua rabbia repressa, una bolla scoppiata nel momento in cui non ha avuto alcunchè da perdere.
Per entrambi l'occasione di dare libero sfoggio del lato oscuro di sè si è palesata sotto forma di una difficoltà economica.
La "scusante" di Walt è il pagamento delle spese mediche in seguito alla malattia; quella di Jimmy l'anno di sospensione da avvocato che l'ha privato dei suoi guadagni. A entrambi è stata offerta una soluzione, rigettata al mittente. Il rifiuto di accettare l'aiuto economico di Elliott e Gretchen, nel primo caso. La riluttanza a ridimensionare il proprio tenore di vita (uno studio legale più piccolo, il licenziamento della segretaria) nel secondo.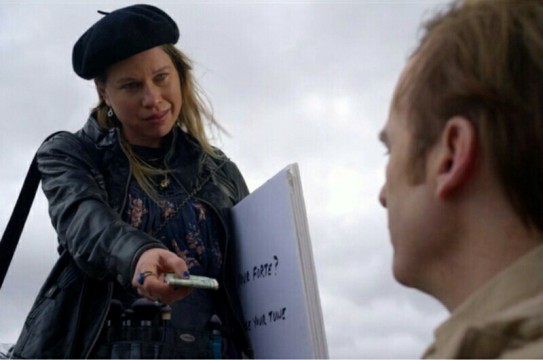 In generale sia l'uno che l'altro nutrono un disprezzo per tutto ciò che diventa elemosina. Anche Saul, rimasto al verde tanto da non poter neanche prendere l'autobus, rifiuta i soldi della truccatrice. È palese la loro intenzione di emergere contando esclusivamente sulle loro forze, il loro ingegno e la loro abilità, poco importa fin dove saranno costretti a spingersi.
L'altro parallelo, invece è insito nello stesso sviluppo della trama di Better Call Saul.
Le due storyline della trama viaggiano su binari apparentemente inconciliabili. D'altra parte quella di Jimmy è un dramma familiare con più di una sfumatura legal. La sottotrama di Mike, invece, rappresenta la parte outlaw della Serie, il lato violento, caratterizzato da traffici di droga e da alcuni dei nemici che Walter White troverà sul suo cammino.
Ciò nonostante le due storyline sono una lo specchio dell'altra. Questo è ciò che emerge prendendo in considerazione i villain dell'una e dell'altra storia: Chuck e Hector Salamanca. Ambo i personaggi usciranno sconfitti da Better Call Saul – il destino di Chuck appare ormai segnato – e, molto probabilmente, ciò dipenderà dalla loro salute già cagionevole. La 3×07 potrebbe rappresentare uno snodo decisivo in tale direzione.
Il cliffhanger dell'episodio ha mostrato un Jimmy intenzionato a distruggere il fratello su tutta la linea, precludendogli la possibilità di essere tutelato dal punto di vista assicurativo. Nel mentre, Mike si alleava nuovamente con Nacho per sabotare le pillole di Hector Salamanca. A questo punto non è folle immaginare che il destino potrebbe riservare a Chuck e Hector la stessa sorte: un qualche tipo di malattia cerebrale che li releghi alla sedia a rotelle.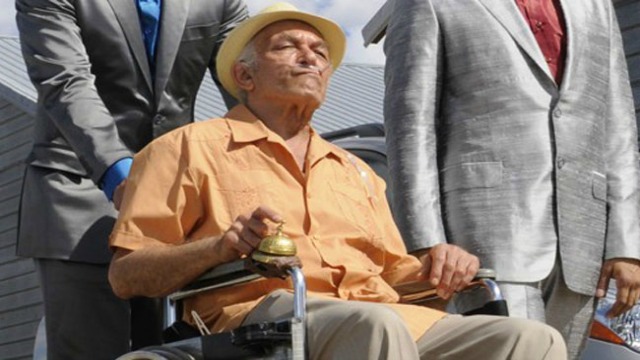 D'altra parte è quello che un po' ha promesso il futuro – o, per meglio dire, presente – Saul Goodman al fratello in 'Sunk Costs'.
Here's what's gonna happen. One day you gonna get sick… again. One of your employees is gonna find you curled up in that space blanket. Take you to the hospital. Hook you up to those machines that beep and whir, and hurt. And this time, it'll be too much, and you will… die there. Alone.
Il parallelo tra le due storyline, nel caso venisse esplicitato, rappresenterebbe un fattore molto più importante di quel che sembra.
Vorrebbe significare, infatti, che Gilligan mette sullo stesso piano morale Mike e Saul a prescindere dallo status dell'uno e dell'altro e delle "armi" che uno utilizza. Entrambi danneggiano il prossimo, poco importa che si ricorra a una pistola o un subdolo stratagemma. E Jimmy McGill ha già dimostrato quanto sappia far male con le sue azioni. Leggasi della morte del padre.
Better Call Saul è un'opera complessa che rielabora elementi già visti in una chiave del tutto inedita. Pezzo dopo pezzo, strato dopo strato, va de-costruita e reinterpretata sotto una luce assolutamente nuova. Gran parte di ciò lo si deve a un autore che in testa al posto di un cervello nasconde una miniera d'oro. E che riesce, dal 2008 a questa parte, a farci ripetere, senza il rischio di risultare banali: Vince Gilligan cura in maniera maniacale ogni dettaglio.