Essere una comedy non significa assolutamente basarsi solo sulla risata. Anzi, in molti casi vengono trattati temi delicati e difficili con una sintesi e un'immediatezza che colpiscono, dritto al cuore, senza nessun abbellimento. È un modo di cogliere i problemi della vita in maniera diversa. E questo è il caso di You're the Worst.
È un prodotto che rientra nel genere del comedy-drama. La serie americana ideata da Stephen Falk è stata trasmessa da FXX a partire dal 2014. In archivio conta quattro stagioni e 49 episodi che letteralmente vi apriranno un mondo nuovo. In vista della quinta stagione, è un dovere parlare di questa serie che sembra essere sempre lasciata ai margini.
Cosa racconta You're the Worst?
Già dal titolo si può ben capire ciò con cui avremo a che fare. Non immaginatevi assolutamente due protagonisti perfetti, realizzati e con un brillante futuro davanti a loro. Anzi, tutto il contrario: loro sono dei disperati, autodistruttivi che hanno la fortuna o la sfortuna (dipende dal punto di vista) di incontrarsi e di innamorarsi, anche se sono entrambi incapaci quando si tratta di sentimenti.
Il tutto è ambientato a Los Angeles. C'è Jimmy – interpretato da Chris Geere – uno scrittore inglese ambizioso, sfacciato, ironico e sempre pronto a dire la verità, senza farsi nessun tipo di scrupolo. Il ragazzo decide di partecipare al matrimonio della sua ex con l'intento di rovinarglielo. Dopo essere stato cacciato dal banchetto, incontra una bellissima ragazza che sta cercando di scappare con uno dei regali per gli sposi. Il suo nome è Gretchen (Aya Cash): manager musicale, cinica, con il gusto per la vita ribelle e gli eccessi.
I due decidono di passare insieme la sera, pensando che si tratti solamente di una notte e via, ma si sbagliano di grosso.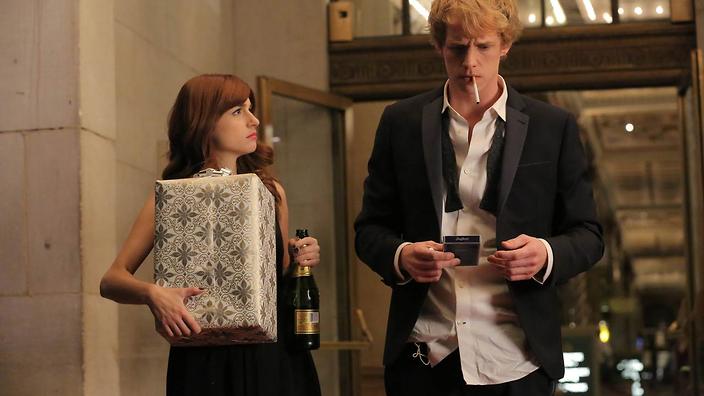 Da quel momento cominciano a frequentarsi e questo comporta anche la nascita di sentimenti, cosa da cui entrambi sono estremamente terrorizzati. Oltre alla loro esilarante semi-relazione, in aggiunta troviamo Edgar Quintero, coinquilino di Jimmy, ex-combattente in Afghanistan, affetto da DPTS e con qualche problema con l'eroina. E anche la vivace e logorroica Lindsay, miglior amica di Gretchen. I quattro sapranno sicuramente trovare il modo per entrare nelle vostre vite, grazie alle loro incredibili avventure.
Però non fatevi ingannare dalle apparenze. You're the Worst potrebbe presentarsi come sitcom, potreste credere che non si tocchino mai temi delicati, grandi problemi. E invece è tutto il contrario.
Grazie ai suoi protagonisti, la serie è in grado di fornire ritratti spietati di gravi e pesanti questioni, con quell'immediatezza e semplicità peculiari in prodotti di questo genere.
Di cosa stiamo parlando esattamente?
You're the Worst si concentra su particolari problemi tipici dei nostri giorni. Come il delicato tema della depressione, ampiamente trattato nella seconda stagione attraverso il personaggio di Gretchen e di come possa infierire nelle relazioni di ogni giorno. Oppure come già nominato in precedenza, il DPTS (disturbo da stress post-traumatico), questione molto sentita in America.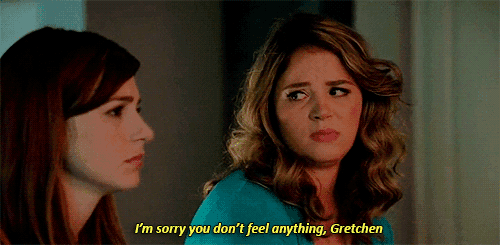 Non si tratta solamente di disturbi psicologici, ma anche di diversi modi di affrontare la vita. Da una parte uno scrittore che è sempre alla ricerca del successo mancato, della fama mai raggiunta: il nostro Jimmy. Dall'altra invece una giovane ragazza che si è sposata solamente per denaro ed è continuamente in moto per riempire quella noia infinita che sembra sempre avvolgerla: Lindsay.
Quella che abbiamo davanti è una fresca novità
You're the Worst si distingue nel mondo variegato delle serie tv, proprio perché sa coniugare in maniera ironica – a volte grottesca e diretta – la tragedia e la commedia, la gioia e il dolore. È il ritratto di quattro disperati, di quattro outsider che cercano di vivere la loro vita, ognuno con i suoi pregi e difetti. E forse per quello non è un prodotto per tutti.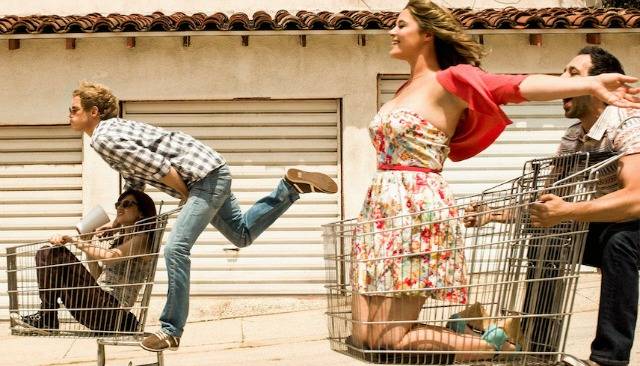 In America la serie ha ottenuto un grande successo, tanto da conquistare diverse nomination come Miglior Serie Commedia per due anni consecutivi e anche come Miglior Attrice per la bellissima Aya Cash ai Critics' Choice Awards. Tutte le stagioni sono state letteralmente acclamate dalla critica, specialmente la quarta, che ha ricevuto un giudizio più che positivo anche da parte del pubblico.
E in Italia? Purtroppo You're the Worst sembra non aver raggiunto il giusto livello di apprezzamento che meriterebbe. E quindi voi, che state leggendo questo articolo, date una chance a questa serie e non ve ne pentirete.
You're the Worst non è un prodotto facile. I due protagonisti hanno enormi difetti: sono narcisisti, egocentrici, cinici ed egoisti. Una relazione che fin dal primo momento sembra essere destinata a naufragare, ma Jimmy e Gretchen vogliono provarci comunque. Anche se sanno che sarà difficile, allo stesso modo sentono che stando insieme le cose vanno un po' meglio, possono essere due cause perse insieme. 
Un tentativo di essere la cura per l'altra persona.
E tra una bevuta sempre in più, litigi e scorribande, i due ci regalano una storia d'amore reale, concreta. Certamente non perfetta o idealizzata, assolutamente. Non segue il copione a cui noi siamo abituati. Loro sono tutto ciò che non avete mai visto, sono tutto ciò che non cerchereste mai all'interno di due personaggi.
Ma alla fine, arriverete irrimediabilmente a tifare per loro.