Younger è una Serie che, sebbene sia in onda da soli 2 anni, ha già tirato fuori il suo carattere e ha attratto verso sé milioni di spettatori. Dagli ideatori di Sex and the City (noi speriamo ancora in una nuova stagione), Younger è una Serie che dipinge la vita che ogni millennial deve affrontare, dando una rappresentazione della nostra era davvero buona e verosimile. La cosa originale è che lo fa narrando le mille disavventure che una mamma del New Jersey deve affrontare quando si finge una ventisettenne di New York. Tutto ciò senza nemmeno sapere cosa è un tweet o un boba tea.
Ma cosa accadrebbe nella vita reale se una donna ormai alla soglia dei 40 cercasse di crearsi una nuova vita facendo finta di avere l'età della figlia?
Prima di tutto c'è la questione dell'assunzione. Partiamo da cose pratiche, dalla burocrazia: come hanno fatto ad assumere Liza all'Empirical, una fra le case editrici più competitive del mercato americano, senza referenze, senza attestati o senza esperienze se non risalenti a 20 anni prima? Beh, di certo ha trovato un modo per sovvertire il sistema. Probabilmente nella vita reale si sarebbe trovata subito qualche falla e le belle e sagge parole, qualche colpo di sole e un documento falso non sarebbero bastate di certo a convincere una come Diana. Insomma, farsi assumere sarebbe davvero difficile, forse l'unico modo sarebbe cercare qualche spinta dall'alto, magari qualche amico in debito di un favore, che sarebbe in grado e disposto a rischiare la carriera per infilare un cv completamente falso nel database dell'azienda o che riuscisse a fissare un appuntamento con una piccola raccomandazione e con poche domande.
Mettiamo che la Liza della realtà riesca a superare il colloquio, arriva la parte davvero dura, la quotidianità. Chissà come sarebbe la vita di tutti i giorni di Liza in una città italiana come Milano. Milano come New York, è una città piuttosto snob e ambiziosa ed entrare nel giro della gente più inserita non è cosa da tutti. La Liza reale, come spesso anche quella che vediamo in Younger, farebbe milioni di scivoloni di portata colossale.
Se in Younger vediamo una quarantenne imparare termini, seguire trand e usanze dei millennials in un batter d'occhio, nella realtà una donna di mezza età come lei sbaglierebbe parole di continuo confondendo termini come like, post, storie ogni volta che apre bocca. Cioè, se penso a mia madre che appena riceve un like su Facebook pensa di avere il web ai suoi piedi o a mio padre che appena apre per sbaglio una storia pensa di essere guardato dalla gente nello schermo, trovo ammirevole quanto surreale il modo in cui Liza impara tutto ciò che riguarda una generazione così lontana dalla sua alla velocità della luce.
Probabilmente Liza è davvero innamorata del suo lavoro, però dopo una vita passata a fare la mamma, a crescere e a diventare adulta, una persona reale non solo farebbe fatica a stare al passo ma mollerebbe molto prima di lei.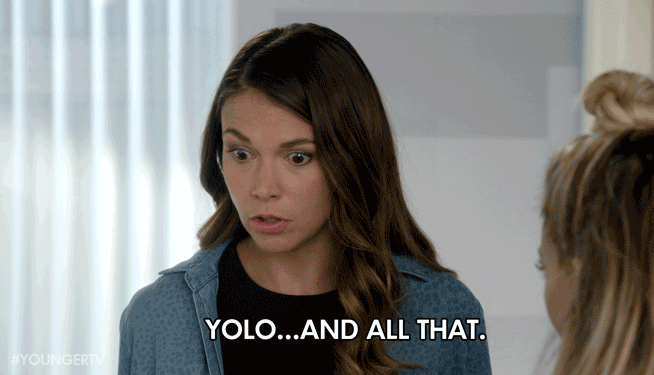 Ma la cosa più inverosimile, va detto, è il fisico di Liza. Donne del web, uniamoci in un coro di disperazione e rassegnazione: ma chi cavolo ha quel cavolo di fisico a 40 anni? Chi? Chi, senza alcun ritocchino, dannazione? Dai non è accettabile! Nella realtà non può esistere una donna di mezza età che si mantiene così bene, senza una ruga, un capello più chiaro, un centimetro di cellulite, dai! Il concetto di Younger è andato un po' troppo in la. Probabilmente rimorchierebbe lo stesso un super figo di 27 anni che fa il tatuatore vista la moda attuale dei toy boy però proprio per il fascino che le darebbe l'età. Naturalmente questa è sana e pura invidia perchè la verità è che Sutton Foster, l'attrice che interpreta Liza, ha realmente 42 anni!
Infine. Io non ho quaranta anni ma penso che la vita non possa essere la stessa che a venti o trenta, no? Sarà che la nostra generazione si sta impigrendo o che forse non esiste una città stimolante quanto New York ma io il lunedì quando torno a casa dopo il lavoro entrerei in letargo fino alla pensione, Liza va in giro tutto il giorno e la sera è capace anche di tornare a casa sua a Brooklin, infighettarsi ed uscire a fare le ore piccole per poi essere a lavoro a flirtare con il capo alle 9 di mattina! Non so ma dalle mie parti a 40 anni anche le donne più intraprendenti al massimo fanno un aperitivo con le amiche il sabato, Liza è una super inserita che fa cose fighe ogni sera, beata lei!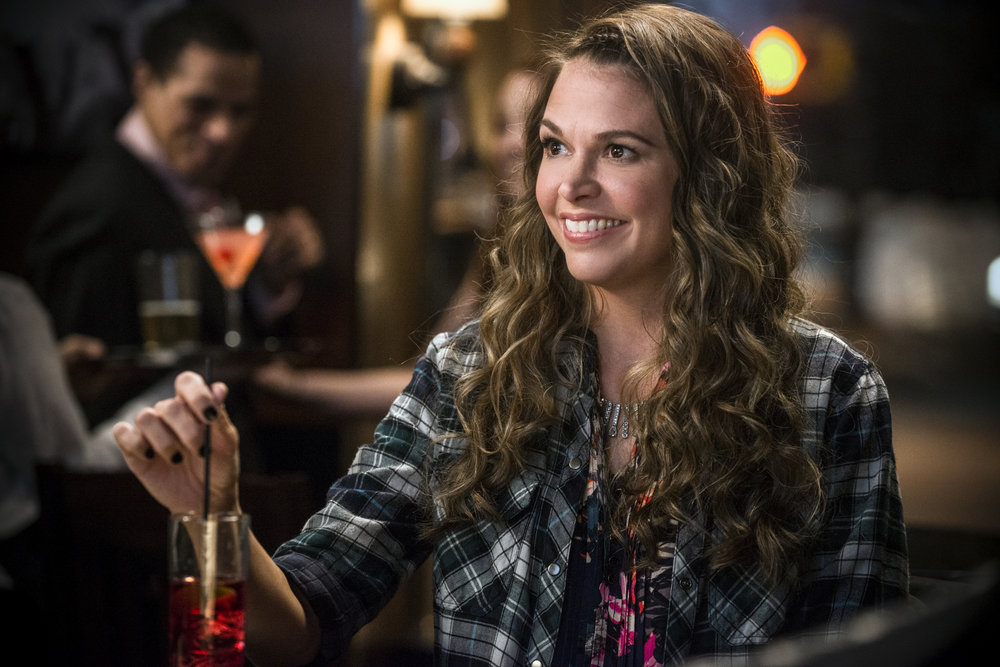 Insomma, tutti noi quando abbiamo iniziato Younger, vedendo come la vita dei personaggi sembri davvero realistica, abbiamo fatto un pensierino sul nostro futuro chiedendoci cosa faremmo, se anche noi saremmo capaci di risollevare la nostra vita dopo un divorzio, se dopo 20 anni passati a fare la brava moglie o il padre di famiglia avremmo la voglia e le forze di ricominciare tutto da capo e ributtarci nel buco nero che è la vita dei ventenni, se saremmo capaci di adattarci al nuovo mondo come ha fatto Liza e la risposta è: NO, nessuno farà mai una cosa così figa.
Quindi arrendiamoci, godiamoci il season finale di Younger e soprattutto i nostri vent'anni!