Avete letto bene! Oggi si parla della famosissima Cherry Pie di Twin Peaks! Dopo il grande successo di Los Pollos Hermanos: la ricetta del piatto più famoso di Breaking Bad e di House of Cards: La ricetta segreta (o quasi) delle costolette di maiale preferite da Frank Underwood noi di Hall of Series ritorniamo in cucina e lo facciamo ancora una volta grazie alle ricette più famose delle nostre Serie Tv preferite.
La Cherry Pie o torta di ciliegie è un dolce classico della tradizione americana, ha una base molto burrosa che accoglie al suo interno un ripieno molto dolce (di ciliegie appunto), una bomba calorica che (come ogni bomba calorica che si rispetti) con i suoi sapori contrastanti riesce a conquistare tutti, persino Dale Cooper di Twin Peaks. La torta di ciliegie protagonista dello show cult anni '90 infatti era il piatto preferito dell'agente, il quale, tra una "dannata tazza di caffè" e l'altra, amava gustarsi la sua fetta di Cherry Pie seduto comodamente al R&R Diner, la tavola calda più frequentata della città.
Pur ricordando tanto la nostra classica crostata di ciliegie, essa si differenzia da quest'ultima per il suo interno. Le ciliegie vengono infatti ridotte in purea, e quindi vengono lavorate in maniera diversa da come si farebbe per preparate una semplice marmellata. Al taglio dalla Cherry Pie, infatti, fuoriesce uno sciroppo denso e dolce che va ad impregnare la base di frolla rendendola appetitosa più che mai.

Sono passati 27 anni da quando lo show ha lasciato il piccolo schermo e noi – in attesa del grande ritorno – abbiamo deciso di ingannare il tempo andando alla ricerca della ricetta originale made in USA che più si avvicina alla celebre Cherry Pie di Twin Peaks.
Perciò adesso bando alle ciance e vediamo cosa serve e come preparare la nostra Cherry Pie di Twin Peaks!
Cominciamo!
INGREDIENTI:
Per la base di pasta frolla
310 grammi di farina
1 cucchiaino di sale
1 cucchiaino di zucchero
220 grammi di burro non salato
Per il ripieno
1Kg di ciliegie denocciolate
200 grammi di zucchero
4 cucchiai di fecola di patate
Per cuocere
2 cucchiaini di burro non salato
Zucchero semolato q.b.
Le dosi sopra indicate bastano per uno stampo di 22/23 centimetri.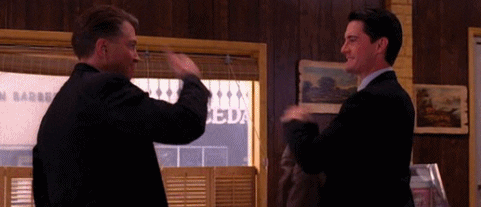 PROCEDIMENTO:
Preparate la pasta frolla impastando grossolanamente: farina, sale e zucchero insieme al burro tagliato a dadini. Aggiungere l'acqua ghiacciata e continuare ad impastare fino ad ottenere una pasta abbastanza omogenea.
A questo punto dividete la pasta a metà ed incartate le due metà separatamente usando la pellicola trasparente, dopo di che riponete tutto in frigorifero per almeno 1 ora.
Nell'attesa preparate le ciliegie dividendole a metà e togliendo il nocciolo.
Una svolta snocciolate sistematele dentro una casseruola antiaderente e cuocetele a fuoco basso fino a quando non avranno rilasciato quasi del tutto il loro liquido.
A questo punto mescolate zucchero e fecola di patate e versate il mix ottenuto direttamente sulle ciliegie ancora calde ma prontamente tolte dal fuoco. Non smettete mai di mescolare (per evitare che si attacchi tutto) e, quando si sarà amalgamato per bene, rimettete tutto su fiamma bassa.
Sempre mescolando fate cuocere per bene fino a far restringere quasi completamente il succo rilasciato precedentemente dalle ciliegie (ed amalgamato con il mix di zucchero e fecola). Una volta ottenuta la consistenza che più gradite (che può essere più o meno densa o più o meno liquida a seconda dei vostri gusti), lasciate intiepidire le ciliegie e, se necessario, aggiungere poca acqua per evitare che la salsa si indurisca.
Finita la preparazione del ripieno riprendete i due dischi di pasta frolla messi in frigo.
Stendeteli fino ad arrivare ad un diametro di circa 21-22 cm e sistematene uno sul fondo della tortiera fino a coprire tutti i bordi. Riempite adesso la base con le ciliegie e distribuite a tocchetti il burro sulla purea dolce. A questo punto potete chiudere la Cherry Pie semplicemente stendendo la seconda metà della pasta sulle ciliegie, sigillando per bene i due dischi di frolla.
Prima di infornare il tutto ricordatevi di praticare dei fori sulla superficie della Cherry Pie per far uscire il vapore e lasciate cuocere tutto in forno a 190° per almeno 50 minuti. 
Una volta sfornata lasciate che la torta si raffreddi bene prima di servirla.
Da sola o con l'aggiunta di un po' di panna montata la Cherry Pie manderà in estasi le vostre papille gustative, provare per credere!