Uscita estiva di HBO (qui vi parlo delle migliori uscite estive dell'anno), The White Lotus è sbarcata su Sky Italia e fin da subito ha diviso in due il pubblico: c'è chi l'ha amata e chi si è annoiato da morire. Personalmente, mi ritrovo in quella fetta di spettatori che si sono sentiti profondamente trasportati dalla stranezza delle vicende, e che con non poca difficoltà ha tentato di cogliere quella sottile morale che si colloca in un finale che lascia spazio a una seconda stagione.
The White Lotus, produzione creata, sceneggiata e diretta da Mike White (sceneggiatore di Dawson's Creek), si sviluppa attorno alla vita e alle problematiche di persone in vacanza. Ma non persone qualunque, bensì una classe altolocata o ricca per affari. Una visione che non si presta alla passività, ma che al contrario richiede un piccolo sforzo per non fermarsi all'apparenza e alla leggerezza di una serie che cerca di mandare messaggi mascherati da cieli desaturati e colori pastello.
La trama di The White Lotus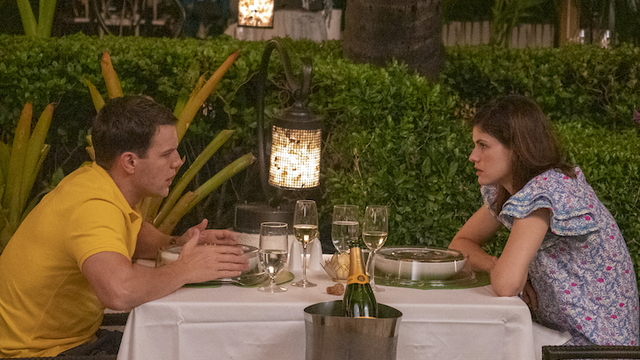 HBO (che ultimamente non ne sbaglia una) ci porta all'interno di un resort di lusso alle Hawaii, un luogo idilliaco pensato per chi nella vita ha già tutto e desidera ancora di più. La trama segue le vicende di un gruppo di turisti che si trovano a soggiornare nelle sue suites e dello strano staff che vi lavora. Il relax, i pranzi e le nuotate in piscina, lentamente portano a galla un lato oscuro e i problemi di coppia e famiglia che ognuno dei protagonisti tenta di affondare nel mare paradisiaco che si affaccia dalle loro camere.
C'è Armond, il responsabile del resort, che si dimostra sempre impassibile e che solo nel suo ufficio riesce a togliere la maschera sorridente che davanti agli ospiti mostra con orgoglio, di fatto ricorda sempre al suo staff che il cliente deve vederli sempre e solo sorridere.
Shane Patton è il premio dell'anno come marito più fastidioso di sempre. Prendete un uomo che si sposa, rendetelo attaccato morbosamente alla madre e ai soldi (non suoi) e otterrete l'esempio perfetto dell'uomo antiprogressista. Aggiungete poi una donna che si fa trascinare dalle onde, sbarcando in un paradiso che nasconde lava da tutte le parti, incapace di reagire, passiva e totalmente in balia degli eventi, ma consapevole di essere solo un trofeo (parlo della meravigliosa Alexandra Daddario).
C'è poi una famiglia, composta da due genitori ricchi che sembrano due amici di vecchia data, che non si sopportano più, costretti nello stesso letto, ricchi ma non abbastanza premurosi da prendere una camera in più per i figli, che si ritrovano a dormire in un divano letto e in cucina su una branda. La figlia è una manipolatrice psicopatica, che si nutre dell'energia dell'amica cercando di rubarle tutto ciò che può e maltrattando in continuazione il fratello con evidenti problemi psicosociali.
Infine troviamo Tanya, una donna depressa e traumatizzata dalla vita, che raggiunge il resort per disperdere le ceneri della madre che l'ha sempre disprezzata, ma incapace di lasciarla andare perché parte di una quotidianità malsana che si è costruita nel corso del tempo.
Un cast affollato ma ben caratterizzato
Un punto di forza importante in The White Lotus è la caratterizzazione dei personaggi. Potremmo dividerli in due fazioni: gli ospiti, talmente incoscienti della loro fortuna da dare tutto per scontato e dimenticandosi di ciò che conta realmente, e lo staff, totalmente in balia degli eventi e incapace di ribellarsi al senso di insoddisfazione che li circonda e che li porta a grandi sofferenze.
Un cast davvero ricco di nomi, ma che neanche per un secondo ci confonde e ci permette di capire qualcosa su tutti, anche su chi fa da contorno, come ad esempio Dillon, che si prostituisce per un giorno libero e Kai, vittima di ingiustizie al quale sceglie di ribellarsi nel modo più sbagliato.
Se in molte serie di questo tipo capita spesso di skippare le parti riguardanti personaggi secondari, in questo caso siamo totalmente coinvolti nelle vicende e curiosi di scoprire come le vite delle due fazioni a poco a poco convergano in un rapporto assurdo ma ricco di significati.
The White Lotus e il valore della ricchezza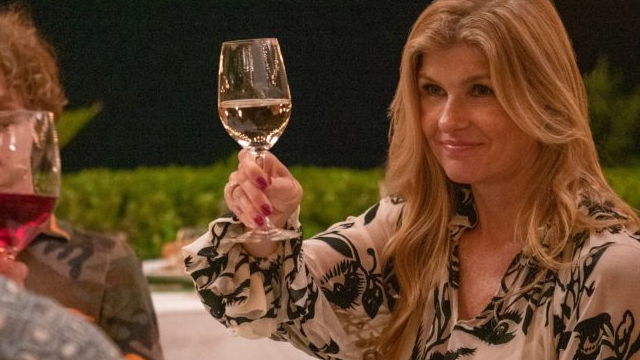 Uno dei personaggi che più ci lancia una morale da acchiappare e inserire nell'enciclopedia base del nostro cervello è Shane.
L'uomo appare fin da subito intollerabile. Causa della sua ira è l'assegnazione della suite sbagliata, che come gli viene fatto notare è di gran lunga migliore di quella nella quale lui e la sua mogliettina trofeo avrebbero dovuto alloggiare. Consapevole infondo, ma incapace di non ricevere ciò che vuole per una volta nella sua vita, Shane innesca una serie di problemi che lo porteranno all'omicidio.
In luna di miele, in uno dei posti più belli del pianeta terra, il sole non splende mai a pieno, il cielo desaturato e sempre bianco spento ci ricorda molto l'umore della povera Rachel, che cerca invano consigli indiretti da parte di tutti per capire come proseguire la sua vita: farsi mantenere o concludere qualcosa che conti davvero. Tormentata all'idea di una ricchezza che non le appartiene si interfaccia con Shane, che al contrario vive con i soldi della mamma ed esercita diritti che non gli spettano, dando per scontato che i soldi possano comprare in ogni caso la felicità e quindi non comprendendo il profondo senso di inadeguatezza della donna.
Decide quindi che vuole litigare – per principio dice lui – con il responsabile dell'hotel. E ci riesce, non solo avendo la meglio verbalmente e spingendo l'uomo a ricadere nell'uso delle droghe, ma di fatto eliminando ogni sua possibilità di controbattere accoltellandolo, proprio nella suite che finalmente e dopo tante lamentele aveva ottenuto.
I soldi fanno la felicità? The White Lotus prova a rispondere
Se riflettete sul finale, tutti alla fine ottengono ciò che vogliono. Ma proprio tutti?
Tanya trova finalmente un uomo che la fa sentire protetta, dimenticandosi in un batter d'occhio della donna che per giorni si è sorbita le sue lamentele e i suoi pianti, ma ripagandola con l'unico modo che conosce: i soldi. Shane non viene condannato per ciò che ha fatto e alla fine ottiene il suo trofeo, che torna da lui in lacrime e pronto a mettere tutto da parte per una vita perfetta in vetrina. Nicole e Mark ritrovano la chimica grazie a un povero ragazzo che dopo essersi fatto fregare la pagherà molto cara. Olivia e Paula fanno pace, perché entrambe sole e bisognose di qualcuno che condivida la reciproca pazzia. Quinn trova un posto in cui si sente accettato e abbandona una famiglia squilibrata che non l'ha mai visto realmente, viziandolo con smartphone e Psp.
Se ci sono i vincitori però, che di fatto avevano già tutto, c'è anche chi dopo questa esperienza ha ancora meno di prima. Armond è morto, Belinda ha assaporato l'idea di vedere il suo sogno più grande realizzato e poi infranto come un castello di sabbia calpestato senza riguardo, Kai ha permesso a una coppia di ritrovare la passione, cercando la libertà ma trovando sbarre ancora peggiori di quelle in cui era imprigionato, e infine Rachel si sacrifica, perchè una volta che assaggi una fetta di torta al cioccolato, tornare alla frutta è davvero difficile.
Scopri Hall of Series Plus, il nuovo sito gemello di Hall of Series in cui puoi trovare tanti contenuti premium a tema serie tv