**Seguono potenziali spoiler su The Walking Dead.**
La serie tv della AMC conta un numero altissimo di personaggi, forse quasi molti di più di Game of Thrones. Nel corso delle stagioni, molti di questi personaggi principali hanno detto addio alla serie. Alcuni per potersi concentrare sulla famiglia altri perché appariranno presto in un film dedicato alla serie. Anche se si tratta di possibili speculazioni, ci sono vari indizi che andrebbero a collegarsi con l'uscita di scena di un altro personaggio.
Katelyn Nacon, l'attrice che interpreta Enid, durante un'intervista ha parlato del suo futuro della serie. Katelyn ha detto che "è difficile da dire" e "ha ancora molto da fare". Questo potrebbe significare niente come potrebbero implicare l'uscita di scena di Enid. Il suo personaggio potrebbe non sopravvivere fino alla fine della stagione, il che la mette nel mirino per una sequenza specifica che tutti i lettori di fumetti conoscono: The Fair.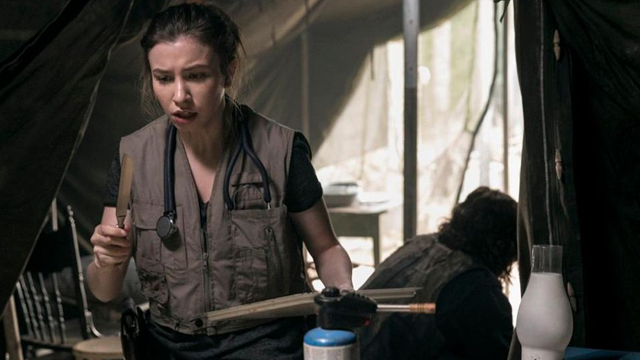 Sarebbe veramente un brutto colpo per l'attrice, essere fatta fuori dopo essere stata promossa come personaggio principale per questa nona stagione. Lo sviluppo del personaggio di Enid nella nona stagione è stato elogiato dalla critica, Fansided ha detto di lei: "Enid è sempre stato un personaggio eccezionale nello show, quindi è bello vederla finalmente avere più tempo sullo schermo e un ruolo più importante nello spettacolo."
Dopo gli allenamenti con Siddiq (Avi Nash) e un salto temporale di sei anni, Enid è diventata il medico dell'Hilltop ed è fidanzata con Alden (Callan McAuliffe) che è attualmente ostaggio di Alpha (Samantha Morton). Speriamo di non doverle dire addio così, dopo tutti questi progressi. The Walking Dead intanto viaggia verso mete inaspettate, verso una decima stagione che spacca in due l'opinione dei fan. Cosa ci aspetterà?